Vans Warped Tour (UK) have added a bunch of new bands, including  new headlining acts, to the 2013 edition of the tour.
Organisers have revealed that British boys, Enter Shikari, and Australia's finest, Parkway Drive, will appear as headliners at this year's festival.
Rou Reynolds of Enter Shikari has commented:
"We're chomping at the proverbial bit for Warped Tour UK. Its an honour to even play let alone headline! and being able to experience that Warped Tour vibe and not have to be crammed into a 400 ton cylindrical object 36,000 feet above the ground for 9 hours is great!"
Winston McCall of Parkway Drive also gave his thoughts:
"We are unbelievably excited and honoured to be part of Warped Tour UK 2013! Warped Tour has been a massive part of this band's lives from before Parkway even existed so to be kicking it in the UK with such an amazing line-up is going to be mental!"
Joining the band's as additions to the line-up include Escape The Fate, Blood Command, Cytota, Hacktivist, Ghost Town and Neck Deep. Check out the complete line-up poster below!
The Vans Warped Tour Europe 2013 will take place November 16th – 17th at London's Alexandra Palace. Tickets are available now.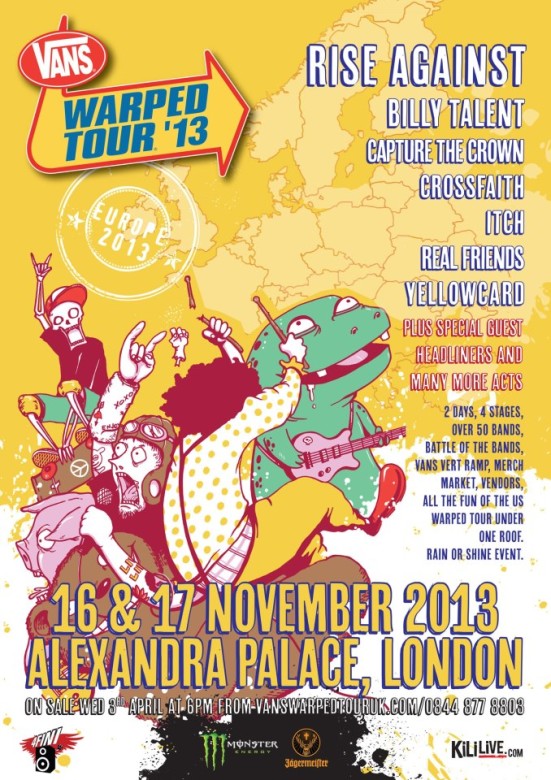 Saturday 16th November
Rise Against
Parkway Drive
Air Dubai
Billy Talent
Blood Command
Capture The Crown
Chiodos
We Came As Romans
Crossfaith
Escape The Fate
Fact
Itch
Like Moths To Flames
Memphis May Fire
Real Friends
Sublime With Rome
The Wonder Years
Yellowcard
The Younger
Sunday 17th November
Enter Shikari
Rise Against
Anberlin
Billy Talent
Coheed and Cambria
The Color Morale
Cytota
Flogging Molly
Ghost Town
Hacktivist
The Hype Theory
Like Torches
The Maine
Neck Deep
RDGLDGRN
Skinny Lister
Yellowcard