Zierler is a transatlantic progression metal conglomerate featuring current and former members of Fates Warning, Halford, Firewind Scar Symmetry, Circus Maximus and Beyond Twilight. That latter named band featured Danish keyboard wizard Finn Zierler from whom this new one takes its name, with a debut album going by the name of ESC now available on the US based Vanity Music Group.
Voted one of the top ten eccentrics in heavy metal by Sweden Rock magazine, it is Zierler's first new album in a decade, and been described as his most mature and daring musical work to date, drawing influences from the unabashed pomp of classic Queen and the madness of Devin Townsend, to the virtuosity of Dream Theater and the eclectic styling of Hollywood wizard Danny Elfman. If so, it walks the fine line between genius and insanity and not surprisingly took the better part of two years to complete.
"I set different goals for myself in making this new album. I wanted to accomplish doing an album that was 100% uncompromising in every way.  I wanted to break through new creative areas. And I wanted to show compositions, structures and techniques that no one has ever heard or seen before", reflected the keyboard player.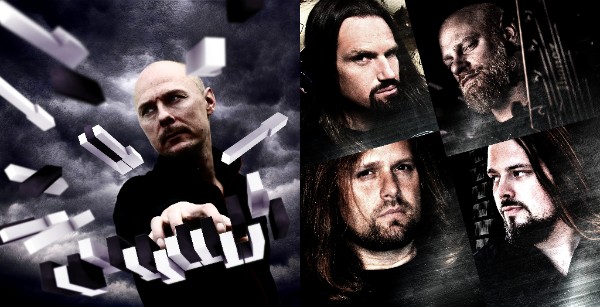 "This is by far the most time consuming, complex and detail oriented album I've ever worked on.  I took the time necessary to record this beast out of respect for the players, the compositions, and the music itself.  I put a lot of emphasis on not taking the easy way out, not using technology to do edits to save time or whatever. The musicians involved are all so talented – there's no cheating, no copy/paste anywhere.  Everything on the album is recorded as organically as possible. Personally, I'm sick of listening to plastic albums that sound more like machines than humans!"
Those other musicians include another two from Scandinavia, in the personages of Swedish guitarist Per Nilsson (Scar Symmetry, Kaipa) and Norwegian bassist/vocalist Truls Haugen (Insense, Circus Maximus), plus a couple of guys from little old Texas, in the form of  drum veteran Bobby Jarzombek, whose resume includes the likes of Fates Warning, Halford, Riot and Spastic Ink, and Kelly Sundown Carpenter, who sang on Beyond Twilight's 2005 Section X album, and was last seen with Ozzy Osbourne guitarist Gus G's band Firewind, as well as Darkology.
Another Beyond Twilight alum and long-time friend mixed the album, Jacob Hansen, best known for his affiliation with Danish superstars Volbeat as well as his work with Amaranthe, Destruction and others, while London-based graphic artist Rob Sindermann created the visuals for the ESC album packaging which includes an elaborate 28 page deluxe booklet.
The featured tracks on ESC are: 'A New Beginning', 'Aggrezzor', 'Darkness Delight', 'Dark To The Bone', 'Evil Spirit', 'Married To The Cause', 'No Chorus', 'Rainheart', 'You Can't Fix Me No More', 'Water' and 'Whispers'.
'No Chorus' has been released as the first single from the band, and also been produced as a lyric video that you can view here at RAMzine:
"'No Chorus' is about breaking norms and conventions.  Whether it's approaching music, song structures, life, culture or solving problems in new innovative ways. Articulating a point of view in relation to a particular situation in ways we had never thought of before. Most of all, it's about encouraging people to foster the ability to look at things differently from the way we typically look at them," explained Zierler of the inspiration behind the song.
"The track itself is written without a chorus.  The line, 'I'm so sick of verse, bridge and chorus' expresses the sentiment at the core of it all.  Writing a song without a chorus and making it work as a song is hard.  Writing a song without a chorus and making it work so that the listener doesn't notice is really hard! 'No Chorus' seemed like a fitting title as the line, 'This song has no chorus' actually takes on the role of the chorus although the song lacks a traditional chorus. Music nerds won't be disappointed."
You can find out for yourself of course because ESC by Zierler  is now available from the Vanity Music Group.