Drive were a five-piece progressive, power metal band formed on the north side of Houston, Texas by guitarist Rick Chavez. They released two albums, Characters In Time (1988) and Diablero (1992).
The band's original members were barely out of high school back in the early 80s as they began making a name for themselves. Moving out to California, and inevitably the Sunset Strip , where they signed on with Rob Gordon and Vince Hans of Flash Management.
After winning a KNAC Radio contest with the song 'I Need The Nights' the band subsequently appeared on  Best Of The West; a compilation released by Rampage Records, the hard rock division of Rhino Records, who se record executive Bob Cahill then signed the band and released their debut album, Characters In Time, that scored magazine star rating and radio airplay. When Zoo Records' Lou Maglia purchased the band's contract and released the sonically advanced Diablero things looking promising, but along came grunge and put an end to all other types of music succeeding at least for a while. While a third album, IDEFI, was in development recordings were put on hold, and the members of Drive began moving back home to Texas.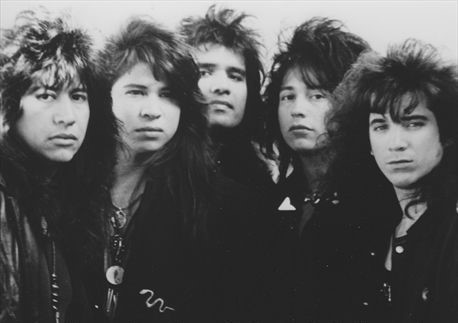 In the ensuing years, bad luck would turn to tragedy. Vocalist David Taylor would pass away, following after a fatal car accident on a San Antonio Interstate on June 30th back in 2009. Then, eight years later on February 25th Rick Chavez's life would end following an internal bleed that went undetected until it was too late.
Fast forward to today, and 15 unreleased tracks, featuring both Taylor and Chavez on lead vocals, have been compiled by Dan a Gordon, and released on 20th Century Music has now released 15 unreleased tracks compiled by Dan Gordon that were recorded by Drive, featuring both Taylor and Chavez on lead vocals under the title IDEFI, A Tribute to Rick Chavez and David Earl Taylor. They reveal a band that still had something to offer had the music scene not changed, and while not everything works, or may have been altered with further production, some good songs are in evidence. The overall effect swaying between Kingdom Come and early Riot with an added Latino flavour.
 'Inherit The Wind' starts proceedings and its hard pushing melodic rock riffing with high octane vocals grabs your attention. 'Insanity' follows, opening with a sheering guitar line and screaming before going into hypnotic mid-paced AOR metal number.
It's with numbers like 'Otra Vez' that things begin to get interesting. Sung in what I presume to be Spanish this is a ballad of sorts, and then it's followed by the blitzkrieg metal riff of 'Pandilla' with Taylor wailing away in Spanish with some extended instrumental sections. Later well get the 'Under the Spanish Sun' that's again a ballad but rocks up near the end. From photos seen the band were possibly of Mexican heritage, but don't quote me on that.
'U12B' and 'Woman' play in Kingdom Come territory, but prove less interesting. Whereas 'IDEFI' rocks long and loud, and is all the better for being a simpler, more straight ahead tune. Similarly, 'U Or Me' has guitars raking across the speakers, with helicopter whirring and alarms going off pre-empting the racing urgency of the song. 'Not Yet' starts mellow before building, while 'Enemy Within' is driving bass, crashing drums and vocals with attitude right from the start.
Coming in near the end is 'Me And My Carnal'. The vocals sound different so it's presumably Chavez singing.  This see the group going even further into Latino music, while the vocals are in English here it's the chinking funk of the guitar at work over chord changes that call out for long nights on hot summer beaches. There's a slight cod reggae part and overall East coast production feel (all this from a Texan band) but a whole lot more going on too. It's a long number with both keyboards and guitar solos and I suspect if the record had come out of the time this may not have made the cut or been edited severely. Personally, I'm glad we get this version
The album ends with 'Fool' that opens and closes with acoustic guitar with a funky rapping rock hard centre. Having not heard the original Drive, while all indications were that they but one of so many poodle rock styled bands of the time, there was also an obvious individuality evident in the Latino modes, textures and rhythms they applied to their work, and in their longer tunes proved they could play well and inventively too.