When first introduced to Erya Lyytinen we met a nifty slide guitar player with a penchant for old time blues. But time doesn't stand still even if people try to. Change may be forced on us externally or opportunities arise that can lift us up, maybe help our careers, on the other side of the coin when those closest to us aren't all that we'd hoped they be it can leave us devastated. The last few years may well have rushed by for the lady, undoubtedly her music keeps changing.
2017's Stolen Hearts album saw her shifting from the blues to rock, with an AOR sensibility at work. That it was founded on some well structured songs had her edging more into mainstream acceptability. A follow-on album in that area would have cemented the deal; instead she's opted for songs that see her flirting with prog and jazz rock, a little funk and some pop. However, the experimentation holds together however.
Recorded mainly in Finland with a new band behind her in Kasperi Kallio (keyboards), Tatu Back (bass) and Iiro Laitinen (drums) there's a cohesiveness between them all that helps the differing musical themes together. Song wise there's one predominant theme, the break-up of a relationship; her own. She sings of her pain, treats it with intellectual distance, angrily damns the situation, laughs it off, and dreams of a better world through these eight tracks.
'Snake In The Grass' says it all in the title. Musically there are fidgety squealing guitars that worm in, out and around busy drum patterns before Lyytinen and guest guitarist Jennifer Batten begin to solo in duet before breaking off and going for blood, in a manner that wouldn't be out of place on a Steve Hackett album. 'Cherry Overdrive' has a broader mid-paced rock flavour with a slower instrumental solo orchestrated within it.
Title track 'Another World' is naturally enough a centrepiece.  "The song has a lot of meanings," said Lyytinen. "First of all, it is a love story. It´s a dream about loving somebody in another dimension, because it´s not possible in this world. I have always loved sci-fi movies, so I wanted to add something extraterrestrial and supernatural to the video too.  Also, it is pointing at how important it is for us to be aware of environmental aspects. Do we need to find another planet someday to be able to breathe? All this has been wrapped together by these two worlds happening at the same time, and how in the end it is important that we as lovers, and as a human race, could survive."
An otherworldly slow soul tempo ensues, brighter chords and time changes reflecting the hope and dream of the lyrics, there's a jazz like rap section, and more progressive stylized and wailing rock guitar solos to be heard. The sci-fi angle doesn't fully grab me, but I can't deny it's sung with emotional pleading.
If anything I'd say it's the vocals that bring this album together. That's she singing from the heart works, but the fact that she often sings like a jazz singer, and doubles up on her own harmonies, adds passion and uses her natural accent to affect rather than making us aware of its tonal difference.
'Hard As Stone' proves to be one of my favourite songs on the album. Initially you think it's a standard blues in that Muddy Waters manner, but she builds it with a melodic AOR charm and sings enchanting over it, then delivers an emotive solo then twists the whole thing as it goes to double time in a classic rock manner before slowing but defiantly so as it fades in the echoed distance.
'Wedding Day' is a lyrical revelation of a two-timing lover, played ironically as an upbeat speedy blue rock number with vivid slide guitar running through, as played – at least in part – by another guest in the form of Sonny Landreth.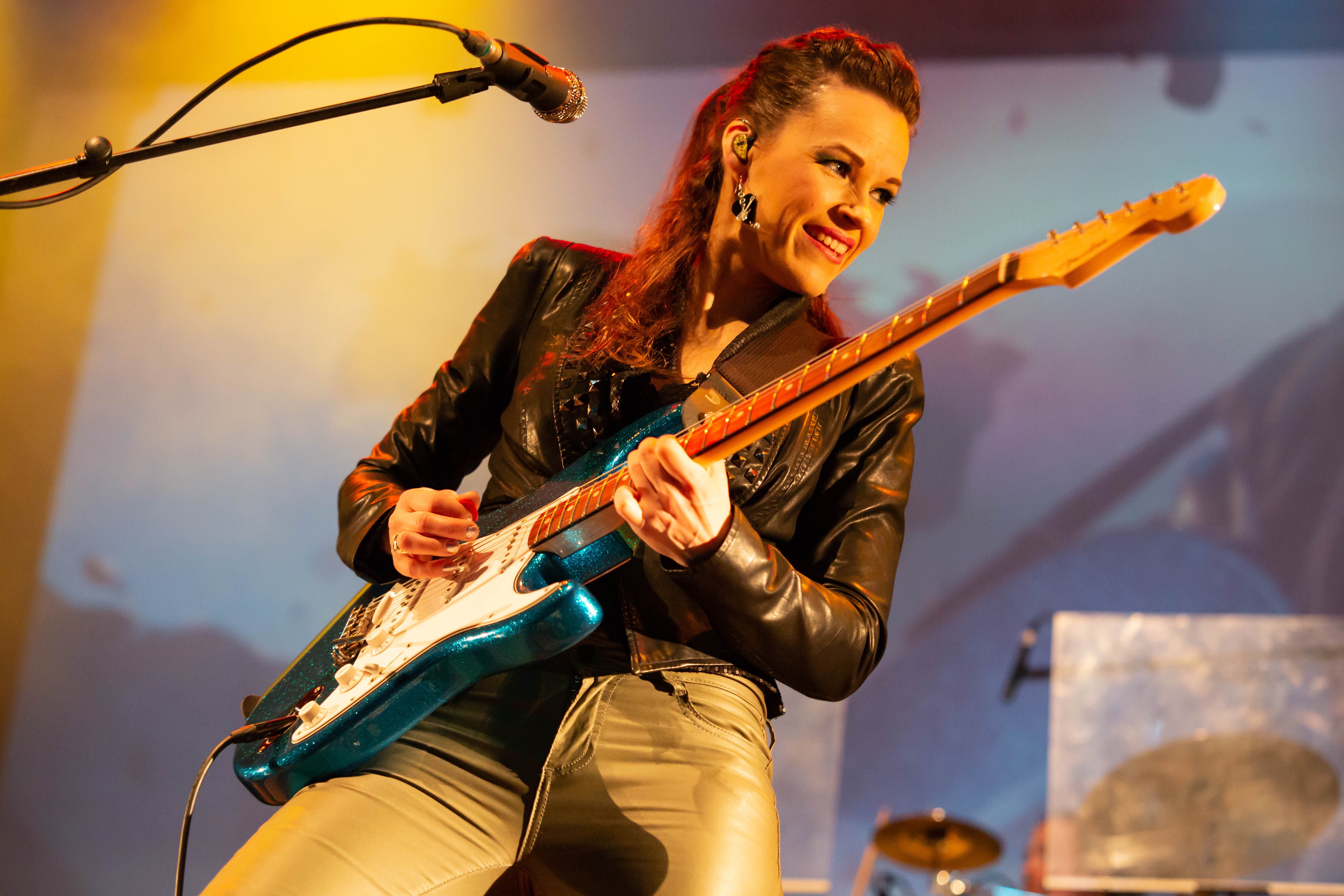 'Miracle' is an epic feeling soul rock tune, guitar chords shattering gently like her heart over an offbeat funky rhythm. It's unclear if this is a new love or the initial promise the heartbreaker offered, either way she sings rather beautifully here and her guitar solo near the end cries out in slow pain, rises seeking redemption and is inspired in its choice of notes and the way they're handled, then working in tandem with her returning words. The other of my favourites on this record.
Another slow tune begins with 'Torn' but the tempo shifts, becoming a self-empowerment lullaby over music that's one minute funky then Celtic folk the next. 'Break My Heart Gently' concludes the album. It wouldn't be out of place on a latter day Joni Mitchell album – A guitar echoes in the distance with minimal musical accompaniment, the vocal harmonies add warmth and colour, the main vocals tell a chilling sad story, for as with the opening track the title here says it all.
As an album I think this works tremendously well, a true concept one of the type Frank Sinatra originated rather than those The Who and others began popularising from the late sixties on. Is it up and in your face enough to move her career on? I remain unsure. Certain songs, if reaching the right new people will and as a more assured songwriter it will help creatively in the future. Overall, I trust it's achieved its goal and helped her get over an emotional upheaval.
Another World by Erya Lyytinen is available on Tuohi Records.