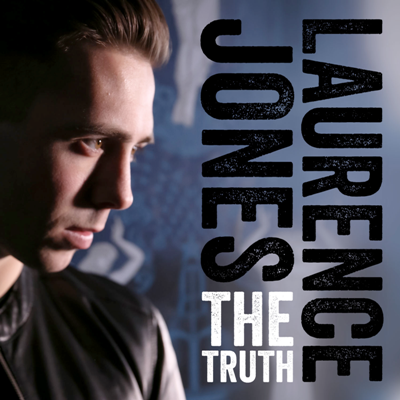 Four albums in, 50,000 albums sold, several awards under his belt, guest slots supporting acts as diverse as Status Quo, Van Morrison, Joe Bonamassa and Jools Holland… Before hearing a single note you get the impression mainstream attention awaits young "one to watch" blues rock guitarist Laurence Jones. If that's his goal, or his management's dream, then with this, his fourth album, they draws ever closer to reaching that goal.
"The direction of this album is one I have always wanted to take and that's crossover blues, just like my heroes John Mayer, Erick Clapton and even Jimi Hendrix. They managed to really bring the sound of the blues to the masses," the guitarist has remarked. Its intent is clear: branch out into that modern pop vogue where there are now a few credible singer/songwriters among the flotsam and jetsam that are X-Factor/Tin Pan alley fodder and become one of the hoi polio there. That or take a slight detour and ascend to the heights the likes of Bonamassa have been scaling in recent years.
What we get are ten tracks, some reflecting on the world at large others on the subject of love, the latter taking the majority share-hold (as they always do, and possibly should). But The Truth starts with one of the former variety in the form of 'What Would You Do'. There's concerns about global warfare, financial destitution and similar social concerns expressed but truth be told it's the catchy "whoas" you'll remember first over this slow beating rock funk pop and warmly held organ chords,  with Jones offering distorted bursts of guitar before handing in an emotive effects driven solo.
Straight in after is the drum-driven rhythm  of  'Don't You Let Me Go',  a partial Santana meets Matchbox 20 groove, only for things to slow down on piano for 'Hold Me Close' with some cool harmonies and emotive lines like  "Hold me close don't let me go, hold me close you're all I know".
The following 'Keep Me Up At Night' is a bit middle of the road, as if Graham Gouldman writing for The Real Thing with a little added modern hip pop fusion but there's a turnabout of face as it's followed by the four-to-the-floor riffed rock of 'Give Me Your Time' and Jones delivering a frothy trilling solo  up and down his guitar's fretboard.
That tempo is kept for title track 'The Truth'. This is unusual in that a Fender Rhodes play an almost musical box melody throughout, whereas after some initial sustained guitar notes a rock steady beat develops and a meditation about figuring out what one really wants in life is sung, getting harder with some Bad Company style guitar chords changing the pace dramatically while sweet soul-shouted vocals continue.
'Take Me' has the band enter over some piano chords for a slow shuffle and harmonies. This lullaby style love ballad breaking out emotionally in the form of guitar solo using Clapton style phrases while eliciting the tones of George. Drums roll, a hand brushes along the length of an organ's keyboard and strangled wah-wah guitar riffs offer us the funky rock of 'Gone Away'.
There is a slight reggae offbeat to the warm sun-kissed minor keyed blues rock groove of Can't Go On Without You' that's got Bill Withers and B.B. King written all over it, and when the briefest of guitar solos comes our way the notes pirouette gracefully between the sustaining. Then its left to 'Never Good Enough', reminiscent of 10cc's 'Wall Street Shuffle' slowed down as blues rock, with a soulful melody. Written when Jones was only 18, it sits well, and goes down like a good slug of chilled wine. Solos climb and wrap tightly and the album itself ends with the lines: "Now I know I was never good enough" filling your room with silence, rather spookily.
Laurence Jones has a charismatic voice. He knows how pick out a good tune and can play guitar but chooses not to let it overpower a song, and has a complimentary backing band.
While The Truth breaks no rules and doesn't challenge us as listeners there's much to be enjoyed in a laidback leisurely manner listening to it as befits an old git like me. Whereas  this young good looking lad's on tour and I'm sure there'll be more than a ladies who will see some quite attractive reasons they should attend.