The Norwegian prog rockers known as Jordsjø released a rather solid and evocative record last year entitled Jord that was inspired by German 70s synth music, horror movies, folk music, fantasy novels, and the melancholy beauty of Norwegian nature. Although it did not sweep me off my feet, there were some interesting ideas to be found on that disc and so naturally, I was quite excited about this new 2019 offering of theirs named Nattfiolen.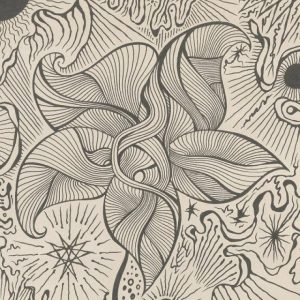 Where do we stand with this one then? Well, the good news is that Nattfiolen sounds more cohesive and focused compared to its predecessor and that there are some truly captivating moments to be discovered this time around that gave me the chills, which is obviously a marvellous thing. On top of that, the warm and organic vibe that resonated throughout Jord is also very much present on Nattfiolen, but the latter boasts more refined and memorable compositions. The things that I miss are a stronger sense of musical daring and reckless experimentation as it occasionally feels as if they are holding back a little as opposed to letting go and not really giving a fuck where they might end up. Simply put, there were a handful of places where it lacked a bit of edge and unpredictability to these ears, but these are minor problems in the overall perspective as the positives definitely outweigh the negatives.
Nattfiolen has an introspective quality to it that is touching and a number of tunes that are borderline hypnotic, which is perfectly exemplified by the closing track 'Ulvenatt'. This one has such grace and delicacy to it that I am at a loss for words. It is the perfect example of how different tones and chords colour each other and where the word haunting is in order and actually means something. The use of acoustic guitars, flutes, analogue synthesizers, and tape echo all emphasize the strong and prevalent aura of longing that courses through the entire thing, and it is thrilling to hear how these guys have grown since the Jord album.
Nattfiolen is a highly competent and accomplished affair that brings to mind such acts as Camel, Tusmørke, Wobbler, and Caravan. It might not be as radical or playful as some of the records we associate with those particular outfits are, but trust me when I say that this is a fascinating and worthwhile release that all you lovers of moody prog-rock ought to invest in as soon as it hits the streets in late May.