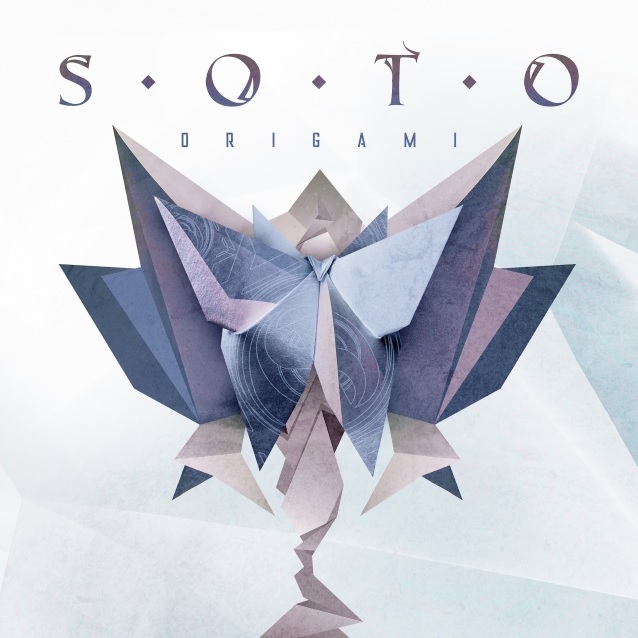 Puerto Rican musician Jeff Scott Soto is perhaps best known as Yngwie Malmsteen's vocalist and also the singer for Journey, Talisman, Sons of Apollo and the Trans-Siberian Orchestra. Although he's a classic soul singer — the same singing style as Steve Perry, maybe — he's equally at home, working on the ear-assaultive hard rock or pushing his lung power to the limit on grandiose power-metal excursions. When he's not working as a solo artist, he's recording with his own band SOTO: the band includes Spanish guitarist Jorge Salán, TSO bassist Tony Dickinson, Brazilian Tempest lead singer BJ [keys, guitars], and Brazilian drummer Edu Cominato. All band members contribute to the song creation process, so there is a real sense of cooperation.
On May 24, 2019 SOTO will deliver their third studio album [their first via InsideOutMusic] titled: Origami.
The album begins with the relaxed freedom of 'HyperMania' that has a pleasing melody contour and is also fairly light-weight. But 'BeLie' [it's already released as a lyric video] is far darker. Here, you will find an amazing bass solo, perfect guitar-work and brilliant coordination to go with some magnificently lustred harmonizing. This piece is meticulous in craftsmanship and painstakingly disposed of with prowess and compositional skills that are certainly prog-metal-ish in aspiration and communication.
The title-track "Origami" has also been released as a video and has racing, scattershot rhythms. Embarking on this journey is like taking a railway train into your own sub-conscious… but expect derailments in your thought processes along the way. The boiling guitars tend to thunder and fume, the drums buffer-thump against the riff and, of course, the voice becomes a beacon as it goes deeper into the flank-folds of sound. The guitar solo is almost too electric-hot to handle at about the 3:00 min mark and the resultant conflagration burns like unholy immolation.
"Dance With the Devil" bounces back like a black-cat strapped to a bungee. And although "Afterglow" has a similar feel to it, the follow-on track has clouting beats and magisterial synths that add a sense of regality to the operatic vocals.
The final track is the balladic "Give In To Me" and, as a rock number, it's squash-folded and pleated in between folk-metal and nu-metal. On this song Jeff's voice reminds us of Chad Kroeger — but don't let that worry you — it's 100% blackhearted torture — and filled with unique suffering.