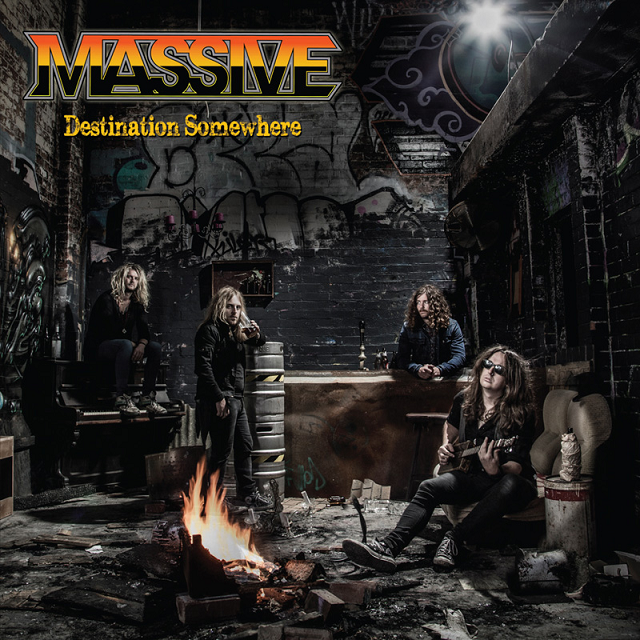 MASSIVE are the giants of Melbourne based Australian rock.
Having burst onto the scene in 2012 — within just six months the band were already playing a showcase in Los Angeles. Back home in Oz their reputation for being rock's hardest road-warriors was cemented by their increasingly loaded and astonishingly frenzied stage performances. Over the years they have continued to engage an ever-growing audience of classic rock/hard rock fans.
Their style of explosive manly-rock is fueled by adrenaline, lager and a desire to party hard. They have been known to travel for thousands of miles — across baking deserts — just to get to their next show. In this respect, they are truly road-dogs through-and-through, and they mean business.
New release "Destination Somewhere" is the highly flammable follow-up to their last high-intensity début album entitled "Full Throttle."
The new album starts with some rattly 'n' agile percussion on "One for the Road" before a drilling riff is powered out. This riff compresses itself before exuding dead-pressing energy from between the cracks in the rhythm. The vocals are brave and high-spirited. This evolves from a ramming, cramming road cruncher into a full-blown ace-ball rocker — in the style of AC/DC .
At first sight "Blood Money Blues" appears as old as the hills. But don't get confused, because this song soon sparkles like a rocker. A brilliant riff is thrown out by Brad (it's also anointed by the hand of Brendan on lead guitar.) All-at-once we arrive at a simple yet spotless tune filled with rhythms and yelled-out excitement. This is one hell of a song. As high-white as magnesium and as addictive as candy.
"The Fall" is when front-man/vocalist Brad comes to the fore. This is a dark and tangled pyrotechnic mushroom of a song, with snarls of guitar and an extraordinarily passionate voice. Soon the whole thing speed-kings up… And then the lead guitar is let-rip, filled with dynamic tension. This shines like a gas flare.
And if you like your hard rock filled with volatile organic compounds, might we also suggest that you check "Up in Smoke." The undeniable momentum on this track is magnificent. The vocals are constantly in a state of over-steaming passion. And the guitar complains like your stomach does after last night's curry, as it burns deep into your gut. This is incredibly efficient.
The title track "Destination Somewhere" is more orderly and, dare we say, more beautiful. You do not feel this is as spontaneous as the other out-and-out rockers presented here. Yes, there is confusion and excitement, and a splash of rhythms, but this is radio friendly "active rock" which reminds us of Stone Temple Pilots. For us, it didn't quite 'fit' with the rest of the album.
If you want your rock to deliver short-lived hits of euphoria, extreme excitement and punch-in-the-gut power… this is the place to come.
This will light-up all your fires at once!