The principal rival to Mozart – Antonio Salieri – came from the city of Verona. It is also home to Arthemis – our favourite Italian metal band. Verona is a place where emotions run high. Where Dante imagined Purgatory. And Caesar came to retreat from politics. Verona is where the incessant feuding between Shakespeare's Capulets and Montagues was interrupted by burning adolescent love.
Arthemis was formed in the city in 1999, when the cracks began to form in guitarist Andy Martongelli's previous project called Nemhesis. (He seems to have a penchant for unusual spellings). Under the guidance of Martongelli, this new band gradually evolved – from power metal towards a more brutal, heavier style of thrash.
The band have now released their first live album (released on Off Yer Rocka Recordings) recorded in November, 2013, at the Hard Rock Hell Festival in North Wales. We were in the audience for the show … and now we are here to review the album.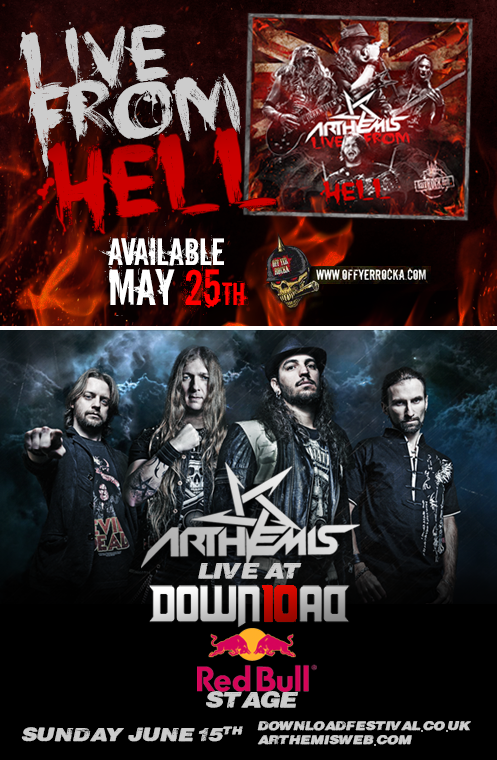 When we first witnessed Arthemis (that was back in the old days of HRH when the festival was still held at Pontins, Prestatyn) they reminded us, very much, of the 1970's UK glam group Sweet.
We are not speaking about the horrendous "blockbuster" version of Sweet. But the scintillating and fast-burning version of Sweet. Ask any true Sweet fan and they'll tell you. The band were sizzling and savage once. They brought us some very good stuff when they weren't trying to scale the slippery slope. If you try 'Set Me Free' you'll see what we mean. Anyway, we think that Arthemis reminded us of Sweet because they employ similar faster-than-light riffs alongside higher-than-high (almost operatic) vocals. And all this is glued together with bouts of free-form fantasy – and truly magnificent rock architecture.
The Arthemis 'Live From Hell' album pushes off with 'Scars On Scars' and has that tinny, rattling scuzz-muffin riff work that comes from the sort of quick-biff guitars that can only played by a scissor-handed maniac like Andy [Martongelli]. All this is anointed by hi-dosage, speed-ball vocals from the screaming-penetrator Fabio D.
'Still Awake' motivates you like a bucket of pythons tipped into your tub at bath-time. It is super-fast and incorporates a wah-wah solo that screams in anger – at the end – like a gangster caught in a buzz-saw.
'We Fight' is scurrilous. It is as furious as a bad ass businessman who has just been hawked in the back by a younger rival. Liquid guitars revolve around throaty riffs and scatterbrain drums froth, fire-cracker and spatter like angry dragons. The swaying finale of this majestic number will enliven and enthral you like nothing else.
'Empire' also comes from the 'We Fight' album. It is solid and metallised. The vocal swords through this – as flustering guitars rise with their talons ready. This song provides the encouragement you need to fight on through all of life's little miseries and disappointments. The piercing guitar will dig into your insides and make mincemeat of your inner ears. This is a succulent feast. And holy-hot.
'7 Days' is low-down dirtier than all the other songs. It growls. And lashes. This song is a firm favourite of the whole "Road-trip Ibiza Brigade." And when you vibe to it, you'll see why.
This live album is well produced and keenly performed. Fun for all the serious drunkards, schmooze-balls and bouncing meat heads out there. Get it in!
7/10
Arthemis 'Live From Hell' is out now via OFF YER ROCKA RECORDINGS.
Video: ARTHEMIS -WE FIGHT- [official video]