In April 2013, as part of its spring production, the Cincinnati Ballet performed a series of dances accompanied by Peter Frampton and his band at the Aronoff Center for the Arts. Most were classics from his extensive repertoire but one section featured new material composed by the guitarist, along with producer Gordon Kennedy who he had previously worked with on the Grammy Award for Best Pop Instrumental Album 'Fingerprints'.
"Writing for dance was a wonderfully freeing experience. There were no boundaries. We were able to push the composing envelope," Frampton said of the experience that has found those seven newly created songs now released as a Frampton mini-album titled 'Hummingbird in a Box' and released via RED Distribution/Sony Music.
Not a rock album, but featuring all the familiar stylistic flavours anyone familiar with Mr Peter Frampton's work have come to appreciate: an overall hummable quality to the tunes; articulate and inventive lyrical guitar melodies and the unique six string sound that found him pop fame as "The face of 68" with The Herd, part of a major British band when Humble Pie rocked the Fillmore, and a star in his own right when Frampton Comes Alive sold in its millions worldwide.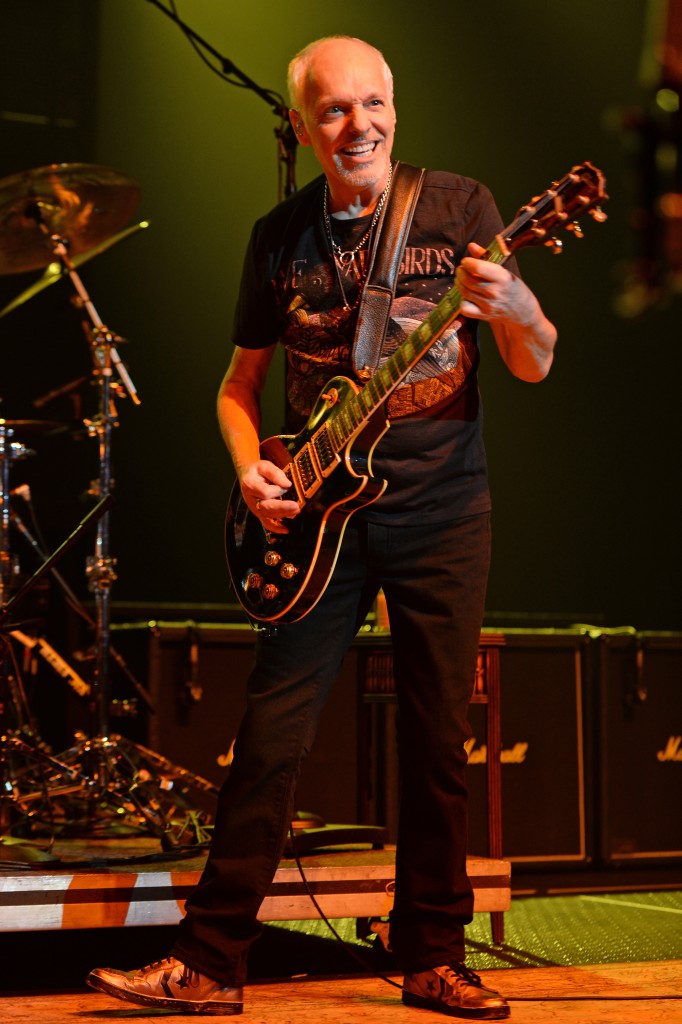 Opening with 'Promenade', an overture of sorts, it features a shuffle rhythm over which Frampton dubs at least two lead guitars to coax out tasteful licks that dance, weave and become all the more forceful as the short song progresses. To this, a more full-on sound backs Frampton's vocal sections wherein he discusses the choosing of a guitar and how the sounds it makes will affect the ballet dancer's movements. 'Hummingbird' itself could be a Mexican folk song with Frampton's Django Reinhardt-influenced flamenco flourishes proving to be inspired musical statements. 'The One in 901' again begins as a shuffle before becoming a more forceful blues rocking instrumental, featuring guitar bends and charismatic phrasings interspersed with shorter acoustic sections.
'Friendly Fire' features Frampton predominantly on acoustic guitar, but it's the heaviest song on the album, both musically as the rhythm section add weight and lyrically with the double-loaded words being as much about the politics of war as about a broken relationship. On the other side of the coin, 'Heart to My Chest' features some clever lyrics for grooving lovers with a great vocal delivery from Frampton, midnight blue choice electric guitar notes, an understated consistent tambourine and a moving yet simple bass line – There's actually quite a lot of the album that's played off the beat, in styles ranging from skiffle to salsa, and if Stanley Sheldon's holding his fretless four-string down on this album I wonder how much his natural style has added to that overall quality.
Possibly my favourite track is 'Shadow of My Mind'. Beginning with single guitar chords that chime and hold, a speedy drum shuffle and heavy off-centre bass line comes in, then Frampton's lead guitar plays a short piercing melody before the lyrics commence as they seemingly relate fragmented dream sequences with the overall effect being like some lost Gabriel-era Genesis song between which Frampton plays sustained notes that melt warmly and solos that veer between jazz and classic rock.
Based on its title I presumed 'Norman Wisdom' would conclude the album as an instrumental. After all how many under-50s or non-Albanians would remember this singular British comedian? Well, Frampton is the age he is and does, and fondly, singing an upbeat tune that swings like it belongs on a Steely Dan album. That it sits here on 'Hummingbird in a Box' also makes complete sense. Seven songs, short and mostly sweet, that offer diversity regardless and exceptional guitar playing that continues to prove age need not diminish a man's skills.
8/10
Peter Frampton 'Hummingbird in a Box' is out Tuesday July 7th via RED Distribution/Sony Music.
Video: Peter Frampton talks about his New Album and More.