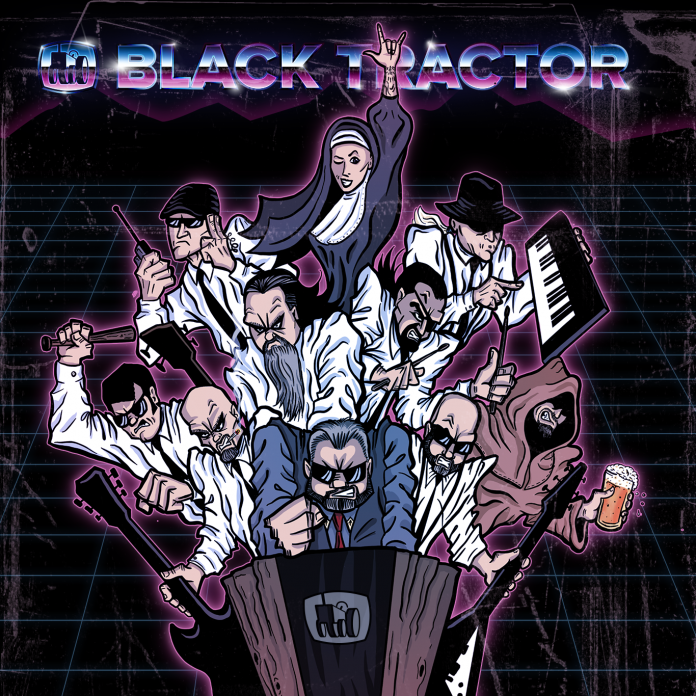 A band that sounds like some sort of malevolent agricultural machinery is alright by me…the portentous name conjures up images of an Orwellian farm — where it's not just the animals that are out to get you!
Black Tractor is a band from Cincinnati with energy, humour and seriously heavy riffs. These elements all come through on their latest album, The Wonders of the Invisible World. Opener 'I Can't Seem To Wake My Wife' sets the stall out with melodic metal instrumentation behind the growling vocals; the beauty is that the words can be understood and are worth listening to for some killer lines. King Kong weighs in on 'Just Like Fay Wray' with a great riff that has touches of Budgie, Metallica, and a superb slide guitar solo that again illustrates why the band is different from many other in this genre.
'What God Made Pockets For' is more humour wrapped in heavy riffing. Plus, not many metal bands include wine and cheese in their lyrics. 'The Peckerwood Sway' starts with a slide intro like Nazareth's 'Bad Bad Boy' but with even more gravel in the vocal attack…and I never thought I'd say that! It's brilliantly melodic while still somehow suiting the harsh vocals. 'Hosanna' provides a contrast with a slow, semi spoken vocal with intriguing instrumentation. The lyrics are very dark and would put many a horror to film to sham; this is the best track on the album for me as it just keeps getting better on repeated listens — especially the guitar playing, the very quiet closing seconds of vinyl crackling, and an almost indistinct banjo The album closes with 63 seconds of a hog snuffling over untuned strings called 'And To Mary, A Sweet Goodnight.' You're left just wondering… WTF?
I couldn't help but enjoy these eleven tracks, even though the vocal style is not usually what I seek out. The compositions and playing are first class and I adore the humour they lace through the songs. It's worth a try regardless of your normal chosen genres, and lovers of Stoner or Doom metal will simply love it all.
Wonders of the Invisible World will be released on 14th August.