This March (4th) legendary British grunge band Bush are set to release "Live From Roseland" on DVD and Blu-Ray. 
Gwen Stefani's hubby's band Bush have been going since 1992 and are still going strong in 2013. They've sold countless millions of albums, toured all over the world and released 5 phenomenal grunge masterpieces over the years. Their latest album "The Sea of Memories" which was released in September of 2011 has had the boys from Bush touring all over the world selling out innumerable venues truly proving that grunge is not and will never be dead so long as this band are still making music.
They start off the show with the stadium smasher "Little Things" the energy of the band and the way the crowd react just prove that Bush aren't one of those washed up 90's band who are just rocking out for the sake of it. These are talented guys who clearly still have passion.
They chug through "Greedy Fly" like they're a giant grunge godzilla and the crowd are the city getting annihilated by sonic epicness. Epicness isn't a word but it should be.
Another stand out performance is that of "Everything Zen" which has a cool chilled out jam just before the final chorus. It'll have you screaming along "I don't belieeeeve that Elvis is, I don't believe that Elvis is dead yeahhhhhhhh!!" There's only one way in which you can describe this song, just plain bad ass!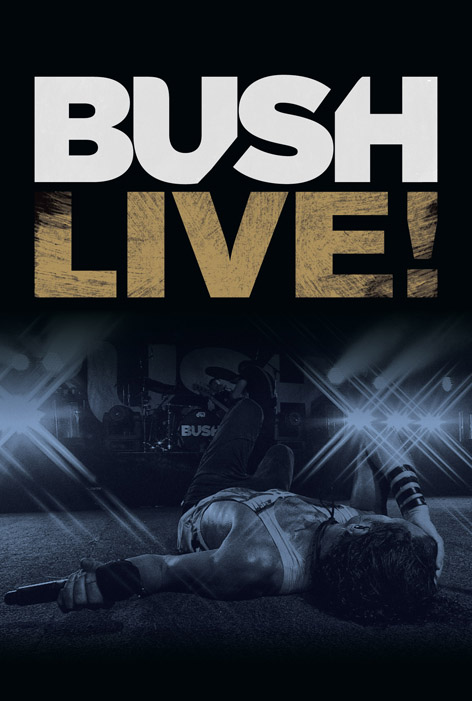 I must admit, I am a huge Bush fan, but I don't have their latest album, so their performance of one of their newer songs such as "All My Life" makes me really want to get it. "All My Life" has got such an awesome guitar melody to compliment the rhythm and there's this just absolutely mind blowing dual guitar harmony solo. It's not an overly complicated solo but it just works. Love it.
There's quite an amusing part of the concert where Gavin forgets what song's next but he covers it up well. The band go straight into "The People That We Love" from their brilliant fourth album "Golden State". Free from his guitar for this song, Gavin dives into the crowd microphone in hand belting out the vocals. To say this makes the women go wild is an understatement.
Now as with all Bush albums there's at least one chilled out minimalist song such as "Out of this World" or "Glycerine" from earlier albums and they do quite a good performance of "All Night Doctors" where the bassist puts down his bass and does a piano accompaniment. This quieter more pop ballady side of Bush is really what shows you that they're not a one trick pony. They have this whole over emotional side to their music and it really works nicely.
They then smash right into "Swallowed" one of Bush's most famous songs and an absolute classic. The crowd all know the words and they're singing their hearts out. The lead guitar in this song is just…. I have no words for it, it's just amazing. If you're into your grunge music and you haven't heard this song, let alone seen it on "Live From Roseland" get yourself on iTunes right now and download it. This performance of "Swallowed" literally will knock your socks off. Good luck trying to find your socks after too.
"The Afterlife" is just balls our rock. In this song you see Gavin actually get right in the crowd climbing onto the balcony with security in tow lighting his path while he makes his way through the audience navigating and squeezing past the amused lighting technicians. The crowd absolutely love it. Gavin Rossdale is an amazing frontman and it's this level of interaction that really makes seeing Bush live worth it.
He gets back on the stage and you'd think he'd be tired but they go right into the awesome "Machinehead" from Sixteen Stone. The crowd are loving it and you know what I've noticed? There's a good cross section of fans older and younger fans, a true sign of a timeless band. Everyone's singing along young and old.
Now, for me personally, one of the most stand out songs from this performance is "Alien". It's as emotional and relevant and powerful as when it was first released on Sixteen Stone. It's almost shoegazey minimalist at first then it goes into a full on grunge ballad. Brilliant and another example of how Bush can go from loud, aggressive rock to chilled out without it sounding forced or out of place. The flow of the song is just perfect. The bass line is just amazing too. They lead into the song slowly playing the riff over and over again as it to tease the crowd and get the mouths watering for the feast that is the rest of the song. Fantastic showmanship here.
Now, it just wouldn't be a Bush gig if they didn't play their most famous track "Glycerine". What's great about this is Gavin just stops playing guitar and the crowd all join together singing the vocals. If this song isn't in your iTunes, it bloody well should be because it's a grunge classic. They end the song as a full band and up the tempo. It makes for a great ending.
They end the concert with "Comedown". Another brilliant bass line here. Once again they kind of jam for a bit over the top of the bass line and lead slowly into the actual song. As a technique it works really well. This is a good strong song to end the concert with. It's got a chorus that just hooks the audience in and has them singing their hearts out for one last time.
I've got to say, whereas Chris Traynor may not be an original member of the band, having him on lead guitar is such a feather in Bush's hat. He's an amazing lead guitarist. His melodies and solo's throughout this performance are flawless.
Just by the by, if you're a music tech nerd and like to know about what kit bands use, there are quite a few overhead camera shots where you get a good view of the bands effects boards. Very cool.
"Live" is the first live concert recording Bush have ever released on DVD and Blu-Ray and is filmed at the Roseland Theater in Portland, Oregon. It features all the classic songs you love from Sixteen Stone, Razorblade Suitcase, The Science of  Things, Golden State and The Sea of Memories. You will also he happy to know that you also get some bonus unplugged performances and other music videos.
You can have a sneak peak at the concert footage of Bush performing "The Sound of Winter" from their latest album "The Sea of Memories" in the video below. This is a fantastic DVD with top notch sound quality and a must have for grunge fans all over the world that will make you wish you were actually there. I've been a massive Bush fan since I first bought Sixteen Stone. I am massively jealous of all the audience for having attended. A fantastic performance and a fantastic buy if you're a Bush fan or a fan of rock music in general for that matter.
Solid 8/10.