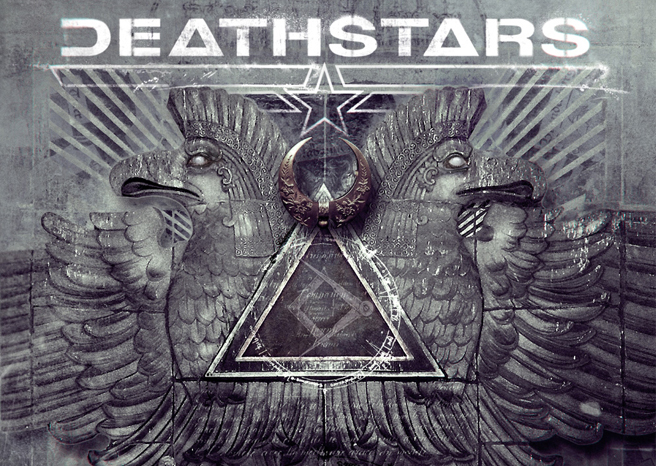 Deathstars are a Swedish gothic metal band from Strömstad. Formed in 2000, the group are noted for their dark horror-themed lyrics, pessimistic and misanthropic social commentary, distinctive trademark face paint, dark stage uniforms and physical appearances that correspond to gothic fashion.

'The Perfect Cult' has been captured in several studios: drums, guitars and bass were recorded in Bohus Sound Recording, Kungälv Sweden, vocals in Gig Studios in Stockholm, Sweden and keyboards, orchestration and editing was done in Black Syndicate, Stockholm. While the mix as usual was handled by legendary Stefan Glaumann (RAMMSTEIN, WITHIN TEMPTATION), guitarist/keyboardist Nightmare took care of the production from bottom to top. For the drum, guitar and bass production, Nightmare worked together with Roberto Laghi (ENTOMBED, IN FLAMES) at Bohus Sound Recording. The Mastering was done by Svante Forsbäck (VOLBEAT, RAMMSTEIN) at Chartmakers, Helsinki, Finland.
Here is our track-by-track review of Deathstars 'The Perfect Cult'.
'Explode'
Capturing the heaviness but incorporating plenty of melody, packed with subtlety and a prominent keyboard, makes this a good opening track that is vocally harsh, not in the sense of scathing, but as in brooding.
'Fire Galore'
This track is edgy and brisk with a good chugging attached to it. The choppy synth notes add variety to the overall sound and make it an addictive listen.
'All the Devil's Toys'
Quite an intriguing track that simply draws you into it, with its woven riffs and enticing melodic rhythms. The harmonies really pad it out fully using clever interesting lyrics.
'Ghost Reviver'
This does indeed sound ghostly and sinister. Overall the sound is full capacity and the higher pitched keys serve to add even more interest.
'The Perfect Cult'
Sinister eeriness in abundance, harsh lyrical content that just simply brims with rich rhythms and colourful textures.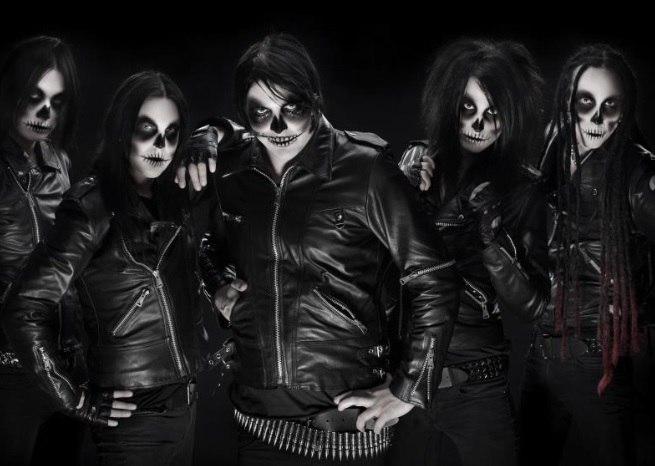 'Asphalt Wings'
An undeniably evil flavour to this track that broods with a certain ambiance and positively interesting time signatures.
'Bodies'
Very different from the previous tracks as this incorporates darker melodies making it exciting as well as thrilling – not to be confused with Bodies – from Drowning Pool. But a really heavy formulaic track with an amazing landscape of evil that explodes into a mass of sultry energy.
'Temple of the Insects'
Is a bubbling fast paced track that grabs the attention immediately and can be classed as mesmerising with the vocal harmonies working really well together and lavished with soaring melodies?
'Track, Crush & Prevail'
A brush with heavy, incorporating a dark resounding rhythm and a crisp keyboard which in itself is truly superb as it swirls and pumps out a full sonic sound that more than grabs the attention.
'Noise Cuts'
This track sounds like it is going to explode at the beginning but it doesn't instead it has smoothed out its path in a solidified format that is again dominated by a full synth sound.
Overall, Deathstars certainly are a seductive band and have full control of the emotional spectrum. Again, like most bands trouble is never far from their door and the band have hit on this and used it in a positive way, producing ten superb tracks.
Their music is somewhat cold but the overall sound is massively warm. There is an air of sophistication with Deathstars although they can also be described as weird, they too are charismatic, and have definitely carved a niche for themselves, coming out triumphant with this ten track formidable album.
9/10
 The 10 track album by Deathstars 'The Perfect Cult' is out now via Nuclear Blast.
Video: DEATHSTARS – 'Explode' (OFFICIAL LYRIC VIDEO)