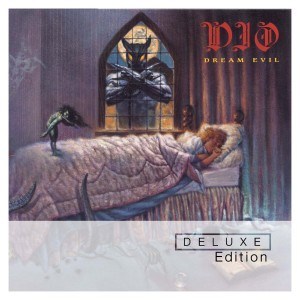 Much missed and arguably the greatest pure metal frontman, Mr Ronnie James Dio, he who fronted bands like Rainbow, Black Sabbath and Elf. He also had a rather successful solo career starting in 1982 after leaving Sabbath. 'Dream Evil' was the third album out back in 1987. Its been re-released and expanded with the original nine songs and then a second disc of live recordings and such.
The album kicks off with a sort striking keyboard alarm effect before pulling back for Dio to roar 'do you like the dark?' It boasts a driving guitar from Craig Goldy melding with tight drumming and a threatening bass line from long time collaborater Jimmy Bain. The keyboard work although masterful and fitting, does make the song seem a little of the period, that's not knocking Claude Schnell but its a little to far forward in the mix and ends up choking the song.
The title track is one of the most loved of Dio's huge repertoire; its hulking riff and excellent drumming from Vinny Appice, it grabs your head and forces you to listen. Its an hypnotic groove and the harmony in the chorus does actually sound like a bad dream, classic.
'Sunset Superman' blows in… #literally judging by the rather cliche effect on the keyboard# We have another punishing mixture of high octane drumming and guitar but the bridge reveals a change of pace, rather than trying to push themselves even higher it peels back and create an excellent chanting chorus and so makes it the strongest song on the album.
With a solemn chord progression, Craig Goldy using his modified guitar drifting along Dio's gentle tones we know we are in ballad terrority. Dio's voice is so emotive and he blends with the haunting keyboard work and the melody. It does build suitably epic without being too chest beating, 'All Fools Sailed Away' may contain some rather ropey lyrics but its a good track.
'Naked In The Rain' does feel like it was recorded outside, the echo effect and creeping riff add to that feel. Its very earnest but it never really gets anywhere despite all the fills from Schnell and another cool solo from Goldy.
Goldy shows his considerable finger picking and fretboard skills in the beginning of 'Overlove' this then throws into a high tempo effort and some rather ironic lyrics from Dio, singing 'seems I've heard this song a thousand times before' unfortunately so have we…
The only song that actually charted back in 87′ was 'I Could Have Been A Dreamer' its a familiar formula to some of the more mid-tempo tracks in Dio's long career but it does have a great blend in the chorus and there's no denying that its got a good uplifting feel to it and some great squealing effects on Goldy's solo.
'Face In The Window' creates a lot suspense with a chugging riff and Bain's consistent and insistent throbbing underneath. There's some great answering guitar parts complimenting Dio's huge scale, it is another track that doesn't stick in the mind but that doesn't make it a bad.
It sounds funny but having a track name 'When A Woman Cries' with some of the rest of the titles doesn't seem right and without knowing the album you'd think you'd in for another ballad but with its spiteful cranking guitar and odd harmonies and keyboard effects this one is just an oddity from start to finish!
This ends the actual album 'Dream Evil;' the second CD is cracking for anyone getting into Dio for the first time, there's some great highlights of his incredible career featuring cuts from all of his bands. There's rarities with 'Hide In The Rainbow' which featured in his EP and on the soundtrack of 'Iron Eagle' which is cool just for the slightly camp keyboard!
There are live cuts with differing levels of quality from his Rainbow days in 'Man On The Silver Mountain' and a very loose version of 'Kill The King.' We have live versions of classics before this album in 'Rainbow In The Dark,' 'Holy Diver' 'Rock N Roll Children' and 'The Last In Line.' AND if that wasn't enough you've got the two of the three best tracks from 1981's Heaven And Hell LP when he was in Sabbath, with 'Neon Knights' and 'Heaven And Hell.'
In my opinion the album is heavily weighted in the best tracks being at the beginning before drifting off. Then you have the second CD; if you've never really listened to Dio this is a great start, the second CD is almost a greatest hits, but essentially a must for metal fans.
Dio 2-CD Deluxe Edition of Dream Evil is out now via Universal.