Armed with an acoustic six string, in 2013 former Enuff Z'nuff singer/songwriter Donnie Vie headed out with tongue-firmly-in-cheek for what he called the Magical History Tour. Ostensibly, a way for him to bid farewell to his past, giving many of those band songs a final airing, and offering his more devoted fans a chance to see him close-up solo in intimate surroundings. For those who couldn't make those dates there's now a DVD that captures various UK performances alongside clips of the singer sightseeing and presumably musing over or having a laugh about such matters. To verify such matters you are accordingly invited to purchase it, we here on the other hand will be reviewing the accompanying album that's come out, 'Goodbye Enough Z'nuff' which is also available from Livewire/Cargo Records.
Enuff Z'nuff were formed in Illinois, USA way back in 1984 and primarily revolved around Vie and bass player Chip Z'Nuff. Their first single, 'Fingers On It' was featured in the 1986 dark cult thriller Henry: Portrait of a Killer but it wasn't until '89 when things looked like they were going to come up smelling of roses with MTV in full swing and 'Fly High Michelle' and 'New Thing' racing up the American singles charts. They never really had that much major success thereafter though, what with changing musical fashions, band members leaving, record label bust-ups and disasters of their own making, including the drug-related death of guitarist Derek Frigo; but still they soldiered on, and still do, but without Vie.
Hard rock was the label that band were originally categorised under, glam metal when you saw their poodle-style haircuts shaking out towards you on videos, and power pop when you accepted the reality of the situation, for if anything what Enuff Z'nuff offered was a latter day psychedelic rocking Beatles sound. And, even if you'd not been aware of that previously, listening to 'Goodbye Enough Z'nuff' it becomes blatantly obvious, while staying on the right side of homage and influence.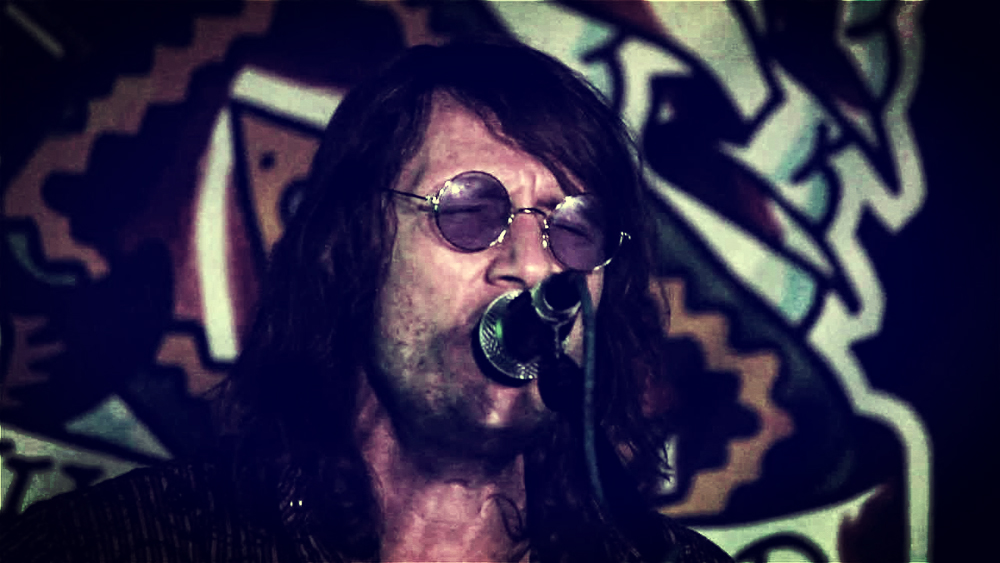 To be frank, it took me some half a dozen listens to get my head around this album. It's not a high tech recording, but basically one man playing live in clubs, a bonding experience for those who were there but one that doesn't automatically translateaurally. Listen to this on headphones and all you'll get is a busker doing John Lennon imitations put it on a proper stereo sound system and whack it out so the ambiance is filling the room and you'll appreciate it a hell of a lot more.
Or at least I did. Now, I'm not that au fait with the Enuff Z'nuff back catalogue, in fact I was probably only aware of about a handful of tunes prior to this record, and stripped to the core without that green-tinted full-on rock band vibe it's surprising how many fall into that confessional singer-songwriter ethos.
Drawing the audience in with For Now's opening croaky voiced lyrics: ""Moments like these don't go away," the song turns out to be both widescreen and kitchen sink drama as it ruminates on relationship ups and downs, with a glass half-full attitude; it's followed by the upbeat ragtime swing of 'There Goes My Heart' before giving 'New Thing' an early airing.
It's not entirely a solo record however, Baz Francis of Magic Eight Ball adds backing vocals on a few tracks, including 'Someday' – the first of a couple of songs on this album where Vie implies that no matter how bad things get suicide isn't an option. The other is 'Goodbye' where Vie plays piano in a typically Lennon solo period manner. His playing on both guitar and piano tends towards the understated; they accompany songs rather than embellish: key changes sound more pronounced on piano and a flourish of notes allowed to conclude a song; the steel string acoustic guitar at times comes across as quite brash when melody lines are played rather than chords but you do also get a different flavour and arrangement to those songs from the way they were originally recorded.
Vie's conversations between tunes draws you in, making you curious, and it's a good chance that if you like the record you'll end up buying the DVD to get a clearer picture of the situation's going down. 'Fly High Michelle' comes near the end of the set, and has the singer hitting some high notes well (this is a truly live album so with that integrity you hear the warts and all sound of notes that go off key on some of the 14 songs that fill this album). My personal favourites are the biographical demon lifestyle story of 'The Beast' – a song more in the Neil Young mode than The Beatles and another of those glass half-full tales in the third person narration of Rainy Day.
'Goodbye Enough Z'nuff' will probably be selling to the already converted, but in the right place, at the right time, it's worth giving some of these confessional tunes a good listening to if you can. If nothing else, it's a decent stop gap before the new studio album, titled 'All In' that Donnie Vie has planned for later in the year.
7 /10
Donnie Vie 'Goodbye Enough Z'nuff' is Out Now via ROCK N GROWL.