Whilst in full force of their Maximum Overload Tour that started in 2014 and aims to finish in 2016 – yes, you read that right – Dragonforce played at Saitama Super Arena, Tokyo. During this show, they had multiple cameras capturing the raw energy and dexterity that this band is in no short supply of and are quite rightly celebrated for world-wide.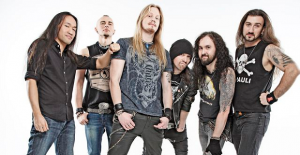 The sold-out arena houses 36,500 crazy, pumped-up and energetic fans. During the second song, 'Three Hammers', there were already three circle pits; I was keen to see the reaction when they play their flagship song and was half tempted to skip ahead.
The band arrived five days early for this show so they could get enough rest to give it 110%, as they knew the show was to be recorded. During this time they also took in some sights and had a private meet n greet party with the fans; it is moments like these that have been included on the DVD that make the experience much more than just a live gig, it's almost like you were a part of it. 
The stage presence is just what you would expect from six guys who are at the pinnacle of skill in their respective roles in the band. Behind all the showmanship, we are shown just regular people who enjoy regular things – from Sam, who has an interest with pinball machines, to Frédéric, who collects guitars and loves to play video games; guys who have just as much fun exploring the creepy hotels in strange locations that sometimes you just have to stay in because it's too cold to sleep in the car!
Addressing the crowd in Japanese at times to tell them "Thank you" and "Are you ready!?" gets the crowd even more energized for the next bombardment of impressive face melting. Every song was met with pumping devil horns, bouncing heads and, at times, flailing arms. The moment the band announce 'Through The Fire And Flames' the crowd explode into a frenzy; they sing along with every word and Marc makes sure they get their own gaps to fill so they can be a part of the show and the DVD.
Closing the show and the DVD was 'Valley of the Dammed' – I've no qualms.  It is a track that gives an atmospheric "goodbye" to one huge and appreciative audience. This is one show I would of sold my girlfriend to go see but, luckily enough for me, I was able to watch the DVD and relive one hell of a magical date during the band's tour!