The wonderfully eccentric avantgarde geniuses that are Vulture Industries recently unearthed this 2-track 7″ vinyl single, and if you consider yourself a fan of everything that is weird and captivating, Deeper is most certainly for you as this glorious piece of work perfectly illustrates why these manic Norwegians are one of the most fascinating musical ensembles out there today. This release is essentially a teaser for what is to come later on this year, but trust me when I say that this is one wicked slab of carnivalesque excellence that you do not want to miss out on.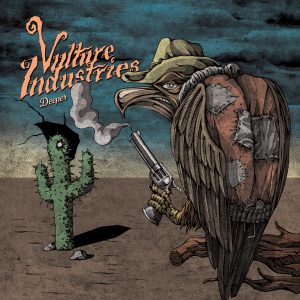 The brand new tune entitled 'Deeper' starts out with a somewhat morose and unsettling passage that eventually transforms into a gloriously dark anthem with some of the most memorable riffs and vocals ever conjured up by the band, which is saying something. Rhythmically and in terms its arrangements, 'Deeper' slivers and slides seamlessly between introspective parts and bombastic outbursts that sound as if these talented dudes are close to a mental breakdown, which is to be taken as a compliment in this context. The goth rock influences are incorporated rather beautifully into the band's at times bleak and dystopian metal music sphere where intricate melodies and subtle nuances wrestle and clash with each other to magnificent effect. In the spirit of what the progressive Vulture Industries are all about, the lyrics are both insightful and thought-provoking, but just keep in mind that Bjoernar E. Nilsen is quite fond of metaphors and allegories, which is to say that the words usually conceal a multitude of possible meanings that open them up to endless interpretation. The slightly raw production also fits like a glove, so all is well and good in that department. Although it is playful and toys with various different genres to great effect, the composition possesses depth and staying power, but hopefully, you will experience that for yourself once you check it out.
Finally, there is side two, which consists of a live rendition of the classic 'The Benevolent Pawn', which was recorded at USF Verftet in Bergen, Norway. Boasting a surprisingly good sound with Bjoernar's charismatic vocals way up front in the mix, the track showcases what Vulture Industries are capable of in a live setting and one can easily hear that these guys are a tight unit. One simply cannot deny the quality of the melodies or the thick and blackened atmosphere of this stellar cut.
Deeper is out now on various digital platforms and on a limited edition green vinyl.