In RAMZine Issue 28, I reviewed Elles Bailey and her 'lockdown' album called Ain't Nothing But and summed up her vocal prowess with the words "…they can soothe, arouse or sting as necessary, but always captivate."
Her latest album, Shining In The Half Light only reinforces that comment as she runs through ten new songs that, without exception, bring a freshness and bite to her blues-rock/roots catalogue.
One of the previous singles and lead-off tracks, 'Cheats and Liars', sums up the power she brings to the genre in a tale of the struggles artists have suffered during covid… emotional and effective vocals backed by seriously good slide guitar combine old and new blues seamlessly. Elsewhere, the bluesy rocky Faces styled 'Sunshine City' has more delicious slide and another delightful vocal. The difficulties and negative effects of lockdown are featured again in the title track where the vocal melody, the subtle bridge and the intricate backing combine to reinforce her words… "Feel like we're living where we can't be seen, here we are lost in the in-between, reaching out to each other through a cold glass screen, losing our grip on a dystopian dream." That sums Zoom and its effects on individuals as well as parish councillors and government officials!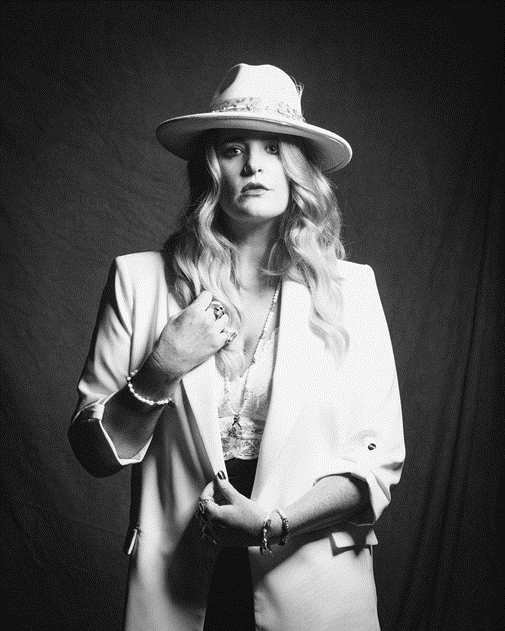 I think that Elles may be anticipating her return to the live stage as, the soulful blues song 'Riding Out The Storm' has a great chorus ready-made for waving phone torches aloft (it used to be lighters aloft but I doubt that would be allowed these days and, to be honest, I did always burn my fingers). 
A hint of soul is also in evidential on the exceptional 'Who's That'. Listen to how the bass, the controlled drums and wonderful backing vocals join with Elles' sterling performance to create a song that will stay with you… oh, and the guitar and Hammond are damn good too.
This is a powerful, emotive album as Elles shares her views on the world today and, as a new Mum, how she is adapting to the new normal. For me, it is first and foremost a skilful band with a superb vocalist showing the rest of the blues/roots world how it can and should be done.
Shining in the Half Light is released on 22nd February on Outlaw Records and can be pre-ordered from Elles website as special, tasty bundles.