Finnish slide guitarist Erja Lyttinen's last two albums, Stolen Hearts and Another World, have seen her stretching out beyond the blues into AOR and more curiously getting her feet into the great whirlpool that is progressive rock.
Her last in concert DVD, 2015's Live in London, was captured at the 100 Club and fitted the music she was playing then, now amid the coronavirus pandemic she releases Lockdown Live 2020, recorded at Bluesounds Studios in her hometown of Kuopio on Mother's Day, and its small intimate surroundings while similar show a musical personality who has evolved creatively and to some degree in terms of live performance.
A blast of guitar, lots of coloured flashing lights and a sliding boogie riff with some choice organ supports is offered in opening number and statement of intent 'Don't Let A Good Woman Down'.
From the off there's some effective camera usage here, even though social distancing's at play, and there'll be ample coverage of her band as well as the lady herself. For those taking note (not least because of the interesting double ii applied to Finnish names), young looking blond Miika Aukio is the guy playing keyboards and adding back vocals, Tatu Back stands to her left on five string and similar vocals support, and the more hirsute Iiro Laitinen sits at the back on drums.
Initially broadcast over the internet as part of a pay per view event, the DVD and studio-live album version now available and presumably edited versions cutting guitar change-overs because otherwise they miraculously change colour between numbers. Even so, it's still over an hour long.
Heavy blues rock in the form of 'Cherry Overdrive' is next and we're offered close-up headshots that reveal some intriguingly novel earrings, that cover her lobes. Decked out in a black leather look of jacket and tight trousers, with hair pulled back, and an assortment of sparkling guitars, she sports rather an elfin look. We also note the plectrums affixed to fingers and thumb on her right hand – Especially once the music moves into an affecting slow section where there's extended expressive soling of blues, prog and new age heavy rock stylisations.
The bottleneck is dispensed with for the stop-start fat bottomed creepy-walk riff of 'Black Ocean' wherein some particularly funky washes interplaying on the organ before moving into a more soulful chorus. Her guitar solo varies the riff on the high-end of the neck with tremolos, hammer-ons and combinations thereafter with emotive feeling, progressively embellishing as the song races into its last verse.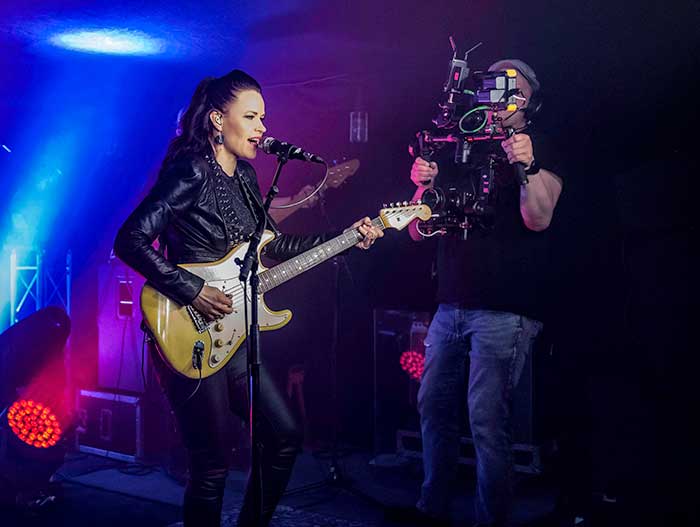 'Hard As Stone' begins with a similarly squelchy blues riff but soon shifts into a more pop come soul harmony affair, albeit rawer than the studio version. Come the solo things light up burning slowing across her fretboard, all shown in admirable close up and the keyboards join in for an almost Thin Lizzy duelling harmony as send-off.
'Torn' is again soulful, but at its core is folkish in essence musically, while 'Dreamland Blues' has her back on slide with a brash harsh guitar sound applied over a hard pushing rhythm section for a strictly 12 bar blues tune whereas 'Lover's Novels' features a lovely dirty sustain when the bottleneck solo gets hold.
In this bare four-piece format 'Another World' provesminimalist in approach, laid-bare, with a folk-pop vibe, though the keyboards stir creatively in the chorus sections then when a guitar perks into life ready to solo we get a jazz rock/prog riff section and these moments prove rather interesting.
However, this interlude is interrupted as Lyttinen tells everyone to join in and wave their hands. I'm expecting the camera to shift round and show a small audience standing a metre apart from each other, before eventually twigging she means those who watched it live on the internet, or indeed viewers like me now. Sadly, the intention is good but it doesn't come across, rather one feels distanced and more aware of these strange times we're living through. Fortunately, the music soon returns in full swing.
'Snake In The Grass' is whereSade meets Hendrix with a long instrumental work out and on 'Rocking Chair' a capo is fitted to a long necked pink electric guitar but musically while the band are tight it all feels a little too tricky for its own good. Fortunately, the straight rocking boogie of 'Wedding Day' steers into Rory Gallagher territory and the band look like they're having great fun – Indeed when Lyttinen and Back do a little pose with their guitars it's corny but comes across well. Then, just as the show began, there's a big roar of sound and flashing lights aplenty.
Except, the set's not quite over. I'm unsure if this was the intended encore or, simply, they decided it fitted well at the end but we get a tasteful ballad in 'Wildflower' that concludes with a classic rock guitar solo that hits the spot nicely.
The lack of audience is felt and there's obviously something missing atmospherically through the show, not just on the obvious 'Another World'. However, there are several strong stirring highwater marks throughout the set, especially in her soloing, as too with Aukio who's a fine addition.
Lockdown Live 2020 by Erja Lyytinen, as CD/DVD can be pre-ordered here.