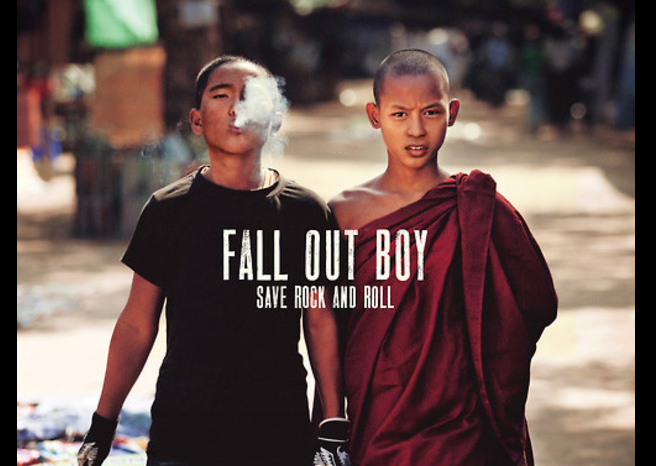 In case you've spent the last couple of months under a rock, or on the moon – or possibly under a rock ON the moon – this February, pop-punk heroes Fall Out Boy returned from a four-year hiatus with the promise of a new album, 'Save Rock and Roll'. Clearly, the band have been just as impatient to get their new tracks out as the fans have been to hear them, putting the whole album up on their website before the release date.
Three tracks have already been showcased to promote the album, the first being 'My Songs Know What You Did In The Dark (Light 'Em Up)', a stompy, fiery number with a catchy-as-hell chorus. Opening track 'The Phoenix' perfectly sums up how the band has grown up with their fans, whilst still keeping their definitive Fall Out Boy sound. With pounding guitars layered over a string section reminiscent of Plan B's 'Ill Manors', 'The Phoenix' is the perfect opener, with an urgency and a great hook that makes you just want to keep listening (on a personal note – it's also a great song to put on when you're late for work and need to do some very very fast walking…). Vocalist Patrick Stump is more on point than ever, with a commanding vocal power that sets the band apart from their pop-punk contemporaries.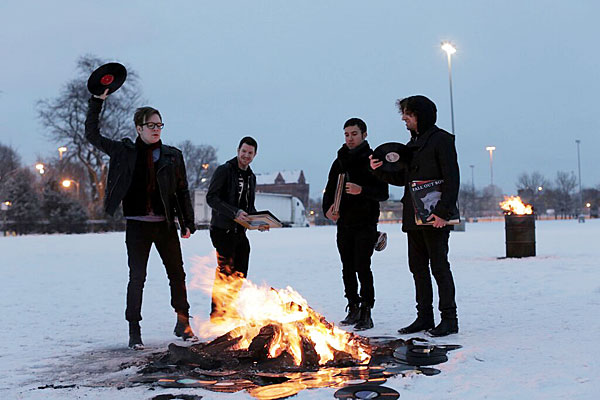 The third track the band have given a sneak peak of, 'Young Volcanoes', has a much more stripped back feel to the rest of the album, with primarily acoustic guitar backing the verses. As a whole, the album experiments with different sounds and genres, and overall has a more dance-pop-rock feel than previous releases. And if you're partial to the odd bit of dubstep, you might even enjoy a little surprise moment in 'Death Valley'. The first 'new track' on the album is 'Alone Together', which definitely has a classic Fall Out Boy feel, catchy and guitar-driven, and instrumentally building up throughout the song, and 'Where Did The Party Go' is summery and very pop-tinged, with a laidback-feeling bass riff underpinning the whole track.
Save Rock and Roll definitely isn't short of guest stars, including 'Just One Yesterday', which features Southampton-born singer Foxes giving an edge to what could have been a much more middle-of-the road track, turning it into an emotionally charged, pop-with-power masterpiece. Continuing with the guest appearances, FOB aren't strangers to dipping their toe into the hip hop scene, having previously featured Jay-Z on Infinity on High's Thriller, and 'The Mighty Fall' features rapper Big Sean. The chorus is simple, slinky and full to the brim of 'woah-oh's, and Big Sean's rap twists up the song and adds a fresh dimension to the song.
However, the battle of the guest vocals is clearly won by one of music's biggest names for closing (and title) track Save Rock and Roll – none other than Sir Elton John himself. A very odd collaboration on paper, but somehow it works. And it really works, with the two vocalists actually perfectly complementing each other, and Stump rides the wave effortlessly between melodic and more aggressive vocal styles. Opening with a piano refrain and a sampled lyric 'til your breathing stops', the song is a perfect album closer, uplifting, powerful, and there's even…a KEY CHANGE. There's even a throwback to 2005's 'From Under The Cork Tree', with the lyric "I will defend the faith, goin' down swingin'" popping up to treat long-time fans.
The only letdown track on the album is 'Rat A Tat', which features Courtney Love providing guest vocals that feel out of place and a little tacked on, not flowing with the rest of the track. And as for stealing Britney's immortal line…"It's Courtney, b*tch" should never have happened. Ever.
That small blip aside, this is exactly the comeback that Fall Out Boy needed to make. Although the record is less guitar-driven than previous releases, Stump's unique vocals and main songwriter Pete Wentz's talent for writing lyrics that hit in all the right places keep the band's signature sound. With a newer, more evolved feel, but still rooted in the pop-rock sound that made their name, 'Save Rock and Roll' experiments and crosses genres in a unique and forward-thinking way.
Fall Out Boy are most definitely back. And 'Save Rock and Roll' was most definitely worth the wait.
'Save Rock and Roll' is due for release on the 15th April.