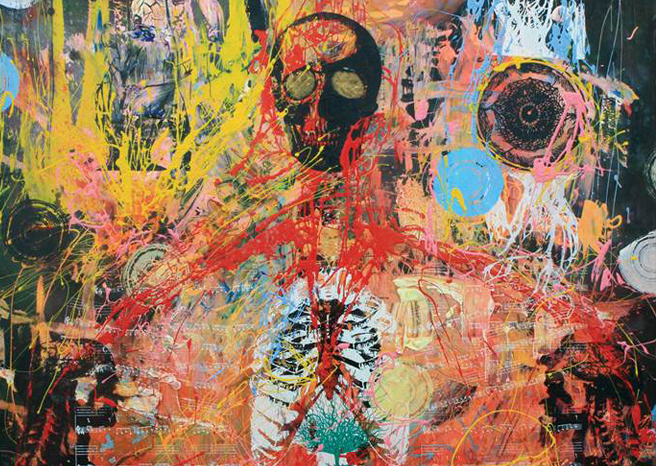 From the early days when every teenager with a fringe had 'Juneau' lyrics splashed across their MySpace page to the softer alt-rock dalliances of 'Tales Don't Tell Themselves', Funeral For A Friend have steered the course of the music scene exploring a variety of sounds and elements of the rock genre. Previous release 'Welcome Home Armageddon' featured a return to the band's earlier sound with heavier songs, and 'Conduit' explores the heavier sound still further, making quite a return to their post-hardcore roots.
Title track 'Conduit' is a heavy musical blast in the face, with guitars that wouldn't sound out of place on a metalcore album, and 'Grey' has some great riff-y breakdown moments whilst still staying melodic, and feeds perfectly into 'Sun-Less'. Closing track 'High Castles' has popped up before, featuring on 2011's 'See You All In Hell' EP, and demonstrates vocalist Matthew Davies-Kreye's strong grasp of the harsher, rougher vocal style. Musically, the band are still as tight as ever (despite various line-up changes throughout the years), and new drummer Pat Lundy (previously of Rise to Remain) makes a great start with machine-gun drumbeats that work perfectly with frantic guitars and the heavier riffs.
The band still manage to throw in the soaring choruses that populate their songs, singles 'Best Friends and Hospital Beds' – which also features an electrifying build up to shouted gang vocals towards the end of the track – and 'The Distance' being examples of this, both songs that would have fitted perfectly onto 2005's 'Hours', keeping the heaviness in the verses but creating strong hooks for the choruses.
'Conduit' doesn't quite stand up to 'Welcome Home Armageddon' in terms of variety, as some songs do sound a bit samey – but when they sound this good, this can be forgiven! The album is eleven songs of pure energy, with no ballads or softer moments to change up the tempo. Whilst there's definitely a feel of their old trademark style stamped across the album, this isn't a band that does 'Funeral For A Friend by numbers', resulting in a feeling of excitement with every new release to see just where they're going next. This time around, they've managed to arrive in a very good place.
'Conduit' is released on January 28th on Distiller Records. The second single from the album, The Distance, is released on February 11th and the band are touring the UK extensively throughout January to April to promote the album – See www.funeralforafriend.com for full tour schedule.
Track list:
1. Spine
2. Conduit
3. The Distance

4. Best Friends And Hospital Beds
5. Nails
6. Death Comes To Us All
7. Travelled
8. Grey
9. Sunless
10. Elements
11. High Castles