It's been sixteen years since Goatwhore reared its menacing head from the swamplands of New Orleans, Louisiana — a city rife with urban tales of voodoo curses, witchcraft and hauntings by souls of the damned. Spawned by former Acid Bath/Crowbar guitarist Sammy Duet in 1997, their winding legacy follows a dramatic, at times traumatic, sequence of personnel changes, fatal injuries, paranormal activity, natural disasters, and a collection of other misadventures large and small. They say what doesn't kill you… whether driven by an unwavering commitment to their craft, pure insanity, the divine powers of Satan or perhaps a combination of the three, Goatwhore forever perseveres, inadvertently establishing themselves as one the hardest working, consistently punishing live bands of the 21st century and a true institution of heavy music.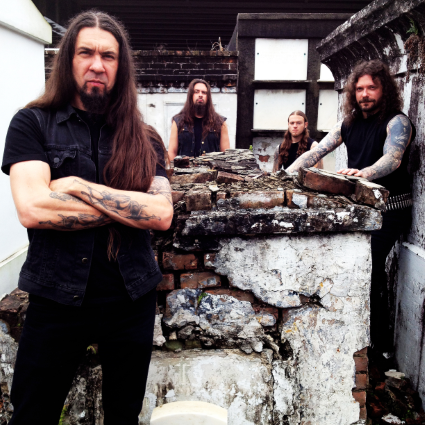 The mere titles of these tracks are enough to give you consistent nightmares and hardly surprising Satan seems to like following this American dream band around, but it sure gives a true meaning of longevity at the hands of an all- together iron fist.
The opening track 'Poisonous Existence in Reawakening' is anything but subtle (not that you would expect it to be, we are talking Goatwhore here) as it sucks the life force out of everything living and feeds off the soul, priming the band for an onslaught of viciousness.
The raucous beatings of 'Unravelling Paradise' hammer down with precision blows. The intensive chaos made more apparent by some pit borne growls and a tirade of heavy riffs.
'Baring Teeth for Revolt' serves its purpose and will clean the flesh straight from the bone in this gut wrenching melee of terror as it chugs through the now shaking speakers.
'Reanimated Sacrifice' more than dips a toe into the extreme! It IS the extreme. The outburst is plain to hear, its insanity spreads its evil raw power in abundance clearing everything in its wake in one mighty swoop!
With a snarl 'Heaven's Crumbling Walls of Pity' is 'in your face' and soaks up the blood that will trickle from the aural cavity as a malevolent force of sizzling riffs reign down in a frenzy of hatred.
'Cold Earth Consumed in Dying Flesh' moves away from the downright evil and is a predatory track that stalks with a sinister vibe of eerie riffs, but not long before the demonic vocal hits and manifests into a cold but compelling crowd pleaser.
'FBS' Intense and powerfully rampant this track burns ferociously and throws out a cataclysmic riff of hypnotic savagery. This will have fans fired up in the shape of a demonic ritual.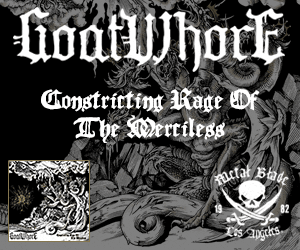 'Nocturnal Conjuration of the Accursed' pumped up and fuel-injected into an emotional roller coaster. It bristles with strong steely riffs and jaw breaking
'Schadenfreude' the taunting doesn't get any better than this as it scours its deathly landscape of brutal growth, spurred on by a vocal that seethes under contempt.
'Externalise the Hidden Savagery' Not letting go of its brutality the final track finishes just as it began, with a battering of beats and violent riffs – definitely more faster paced in a bid to make its mark and that it does with a significant deadly rampage.
Not liking to be pigeon holed – and looking at them who would argue? Goatwhore are straight talking, no nonsense metal. This album holds nothing I didn't expect except to say on the track 'Cold Earth Consumed in Dying Flesh' is slightly less extreme but not for long. Goatwhore are masters of brutality contained within their savage musical prowess. The beast is soon to be unleashed – and only a few more weeks to wait – but well worth it. If you like your metal close to the bone – close enough to melt the ageing skin – then Goatwhore are indeed your masters.
Who could not get caught up in the bands dealings with lyrical themes of Anti Religion and Satanic darkness? I know it has been done before numerous times but fitting for a band called Goatwhore whose bad luck seemed to follow them around after Falgoust's brush with death that left him temporary paralyzed after a near fatal crash, but not one for being beaten, he regained the full use of his legs despite medical odds, and the band's future suddenly turned around.
Sammy Duet (Guitars and Vocals) spoke of the writing process commenting, "It was definitely cathartic… a release of some very negative vibes that were pent up". He goes on to say "I feel like the last one was more you know, 'let's drink a bunch of Jack Daniels and start a bar fight'. This album is a lot more psychotic. It's more like a serial killer's murder spree."
Duet speaks in terms of overall atmosphere saying "There are parts that will make you very sad (witness the miasmic bone chill of 'Cold Earth Consumed in Dying') but there are also parts that are very angry ('Externalize This Hidden Savagery.') That's what we're trying to portray with this record: The total evil of the soul. This album definitely has a darker mentality to it".
I believe the band have done what they set out to do – psychotic is one word for it – but do resist the urgency to kill as it does bare consequences!
10/10
'Constricting Rage of the Merciless' the 10 track album from Goatwhore is out via Metal Blade 7th July 2014.