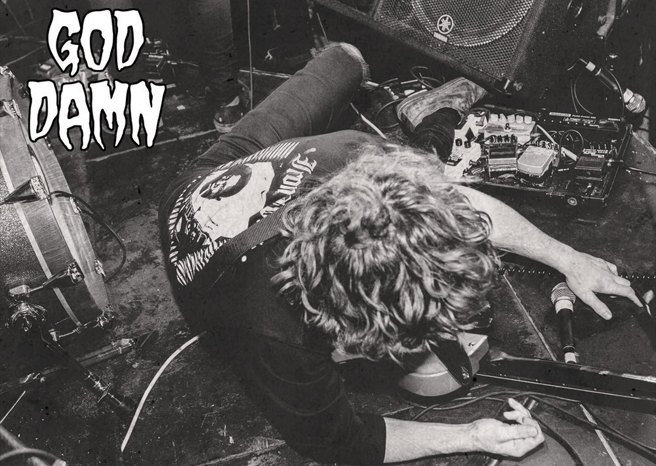 The Black Country Blues/Grunge/Stoner three-piece outfit God Damn was formed by Thomas Edward (Vocals/Guitar) with Dave Copson (Vocals/Guitar) and Ash Weaver (Drums) in 2010.
The trio released a collection of early recordings put together under the title 'Demonstration' late last year. Since formation, the band have shared the stage with underground legends such as The James Cleaver Quintet, Kong, The Chapman Family, Wet Nuns, Tall Ships and Talons.
They have now released a 4-track single 'I'm a Lazer, Youre a Radar'. The title track hurtles into the thick of it with a collapsing rhythm and pin-pointed low guitar notes (there is no bass, just plenty of loose string.) The voice dashes out, then skids around. At 1:30 things get ill – the rough-house beat shuffles – and the pace collapses. The guitars are skinned back to reveal a new raw sound. It is an interesting quirk that will make you immediately want to replay the track.
'Dead On The Wall' is a pile of bed-springs, as the lethargic vocal paces out. The "I don't wanna fight with you …" lyric is slimed out with the kind of spirit of apathy that is associated with a hot night in a scum-city. Snailing guitars are dark, they enter feverishly and then they sink. The drums sparkle in this slothful soup – the only life-giving energy in the foetid swamp. The sounds yawn and stretch right up till the indolent end. This is all sedately ripe, and weirdly intoxicating.
'Fought In The Mirror' is a bit more spaced-out. A shaky junk-yard spaceship of a song. It relies on a shock-absorbing low-pitched-beat and a skidding guitar to make its way. A heart-attack inducing high scrape of sound flickers up – lacing the tense vocals. A junket of other flurried misgivings are slung in for good measure. But it is the screams in the grungy chorus that you will remember the most.
The recording finishes off with 'Double Negative' – this song bleeds black tar. The fuzzy thick notes gurgle and ooze from the many cracks within the structure. When the tempo changes – the voice is pure and clear – and the bony drums soon start to embrace the twisted dark notes . And everything is sent upside down, as it is drowned in mud.
This release is an awesome piece of sloppy, wicked, grunge-based fuzz.. It has enough vibration to ruffle your lips and the caterwauling voice will catastrophically fry your brain.
8/10