Spanning over five legendary decades, Uli Jon Roth's career is still constantly on the rise. This former Scorpions superstar started playing guitar at a very young age and his expertise and uniqueness has made him increasingly popular throughout the years. Since day one his classical roots have been blending with his rock 'n roll style creating something beautiful and innovative, something that eventually caught people's attention. He played his first show at the tender age of thirteen and today he's celebrating fifty years of his career with a special UK tour. Touching Sheffield, London, Coventry, Manchester, Glasgow and Milton Keynes, Uli is ready to deliver all his main music hits. He recently finished his G3 Tour with Satriani and Petrucci and, luckily for us, doesn't care about taking a break.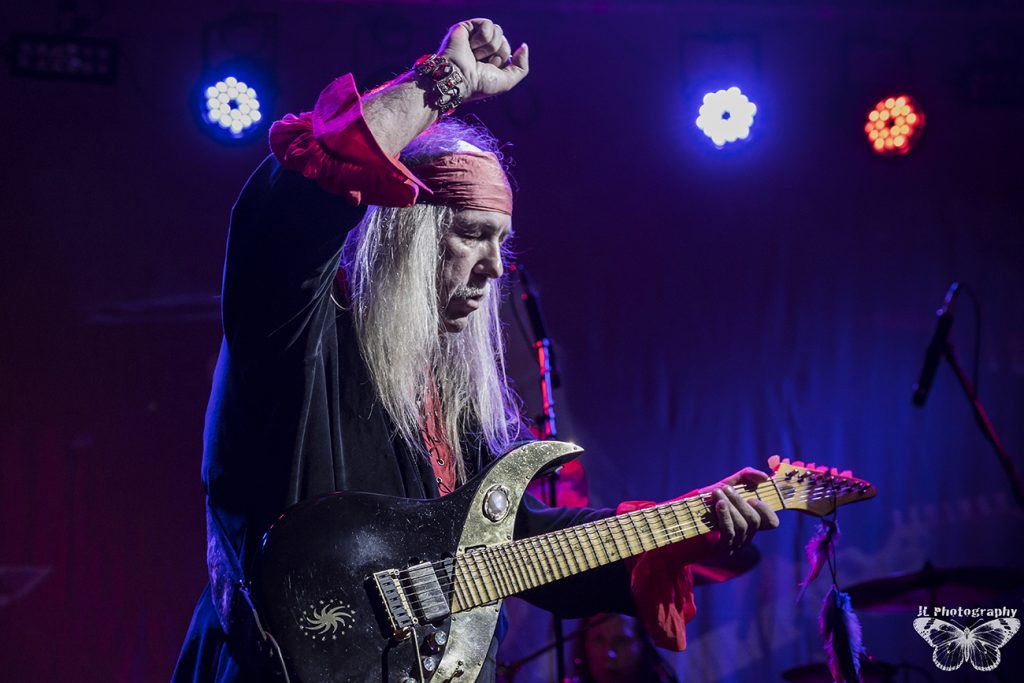 Support comes from Kaleb McKane, a fairly new artist who is a London based guitarist, singer and songwriter. Uli himself praised his high level way of performing and from what I've had the pleasure to see for the first time, I can certainly agree with his statement. This young artist, who also appears to have a great taste in fashion, is gradually gaining approval from many musicians and music business experts such as Woody Woodmansey (Bowie's drummer), Hans-Martin Buff (Prince's recording engineer) and top producer Steve Brown. 'We are gonna play some music you probably never heard of' says Kaleb. His voice is magnificent, it has the power to bring you on another dimension and all of a sudden a whole week of worries and troubles is forgotten. It's Friday night and Kaleb certainly makes ULU the right place to be, if you know how to appreciate good music. Dressed in glitter and leather, his band does as much as an amazing job as their frontman. 'Lack Of Gravity' is my favourite of the night, pleasantly unreal with a John Mayer vibe. All the other tunes are very unconventional and very Bowie, in the most positive way. Kaleb's guitar expertise together with his outstanding vocals manage to create a memorable and very exciting experience for any music fan.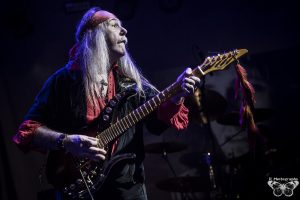 Tonight Uli comes on stage accompanied by very skilled musicians, on guitars we have David Klosinski and Niklas Turmann who's also on lead vocals together with backing vocalist and bassist Simon Foster. Powerful drumming comes from Michael Ehre and on keyboard duties we have Corvin Bahn. Uli opens the set with
'Indian Dawn'
and the full house at ULU in Euston is already hooked. His finger-picking skills are close to none, it's easy to see why younger talents such as Van Halen, Becker and Malmsteen took him as a source of inspiration. Tonight Uli is playing his unique Sky Guitar, designed by himself and put on the market together with a selected collection that can be found on UJR Sky-Guitars website. This highly peculiar instrument allows him to play with a nigh-on six-octave range and makes it possible to execute
'The Four Seasons'
by Vivaldi, a violin concert which doesn't lose the sound of an electric guitar.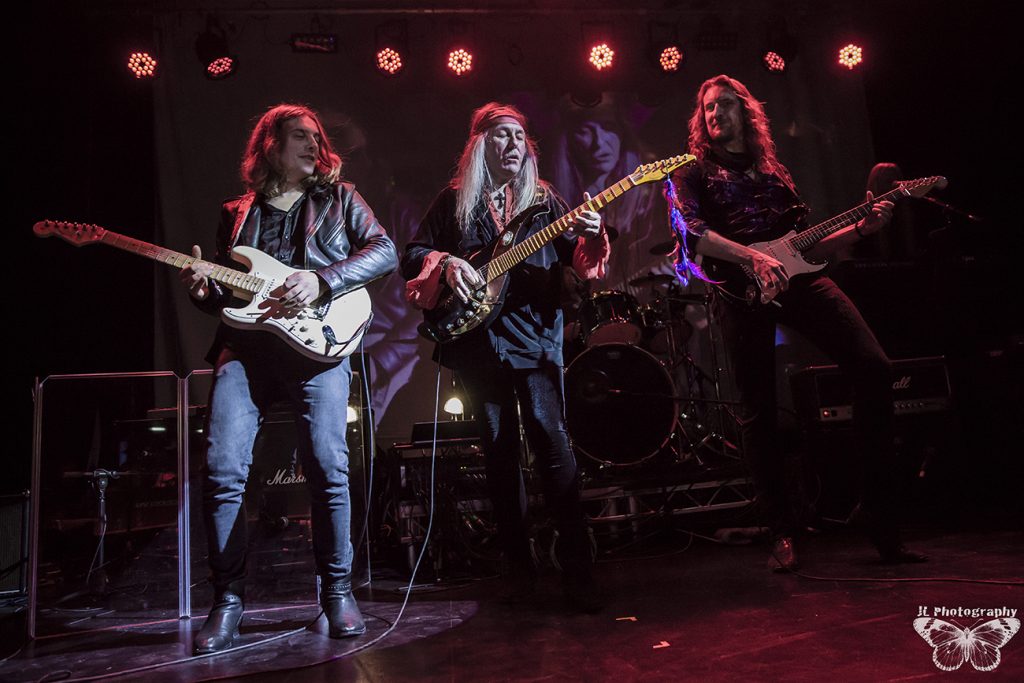 'Good evening London!' says Uli at the end of his first song announcing that tonight they will be playing tracks they haven't played since 1986. 'Electric Sun' comes on for the joy of all fans. Throughout his set we can hear the sound of an early Jimi Hendrix mixed with Uli's own way of delivering rock 'n roll. Without missing a beat they continue the set with 'Icebreaker', 'I'm A River' and 'Don't Tell The Wind', a touching homage to departed brother and songwriter Zeno Roth. Uli looks very pleased with his supportive crowd, although I don't think I've ever seen such a silent and well behaved audience before. It feels like everyone is fully absorbed in the melody and in order to honour their respect for such a spectacular guitar hero, they choose to enjoy every second of the show by taking all in. Despite the fact that tonight Uli is accompanied by a very skilled band, he appears to be the show stealer. Fans have got all eyes on him as he shows no signs of slowing down. He's not just playing an instrument, he's making art on stage and the enchanting atmosphere captivates the whole audience. No matter the difficulty of the job and the small technical issues, Uli plays effortlessly confirming the fact that he is indeed a guitar wizard. By the end of the set, his fans cheer him and ask him for more, even after a two hours set. The band concludes the show with one of my favourite 'In Trance' and an outstanding Hendrix version of 'All Along The Watchtower'. Niklas' voice has not once stopped being powerful and spot on, the whole gig has turned up to be a glorious experience and it's definitely something guitar aficionados do not want to miss.