As the crowed packed into The Duchess in York on a sweltering Saturday evening, there was a palpable sense of tension in the air. Heaven's Basement have been enjoying a meteoric rise over the past year, and it seems the opportunity to see them in an intimate environment was too good to pass up for this eager crowd.
First up were Scunthorpe based Skarlett Riot, a band I've seen and shared the bill with on a number of occasions in the past. Always entertaining, they put all they could into their short set, with the songs 'Faded Memory' and 'Villain' standing out. The latter was slightly on the slow side, yet it was still enjoyable. A solid opening set from a band certain to rise higher throughout 2013.
7/10
The main support act were Buffalo Summer. Hailing from Wales, these are also a band I've encountered before and by god they did not disappoint. Launching into their set, filled with groove and catchy riffs, they had the audience in the palm of their hand immediately. Standout songs 'Down To The River', 'Rolls On Through' and the incredible 'She's All Natural' took the roof off The Duchess, and many people in the room found their new favourite band.
9/10
Then, came the act we were all waiting for. As Heaven's Basement roared onto the stage, you just knew this was going to be a special show. Launching into 'Welcome Home', the band set a statement of intent from the get go. Rolling out hits from their album 'Filthy Empire', with songs like 'Nothing Left To Lose', 'Jump Back' and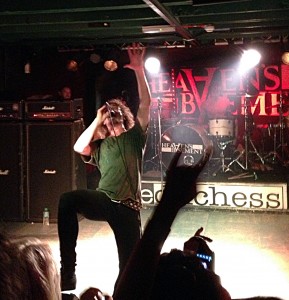 'Lights Out In London', the band were just all in perfect sync. They were simply flawless; Aaron's vocals were on top form, Sid's guitar powered high through the melodies and Rob and Chris' rhythm section kept everything so solid. It was Rob's birthday too, and he even had a birthday cake brought on stage by the bands' techs, Scott and Tommii.
The crowd were just as insane as the band throughout the set, and some brave crowdsurfers in the small venue were helped over the front barrier by Aaron himself. This guy looks after his fans, from stage and off the stage. The true highlight of the set had to be the closing song 'Executioners Day', where the whole crowd joined with the band in complete symbiotic synergy and went completely nuts. It was truly one of the best moments I've ever witnessed at a live gig.
Heaven's Basement proved once again that they are the fastest rising rock band in this country. As people made their way out of The Duchess into the warm summer night, everyone was smiling and talking about how amazing the show was. There's no greater compliment than that.
10/10