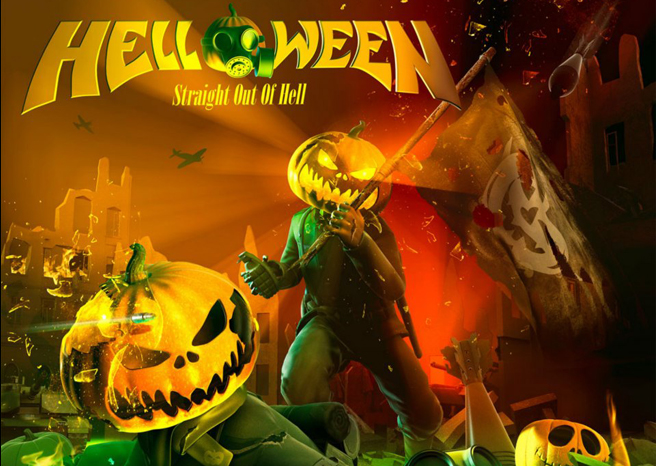 German power metal pioneers Helloween have been producing their own brand of metal for almost thirty years, being stars in Europe and at one glorious moment almost getting to the big time in the late eighties. 'Straight Out Of Hell' is their fourteenth effort with long time producer Charlie Bauerfeind; is this the album that sees the band eclipse they're powerful 'Keeper Of The Seven Keys' and finally grab the fame that they courted all those years ago?
'Straight Out Of Hell' opens with their strongest track 'Nabataea' its a sprawling journey into Helloween territory, all complicated melodies played impossibly well, if you've never heard this lot before this is a great start, the chorus alone is worth the price of the album.
We then follow with 'World Of War' another frantic piece of musicianship with a chugging drum beat and Andi Deris's voice somehow has not aged at all, check those notes out!
'Live Now!' is driven by Matthias Ulmer's keyboards and does have a very European pop metal sounds about it which could be a good or bad thing depending on your stand point, for me there's no denying how catchy it is if not a little dated.
The chugging riff in 'Far From The Stars' is very effective in keeping the pace of the song up bringing it into the slightly sing-a-long chorus.
A longer intro for 'Burning Star' soon gives away to the raging speed and Deris hitting some fantastic notes, unlike the previous songs this is more of a slow builder as we plunge into the story of the madman who dreams getting to the suns and stars.
'Waiting For The Thunder' has some good minor keys from Ulmer's keyboards in the chorus and this really helps makes this song stand out as one of the stronger ones of the album.
The ballad of 'Hold Me In Your Arms' is rather tepid and dirgey with a rather uninspired chorus, although some of the keyboard work is wonderfully melancholic.
The slightly strange Queen tribute 'Wanna Be God' is the most frustrating song of the album as the Brazilian feel should have been flushed out more, its too brief and ends so sudden!
Title track time and we have some cracking drumming from Daniel Loble his crashes throughout the song really push it forward, this again is classic Helloween.
Amusingly titled 'Asshole' is heavily influenced by Ulmer's playing and brims with a curious but effective chorus that then descends into a perfectly played solo from Messrs Matthias Ulmer and Sascha Gerstner.
'Years' uses some good choral harmonies in its bridge but by this stage in the album you do feel like Helloween had run a little dry on ideas as this does seem like filler.
This shouldn't be said of 'Make Fire Catch The Fly' which builds in whispers to a growl and then a soaring roar as everything blends to push the song home.
The album closes with a the holy 'Church Breaks Down' predictably we start with a choir before a long riff leads us into more chugging over somewhat predictable lyrics, its not a great ending.
'Straight Out Of Hell' isnt groundbreaking if your already a fan, it does what Helloween have been doing very effectively for years, it wont win any new fans but its not a terrible album at all its just not a great one.
6/10