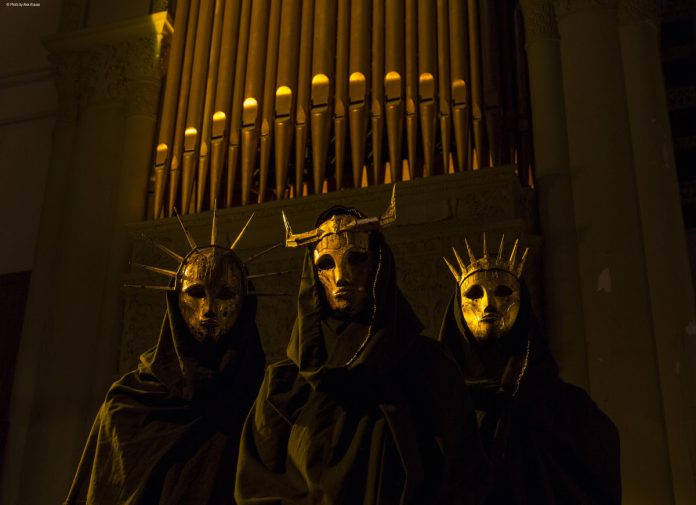 Imperial Triumphant's bio reads: 'Born in the metropolis: Imperial Triumphant embodies the sounds of New York City. From top floor luxury to the rotten underground.' From the very beginning of this record, discordant guitars mimic passing sirens to let you know that this band is staying true to their mission statement in a very literal way. Alphaville is filled with very distinct references to NYC, giving the sounds a sense of tangible atmosphere. Elsewhere on the record, samples of the New York subway can be found.
Opening track 'Rotted Futures' kicks in with an off-kilter riff, letting you know that this is very far from your average black metal album. The song drifts between tight and dramatic to free flowing and chaotic very easily, often letting the music descend into what feels like improvisation before jolting back to a mathy groove.
Lyrically, Imperial Triumphant explore the vast inequality present within New York on the track 'City Swine,' initially one of the most straight ahead songs until Meshuggah's Tomas Haake is featured on Taiko drums in the bridge. It's a large stylistic jump that works well, especially when the thundering drums roll back into a mathy riff that the Dillinger Escape Plan would be proud of, replete with crashing discordant pianos and pummeling double kicks.
Zachary Ezrin's cavernous vocals contrast with what sounds like a lounge singer being tortured on 'Transmission To Mercury,' as well as soft soprano vocals delivered by Sarai Chrzanowksi and Sabrina Anarchia. The list of featured artists on this project is long, and they all contribute very interesting parts to the record. Production was handled by legendary avant-garde musician Trey Spruance of Mr. Bungle fame, and engineering was taken care of by Colin Marston, another highly regarded name within boundary-pushing metal.
The jazz influence is more than a few spicy chords littered in amongst a metal record. Many of the songs here have been written from a jazz perspective, exploring melody and repetition in a way far different to their contemporaries. At various points the band appears to be collectively improvising, and the intro of 'Transmission To Mercury' transports you to a late night lounge club before weaving those trumpet lines into more metallic textures. The call-and-response intro to the title track feels like classic jazz warped and twisted through the lens of 21st century metal.
The dense, unrelenting sound of Imperial Triumphant plunges the listener into a chaotic cityscape that is unmistakably New York. They have accomplished their mission — the mission to embody the feeling of the city — by filling Alphaville with twisting metal, crashing instruments and a torrent of noise. The roaring twenties are back, and Imperial Triumphant heralds their return.
Alphaville is out on July 31st via Century Media.