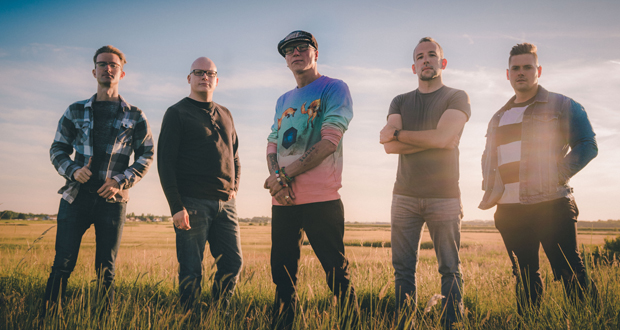 I have fond memories of hearing InMe's debut track 'Underdose', taken from their first studio album Overgrown Eden. The track resonated with me heavily, I was just a Nu-Metal obsessed teen at the time and Dave McPherson's raspy, tortured voice and raw guitar blew my mind. They played a show in my city not long after the album released and the place was packed, people lost it to 'Underdose', 'Firefly' and 'Crushed Like Fruit'. However soon after, InMe dropped off of my radar as I explored heavier music, I somewhat arrogantly assumed they had faded away like so many other bands of the time.
InMe didn't fade away though, they retained a loyal following and evolved their sound over the years, so in order to better judge the band's seventh studio album Jumpstart Hope, I needed to familiarise my self with their back catalogue and fully grasp their journey. Over the years InMe's sound has gone through some changes, Overgrown Eden was a product of its time but by the second record Daydream Anonymous, the first shoots of InMe's identity began to show, this trend continued through their next four releases, a softer, more hard rock approach was adopted with a sharper edge more reminiscent of their early days mixed back into their more recent work.
So what of Jumpstart Hope? First off, this is a really good record, the production value alone is superb, excellent arrangement and tight, crisp engineering lend to the album's appeal. The mixture of hard and punchy riffs with anthemic vocals and the softer, slower tracks works really well. The singles released ahead of the album, 'I Swear', 'Blood Orange Lake', 'The Next Song' and 'For Something To Happen', were the best choices, each one is a standout track and each one gives you a hint to the overall feel of Jumpstart Hope. 
There is a lot of emotion embedded in each track and conveyed through McPherson's vocals, the guitar and bass work is also well worth praising, creating a full and vibrant sound. Despite being this far into their career, Jumpstart Hope is yet another step on the evolutionary path for InMe, an album that pushes their sound further still. This will be a great album for those who have followed the band and for those just discovering them, or like me, re-discovering them.
Jumpstart Hope is out January 17th 2020 via Killing Moon.