"He reminds me of a young Ted Nugent," said a voice to my left as I watched Jared James Nichols deliver an impressive support slot during Glenn Hughes' recent UK tour. From a distance, visually perhaps, but with bigger biceps, and more akin to Joe Walsh if you ask me; especially the way he handles slide guitar. Actually, the fact that Nichols plucks his strings with his fingers rather than a plectrum is what really gives his playing its own sound. Visually that's also interesting live and it's nicely mirrored by bass player Erik Sandin's own unique right hand movements. Bring in Dennis Holm on drums and you've got a classic rock power trio, the kind of band who'd be playing somewhere on the bill of mid-west America arena tours back in the day, but have now shipped over the Atlantic to play over 70 dates in Europe and the UK this year.
This Highwayman EP offers a mix of vintage covers and self-penned songs. It features one of the few Grand Funk Railroad numbers to have reached the UK's rock public consciousness and a US radio staple by Humble Pie, who rarely get a mention over here in their homeland, which  is kind of ironic. Nice one then, Jared James Nicols, for reintroducing them both to a more modern audience.
Originally produced by Todd Rundgren, Grand Funk's slick hit 'We're An American Band' is given a full-bodied warm makeover here, with some choice blues slide guitar soloing and Jessica Childress adding gospel style backing vocals. She's back along with Ben Tileston on The Pie's 'Thirty Day In The Hole', a song also covered by Mr Big in recent decades, and I dare to commit heresy here by saying Nicols' gruffer vocals and this slightly less urgent musical rendering rather appeal to me.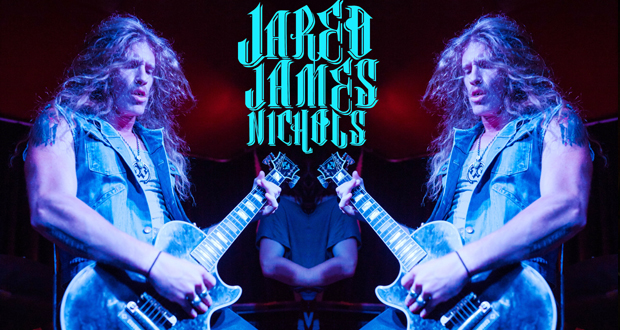 Of the solo songs, 'Old Glory' is a big, fat-riffed blues rocker with Nichols singing out "Lead me to my promised land" before delivering an expressive spur-winning solo. 'Fallin' Down' starts from its drum beat, the bass rolling over and a guitar pitching riffs and chords at different tempos but doesn't quite drive you home. Final number 'Gone' is a stone cold winner though – a big slow blues rocker with gentle asides, heart-felt chord changes and subtle musical interplay that, when matched with Nichol's voice, reminds you a little of The Pat Travers Band in their heyday; played live, this could grow into quite an epic.
This is a fine taster from a promising young talent who pays respect to the past and is slowly heading out in his own direction; he's worth following. Check out his Old Glory and The Wild Revival album and keep a look out to see when he's next back over here to play live.
Review Overview
Summary : This Highwayman EP offers a mix of vintage covers and self-penned songs.