Review by Paul Birch, photos by Martin Tierney. Saturday 21st May 2016.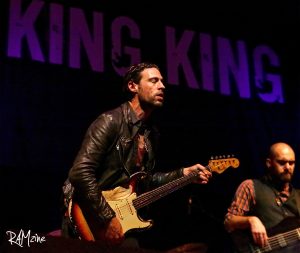 Nonchalantly strolling on stage, his three piece band ready, Dan Patlansky takes a little while to tune up but as he begins to pull on notes more earnestly blues licks resonate, then sliding down his guitar neck with gusto before pinching strings with echoed wailing feedback he launches into the commuter train funk rock of 'Sonona Faith' from his newly released Introvertigo album.
Backtracking with Dear Silence Thieves' 'Fetch Your Spade' the band live afford it a more expansive blues soul quality. Next, explaining the co-write 'Heartbeat' is about a homeless guy back in South Africa where he and his band originate they lay into a heavier tribal rhythm following its keyboard and bass intro, with Patlansky playing slide to strong effect throughout. He loses momentum with so much between song chit-chat however, plus guitar changes along the way. That said the next number, 'Still Wanna Be Your Man', is a six string highlight moving from blues intro to softer funk, Hendrix imbued arpeggios, Spanish  inversions and plucked string notes, supported ably by his organist and the band's vocal harmonies. Predominantly a slow blues number there are several wrangled solos contained within its scope.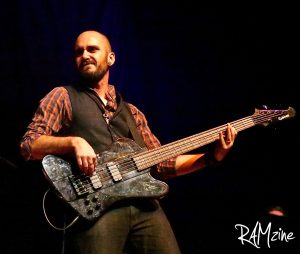 'Backbite' is testosterone-soaked with a strong  beating pulse, the row of suits in front of me rocking in their seats as the band dig in while Patlansky whacks out an energetic solo. With guitar squealing over a bass line he now brings out all the tricks for final number 'Stop The Messin''- From playing it one handed to Chic-like funk chops as the band get introduced and each take a solo before he starts playing with volume control and effects pedal to make out like Hendrix come Blackmore with some flash pyrotechnics drawing it to a conclusion as the crowd rise from their seats to applaud.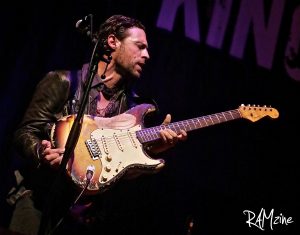 While a great admirer of Dan Patlansky's records, less guitar heroics more songs would have been my preference for a 40 minute slot, but as Free's 'Alright Now' plays over the PA the recent past already becomes a different country as King King stride on stage smiling. "It's Saturday night and you're sitting in your seats. We must do something about that!" declares singer/guitarist Alan Nimmo so with Bob Fridzema tinkling the ivories, the big Glaswegian lays into his silver grey Stratocaster and they deliver the full bodied strutting down the highway rock of 'Lost Control' with Nimmo singing how he's "Watching the world come apart at the seams" even as the kilt he's wearing looks to be taking on a life of its own.
Straight into 'Wait On Time' with Nimmo down the front of stage as Lindsay Coulson's bass line percolates over the blues, feet are tapping and women in the Gods are up dancing, trying to outdo each other as Nimmo jousts with his guitar rocking across the stage. "This is the last night of the tour, let's make it a night to remember!" he cries out, and the crowd respond back approvingly. There is a time and a place for stage banter and here it works. As subtle guitar notes slip alongside a ;sensual organ Coulson's bass throbs and Wayne Proctor's snare drum cuts through loud and clear as they make out like Goats Heads Soup-era Rolling Stones grooving with Heartbreaker-period Free without the drugs and high on life. The crowd are getting into it; guitar and organ in a cool duet, the sound on stage fading leaving just the audience clapping in time before the band pull back in and draw the number to its climax.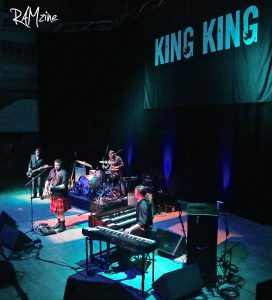 Explaining he needs to go into hospital for a minor throat operation after the tour Nimmo seeks to explain the hoarseness of his voice this evening, and one simply  assumed it was because this was the end of the tour, and while a little ragged at times it gave him a vintage Rod Stewart croon. In fact if we go back to when Stewart sang on the Python Lee Jackson hit 'In A Broken Dream' take some of that, put it on a grander scale and you have King King's 'Rush Hour'. The guitar cuts through evocatively during the lead break of this heady ballad and the call and response "Whoas" with the crowd hit the mark even as Fridzema's organ embellishes without grandstanding. It continues for 'A Long History Of Love' from their previous Standing In The Shadows' album that has a Northern soul vibe, the band adding vocal harmonies, and Fridzema engaging in a solo that glances toward country, bows its head to gospel and is frankly quite beautiful. Nimmo follows it with a distorted guitar solo, each note counting and the band as one drawing this to a most effective conclusion.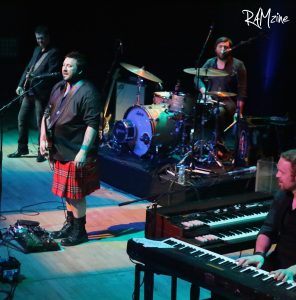 Next, the gloves are off for hammer-on guitars and swirling organ riffs as they belt out 'More Than I Can Take' then dedicating 'You Stopped The Rain' to brother Stevie, now recovered from cancer, Nimmo plays guitar over a pounding resolute organ. A rocker with great pop harmonies, it's actually the rhythm section who are at the heart of this song. Nimmo takes a solo that races all over the place and then it all comes to a precise gracefully melodic end.
Nimmo swaps to a Gibson to cover Frankie Miller's 'Jealousy'. The organ introduction enfolding it with an eerie classic horror movie feel, there's a more melodic voice and brisker tempo to the song than the original but it's still a potent brew. With Strat back in hand King King make out like they're careering into a musical car crash only for Nimmo to shout out: "Are you ready?" and be received by a roaring crowd as the bass pumps, the keyboards funks out and Nimmo gives it all he's got, singing like he's packing out a US stadium back in the 70s. Bombastic, joyous and expansive in sound this is 'Crazy'. With Proctor's drums still beating away they go even funkier with 'All Your Love' then they play one final epic, the heart-pounding 'Stranger To Love' from Reaching For The Light with Nimmo employing a most impressive vibrato during his solo.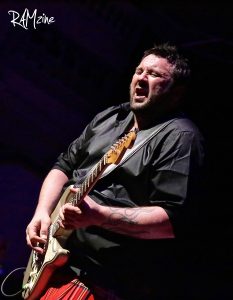 When King King return to encore to a standing audience, they exclaim it wouldn't be an end of tour party without guests and invite Dan Patlansky back on to jam to Jimi Hendrix's 'Little Wing' – Nimmo lets Patlansky do the flash bits, but doesn't shy away from making some extremely tasty sounds himself.  Hindsight, might tell us it went on a little too long as these things do but they keep it pretty tight throughout, and they all remain on stage for 'Let Love In' a tartan rocker that swaggers and grooves right to the end.
King King put on an excellent live show, leaving you knowing you've had a spent quality time in their company. Tonight the good times rolled and now we must wait for them to pass this way again. Sooner rather than later, please.