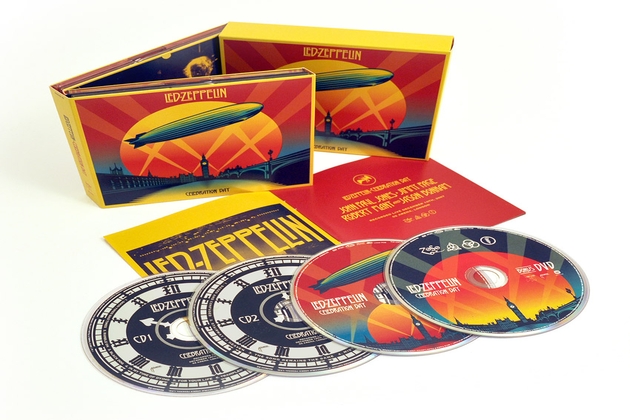 Led Zeppelin. Just those two words immediately conjure up images of thunderous drums, crushing riffs, a grinding bass line covered by a howling blues scream. From 1968 until John Bonhams untimely death in 1980 the foursome could boast eight albums each crammed with timeless classics that still hold the benchmark for truly great rock.
Since 1980 the remaining three have obviously felt the lore of doing it one more time, 1985 saw Live AID which in my opinion was one of the worst performances you can imagine and just in case that wasn't awful enough we saw them do it again in 1988… So you can see why the three wanted to set the record straight and show the world that there was still more gas in the tank.
So in 2007 they did things right, firstly they asked Jason Bonham (of Black Country Communion fame) to take the intimidating reins left by his Dad and then did something special; they did what any other band would have done when taking on a set list sixteen songs long …they rehearsed!
So what are the results? Are they Live AID bad? 'The Song Remains The Same' mediocre? Or 'How The West Was Won' incredible? Thankfully 'Celebration Day' is very much in the latter camp; as soon as 'Good Times Bad Times' comes exploding out you can hear that Jason Bonham is very much at home in the Zeppelin seat. He throws himself into that looping beat but through out the set he doesn't just produce a carbon copy of his Dads performance, he adds, he improvises and brings new nuances; just listen to his incredible fills in 'Dazed And Confused,' its an immaculate performance.
The major change in the set has to be Robert Plant, his voice is no longer capable of hitting those soaring roars of his heyday but what we have instead is a beautiful mournful blues growl which somehow makes songs like 'Stairway To Heaven' and 'Since I've Been Loving You' seem like your hearing them for the first time again. Plant almost seems to have reexamined his lyrics again and searched for different meanings, its exciting and at points quite moving.
John Paul Jones was always thought of as the quiet one of the foursome but indeed his influence gave the band that grind and groove, here you can really hear how good he is as a musician, his bass electrifies 'Good Times Bad Times' and then holds together the rhythm of 'Black Dog' and 'No Quarter.'
Which leaves me with Jimmy Page, in the thirty something years since 'In Through The Out Door' we have seen some very odd appearances, I can still see Fred Durst and that dude from Staind's confused expression when he walked out on stage to solo on the MTV awards and played something so far from the song it was almost like he wandered onto the wrong stage. In these sixteen tracks we see him at his best when he sticks within the song rather than trying to add where its already perfect, 'Dazed And Confused' is one of my all time favourites and it doesn't need further exploration, you end up longing for him just to play it straight!
'Celebration Day' is great end to a wonderful career for Zeppelin, its a great set which highlights the bands strengths today rather than over-reaching, its very smart. If you have 'How The West Is Won' this is a great campaign or if your a first timer its a great overview and will hopefully lead you onto their incredible back catalogue.
8/10