'What Now' showcased their newest songs from their upcoming album 'Move Like a Sinner' – out March 2013 – in the luxurious surroundings of London's fabulous Lexington venue last week .
The band originated from the surfing and skateboarding mecca of Ballito, in South Africa (although they now call London their home) so it was not surprising that the Lex was stuffed with adorable Saffies – looking forward to seeing their favourite band. More surprising, though, was the large contingent of Polish fans – who had flown over especially to see the show. Apparently, 'What Now' have had a healthy following in Poland since their recent European tour.
So, kicking off with pride and determination, and their new song 'Money Maker', with it's lascivious gusts of guitar, and soulful lyrics, the band made certain that the crowd in the bustling North London venue burst into enthusiastic applause right from the very start. Especially when Adam (drums) stood up suicidally on his stall, to thrash out his cymbals in a violent and exotic rage of controlled power.
This band was 'Ready to be Heard' and their output was passionate and livid.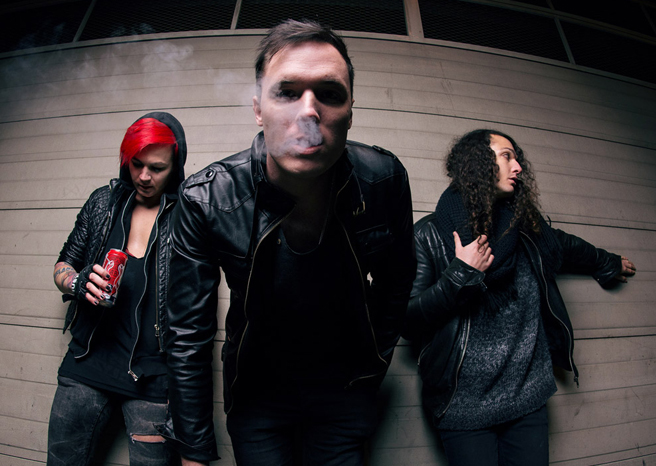 'Move Like a Sinner' was like having a sabre toothed tiger gnawing at your leg. As shimmering pans of silvery light were reflected brazenly into our eyes, the haunting vocals from Tyron dripped their way effectively through the flowing contours of sound, flicking impressively into our deepest crevices.
Ryan's hair has turned a splendid shining red since his 'Toy Soldiers' days. But his eye-liner remains intact. His nimble fingers ran over the frets, squeezing every last note of passion from the tight strings. Playing live, he is like a fire-demon who has just been released from a jar. He seems filled with unimaginable, relentless energy and whisked up frenzy.
Imploring vocals from the tall, dark and handsome Tyron came with a soulful cutting edge. They were raw and seductive. And the drums and cymbals constantly crashed and shimmered – the effervescent energy scrambling the brains of every onlooker.
The samples were skilfully and expertly crafted into the live performance (courtesy of multi-talented Adam.) Sometimes Tyron's bass guitar hit grinding low notes, but at other times it was left to fly free, helping to add layers of sound to Ryan's enigmatic chords and splashes of colour.
The new sound of 'What Now' incorporate harmonious voices, catchy melodies and sensual rhythms. But the songs still tend to have dark edges surrounding them, and a touch of Gothic about them. Truly stirring stuff.
'Move Like a Sinner' by 'What Now' will be released in the UK on 11 March 2013 by Hey and Argh. Mixed and Mastered by Tyron Layley.