Opening up the show is Suburban Legends, for anyone who doesn't know them they are a Ska band from Orange County, CA. They're very happy to the point all your worries go away. Not only playing their own tracks, they are also known to do amazing skatified covers from Disney movies, it's amazing! This is the second time I have seen these guys and they are banana's. Top highlight has got to be when they sang The Lion Kings 'I Just Can't Wait To Be King', certainly an unique way to end the set. Though a few people in the crowd said that they were a bit gutted they didn't sing The Little Mermaids 'Under The Sea' – Yep not even kidding! Suburban Legends if you are reading this, next time you are in the UK please sing it, ha ha!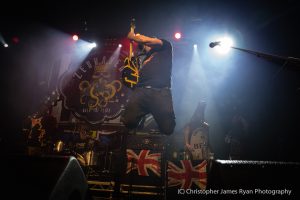 Zebrahead are on another level playing ska-punk, rock, rap'n'roll. They are here for one thing only and that's to party! By mid set 'Save Your Breath' came into action and everyone is bouncing, dancing and drinking, the whole bloody band is like crickets bouncing and dancing along to the sick beats. The fun doesn't stop there, are you ready for this bit? Three guys dressed up as beer bottles come onto the stage, Ali Tabatabaee asks some fans from the crowd to have a drinking contest, a Manc versus a German are then set to have a chug contest! It was a close one and of course the woman who represented Manchester got to stay on stage during the rest of the set, how sweet! Overall I'd day Zebrahead was a great addition to this tour as they have definitely spiced things up!
Woaaahahooooh its everyone's favorite assholes Reel Big Fish! After starting up with a few technical problems and laughing it off, we get into the feel good mood with A-ha'S 'Take On Me' – Of course this set is about having a laugh, and drink to the good times! Reel Big Fish are possibly most peoples most favorite Ska band out their, for their silliness and joyful spirit! Playing a lot of the fans favorite tracks like 'Everyone Else Is An Asshole', 'She Has A Girlfriend Now', 'I Know You To Well To Like You Anymore', 'Sell Out' and of course 'Beer'; Plus the covers 'Brown Eyed Girl' and 'Monkey Man'. To treat us further they play a brand new single  'You Can't Have All Of Me', which is a great track to which I'm looking forward in hearing on their new album as this is in fact the first new song in six years! Crikey! After a huge set list it was time to end, sadly. This is the third time seeing these chaps and honestly I want to see them again already. Let's hope we see them return next year.
Time to wrap up this show with more ska-punk, Less Than Jake are hear to finish us of! As it's a co-headliner tour with Reel Big Fish, we are spoiled with another big set. But there is a catch! From what I heard they have not played any tracks from their 2017 album Sound The Alarm live. Although a little odd, we are not complaining as it means more space for great fan favorites. Less Than Jake are welcomed with a overwhelming response from the crowd, opening up with 'Gainesville Rock City' they crank out banger after banger with this huge set list! Songs such as 'History Of A Boring Town', 'Plastic Cup Politics', 'The Science Of Selling Yourselves Short', 'Johnny Quest Thinks We're Sellouts', plus more! Ending their set with the ultimate favorite 'All My Best Friends Are Metalheads', Less Than Jake has proven to us why we love them. Everyone is having a skatastic time! There has been so many bloody crowd surfers its like a ska sea full of good vibes!
On a final note, I know there are people who don't like ska and label it as trash but honestly I do not know why!? Are they boring? Ska has got to be one of the happiest funnest gigs to document, no one is here to be serious it's let your hair down grab a beer and get wasted with your mates listening to bangers and we are the mash, it's a perfect combo!