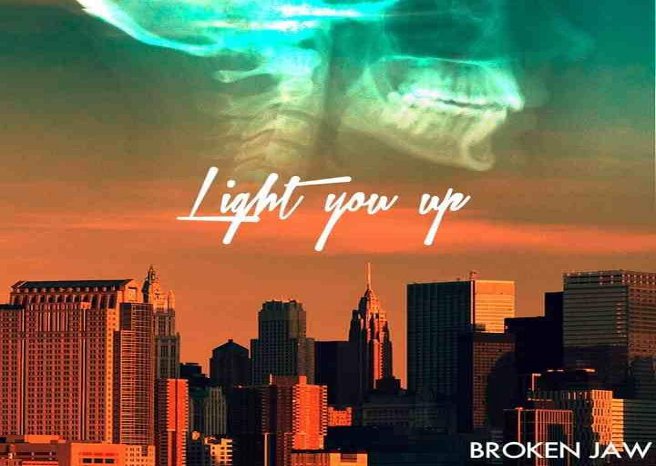 'Broken Jaw' is the first release with Light You Up's new front man: Guildford's Tom Napier. He brings a passionate new sense of substance to the 5-piece band. With the addition of his soulful singing, and remarkable vocal range, the band has created an album full of fresh, newly minted, melodic moments.
Shouldering the sure-footed single Foxfire, the mini-album also incorporates generous handfuls of melodic rock, and equally credible pop punk. It should easily satisfy the tastes of Futures or Deaf Havana fans.
Foxfire jangles itself into sight with a fluster  of drums that create just the right amount of excitement in your bosom. Vocals are adorned with shiny, mature, and melodic guitars. Despite the title of this song (which sounds like the name of a Clint Eastwood action movie) the piece is gentle and soulful. With lyrics like: "Play this broken record on your stereo … And you'll never be alone" it is calming, reassuring and gratifying.
Slightly buzzier, but no less vocally noble, the next track Broken Jaw quickly follows. The combination of breezy riffs with heartfelt lyrics ("I've never felt this way before…") will grab your guts and give them the bubbles. You know that feeling. It churns you up inside. Honeyed backing vocals top off this shimmering piece.
Without You Here is one of those anthems about loss … "Waking up tomorrow will never be the same…" Pugnacious drums thump out the sentiment, whilst Tom's vocals set about your heart, ripping it to shreds.
Lifebox closes down the EP. It starts as a simple acoustic song, the kind of thing that singer/songwriter Tom would be singing alone in the pubs and clubs of Surrey. But then something amazing and life affirming happens. The song explodes gloriously into a warming bath of emotions and agitated, bubbling guitar sounds. When you begin to sink deeper and deeper into the depths of this healing elixir, you start to feel clean and renewed.
7/10
Light You Up are on Facebook right here