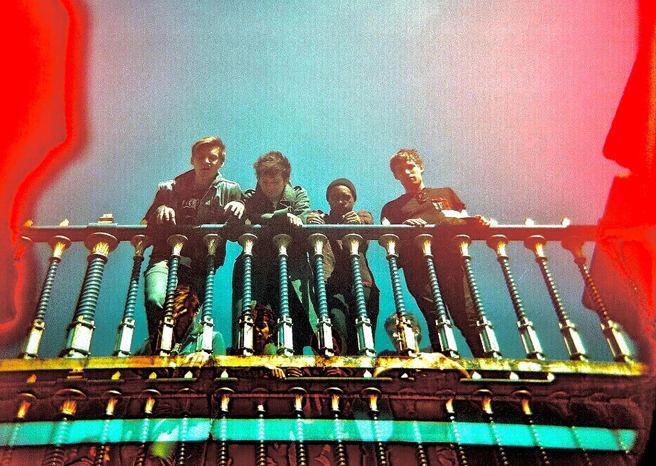 London band Turbogeist, are set to release new EP 'Ancient Secrets' on January 14th 2012 via Spinefarm Records.
The EP will be avalible digitally, and a number of colored 10′ Vinyl will be available.
Vocalist Jimmy Says:
"Ancient Secrets pertains to our obsession with all things fantastical and cryptic. It's an abstract title, but these are abstract times. We didn't wanna make an oi oi punk angst record, although that's how we started out. We wanted to make something more tongue-in-cheek, more weird. We were always turned on by a splatter gun of influences. We didn't want to make a punk or hardcore or glam or thrash record; we didn't wanna make anything that felt sonically linear. If the EP were a drug it would probably be acid, as it could go in a few directions. It could be scary, but it could also make you laugh or cry, or make you realise that nothing is real and we are all just a collection of atoms moving very fast to no discernible end."
Turbogeist are said to be inspired by 70's punk-rock with a twinge of 80's hardcore. The bands influences include The Replacements and The Misfits! In fact I just read that they are 'an amalgam of twisted sci-fi laden punk rock exploding with raw aggression & attitude'.
Guitarist / vocalist Luis adds…
"Being a youth in the 90's with Brit pop, Grunge, Hip hop and great rock bands emerging on the radio and music television we were spoiled for choice. Nowadays everything seems too polished.  However if you look beyond the void of Mercury Awards and Coldplay b-sides there are great underground scenes/ bands emerging."
 Turbogeist will be playing with Cancer Bats on three of their UK dates in December:-
08th – Fibbers, York
13th – Sugarmill, Stoke
18th  – O2 Academy, Liverpool