Camden Rocks must be the most affordable and spontaneous choice among us Londoners who enjoy live music. It's quite obvious that this festival has always been more than just about the bands. There is a whole vibe of wanting to have a good time (and maybe more than just a couple of drinks) whilst also being able to watch a bunch of different acts, the new ones and those we already know. There is so many different ways to experience Camden Rocks and an amazing selection of twenty venues with more than two hundreds bands playing an extensive array of genres.
The Pros of the day were the absence of rain and the fact that you definitely don't need wellingtons as there's no mud and toilets are located in each pub or bar. The only downside may be the fact that you have to plan ahead which band you really want to see as you need to join long queues, especially for the bigger acts, and they won't allow any more people in when the venue reaches its capacity. On the other side I don't believe that people would pay to go to this kind of festival without expecting crowds or even being squashed in small places to enjoy a gig. In my opinion Camden is the best place to host a festival and this should happen more often.
Since midday queues formed around The World's End pub as fans eagerly waited to pick up their wristbands to start this rock marathon. The first place I get to hit is the Dingwalls where I get to see the extraordinary London SS. They kicked off proceedings with an explosion of profoundly physical Proto-punk. The latest incarnation of the legendary 1970s outfit delivers without question. The set is a relentless barrage of punk rock classics, more akin to the MC5 and New York Dolls than any latter-day snot-merchants. Founding member Brady has lost none of his Keith Richards- ish swagger, the rest of the band are tight and look like they're ready to kick ass. The singer resembles a considerably skinnier Iggy Pop as he prances around on and off stage and tumbles spectacularly over the 'safety barriers' like a bedraggled mannequin. But what's a rock n roll show without blood and torn PVC jeans, eh? Musically -garage-punk springs to mind, with a New York Dolls cover thrown in to end proceedings… definitely recommended.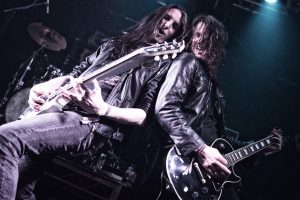 After this adrenaline rush I literally ran towards the Electric Ballroom to watch Damn Dice. They are the very first band to play at the Electric Ballroom today. It was great to see that even at this early hour the place was full as the band took the stage. And what a way to kick things off. They came out full steam and there was no let up for the whole of their set. As always at the Ballroom the sound was great, and Damn Dice really pack a punch. They blasted the crowd with their double kick drum rhythm section and big riffs and had us all singing along with the choruses. They played songs from their album 'The Great Unknown' for the most part, though they also threw in a new song from which you can definitely tell that they are sticking true to their metal roots. Apart from the songs themselves, Damn Dice didn't disappoint in terms of their live spectacle. If you haven't seen them before, then you are missing out on one of the most energetic and intense live shows around. I was watching the guitar players and bass player headbanging, running around the stage when at one point point I noticed the singer hanging off the scaffold at the side of the stage. Damn Dice played a great set and really set the ball rolling for the rest of the day. If you have yet to see them live, I can only recommend that you get out there and go see them.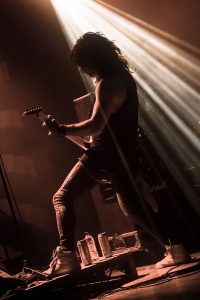 After hanging around with some friends and grabbing a quick lunch I get to sit down with Ali from Zebrahead for our interview which turned out great as we learned new aspects of the band and got some updates about their imminent plans. Thirty minutes later I was having a chat with Olli from Reckless Love who told us some funny stories and focused on the promotion of the new material. At that point I had already missed Gun but I didn't mind as much as I was very excited to see Reckless Love live once again. They were also performing at the Electric Ballroom which was quite busy but not as crazy busy as I imagined it to be. From the very first moment they got on stage it was quite obvious that the band seemed pretty happy to be back in London and just like the last time I saw them at Scala, the energy Olli puts in the show was still admirable between running, jumping and high kicks you do wonder where he gets enough stamina to do all this and still have an impeccable voice, but again, that's what creates such a great atmosphere and transmits energy to the fans. With a quick 'Hello' they launch into 'Animal Attraction' and follow with 'So happy I could die' and everyone is on fire. They are brave enough to play some of the new songs too which you don't usually get in festivals set lists. 'We are the weekend' is part of the brand new album 'InVader' but most people were already singing along to it and the lyrics are a perfect representation of the band's spirit. They end the set with my three favourites 'On the radio', 'Night on fire' and of course 'Hot'. The irrepressible Finns fronted by Captain six-pack Olli Herman return to bring fond memories of the 80's where girls followed the bands because they loved their looks and the boys dressed like the band because they knew it would get the girls. Of course this is not just about looks but it's fun to see how both band and fans make an effort to look more glamorous than casual. This is a band that doesn't take themselves seriously. Their easy sing-a-long choruses and feel-good anthems are designed for a great night out and it works perfectly in this setting and every single time they perform live.
After this amazing show, I head to the 55 Bar where I get to see the Lounge Kittens. I already knew them as they supported Steel Panther in the past so it was quite nice to have the chance to see them live again. They have soared in popularity over the years due to their fun lounge renditions of rock and metal covers and despite being three ladies stood spread over the stage rather than bouncing around playing guitars they never look out of place. They are good looking and musically talented and those are both great features for a girl band. Many in the audience obviously knew what to expect and reception was good, they started early with the cover of 'Party Hard' from Andrew WK and then gained a lot of cheers with their version of 'Rollin' from Limp Bizkit, 'Duality' from Slipknot and 'Glory Hole' from Steel Panther.
 At this point I get so excited at the thought of finally being able to see Zebrahead as I remember being a big fan of them back in the day. Zebrahead fill a strange space between pop-punk and hip-hop and The Underworld is full of kids ready to party like they were in one of those American Pie movies. Inflatable balloons and cups are flying around, everyone is ready to go. The pop-punk guitar sound and the Matty Lewis's melodic co-lead vocals contrast with Ali's rap segments almost as perfectly live as they do recorded. They have the same passion since 1996 and they still want to party and involve the crowd to do so. Their touring experience and individual musical merits shine through, and the set is smooth, fun and expertly executed. The energy the band puts into the set is only interrupted by brief pauses for chugging contests and other alcohol-fuelled antics. I was so happy to hear songs like 'Hell yeah', 'Hello tomorrow', 'Rescue me' and 'Anthem'. For a band that has been doing this for nearly 20 years Zebrahead are still fun and full of energy and get the crowd moving in a way that some bands in their 20s probably couldn't.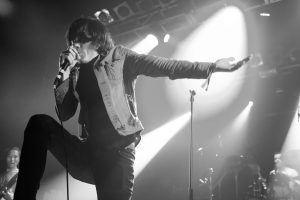 To end my day I decide to head to the Black Hear where I get to see a new band called M O S E S. The band was composed by four members: Scott, Matt, Juno and Victor all pretty young but already sounding like they know what they are doing. The band formed in 2015 and they remind of very early Blur but with a more innovative vibe. I couldn't take my eyes off the guitarist, he was probably the one that made the whole performance even more memorable. His technique was just blowing me away. All in all a great band with a strong impact and tracks.
Last band I got to see was Warrior Soul. At that point the venue was absolutely packed and unfortunately there was no air conditioning which made both band and audience quite uncomfortable. I found Kory Clarke, founder and frontman of the band, in perfect shape. Despite the heat he delivered a very strong performance just like he used to do in the past. The band reformed in 2007 and has been touring since then. Most of the people in the crowd sing along and do their best to keep the energy level up. Would be definitely recommended to check this band on a different stage.
Although there were many amazing bands playing at Camden Rocks, a few other notable mentions must also include;
Evil Scarecrow – Drawing a massive crowd for such early on in the festival, Evil Scarecrow bring the fun through their metal, party poppers and a giant alien on stage. The crowd dig it, We at RAMzine dig it and its without a doubt one of the definite hits of the day.
The Kings Parade – An awesome little acoustic set downstairs in Brewdog. Its cramped, its hot, its sweaty but a great set by a great band.
Florence Black – This band are the party rock soundtrack to your summer. There are good vibes through their hard rock that packs out the Monarch and everyone is enjoying it including the band who eats it up. Great band for fans of Black Stone Cherry.
Camden Rocks couldn't be more fun and filled with talent this year!
[huge_it_gallery id="40″]