Grant Nicholas and Feeder have had one of the most up-and-down careers in rock history. They started as a respectable indie/brit-rock band in the 90s in the aftermath of grunge, rose up the charts with mega-hits like 'Buck Rogers', sadly faced with the death of their original drummer Jon Lee, mellowed out and got critical acclaim with albums like 'Comfort In Sound', and disappeared off the radar. With  albums still selling well and this current tour mostly sold out – Feeder's fans have not disappeared. Are they still a band worth seeing in 2016?
The venue is filled with a mixture of ages and subcultures, reflecting Feeder's musical style – difficult to pigeonhole. Before we delve in to the vast back-catalogue of the Newport alt-rockers, we are greeted with Reigning Days: a young band who fit perfectly well with Feeder or their fellow Welshmen Stereophonics. This is a rock band in the old-fashioned sense of the word. Like a fine wine they could get better over time with maturity.
Even before Feeder take the stage, the crowd chant some of their most recognisable riffs. With footage being projected on to the band and back drop, this looks like it's going to be an interesting show. Starting with a few new tracks from their upcoming album 'All Bright Electric' then building up with some minor hits like 'Pushing The Sense' and 'Feeling a Moment'. Feeder have been doing this long enough to know how to build up a set.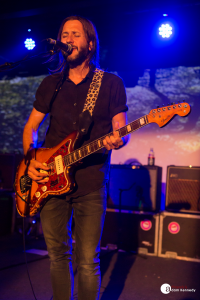 Slipping back in to some new tracks, Grant Nicholas and co. know what the people want and he is keeping it back. The new tracks are fine, but what I find with a lot of bands who have a 'legacy' is that fans pay to hear the classics and disregard the new material.  slowly working their way back with 'Tender' from their 2005 album 'Pushing The Senses' and not to be confused with the Blur hit.
We get in to the rock n roll gig we came to see with 'Come Back Around' from Feeder's hay-day. After this it's all thriller no killer, well…apart from more new songs. 'Just The Way I'm Feeling' and thier mega-mega-hit 'Buck Rodgers' get the crowd singing along to the end of their main set.
The encore is pretty odd as their premiere 'Infared-Ultraviolet' live, a great track but a strange choice to come back on stage to. The the Newport boys take us WAY back to 2000 with 'Seven Days In The Sun' for the old school fans and turn it around with the riff everyone's been chanting: 'Just A Day'. Sounding great live, and just as fresh as it did in 2001.
Quite a roller-coaster set. Full of twists and turns, peak and troughs. Of course this isn't a 'greatest hits' tour so I don't expect it to be Prince level of an anthem-filled set but the material from each album is so different it' almost jarring. if this set was half and half it would work better, but the quiet songs are interwoven in the 'rock' songs. Either way a great performance.
All photos by Adam Kennedy. Check out his other work here