At one point wrestlers trying to branch out into other mediums was met with derision and little success for the most part but one of the most notable exceptions is Chris Jericho with his band, Fozzy; a hard rock outfit heavily influenced by 80's heavy metal bands, joining them on a co-headline tour was Swedish hair metal revival outfit, Hardcore Superstar.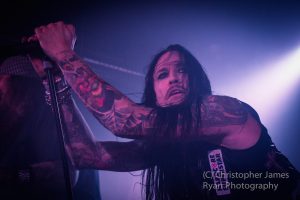 Hardcore Superstar started up with 'Beg For It', a fast paced party anthem that acts as an introduction to what the band does best. They create straightforward but fun hard rock which runs the risk of seeming stale and simplistic. However the energy the band put into their performance kept the set from becoming stagnant. While they don't have a lot of diversity in their back catalogue, the instrumentation and surprisingly wide vocal range of front man Jokke help make a potentially dull set interesting.
One of the benefits of playing first in a co headline is regardless of whether or not an audience member is there to see you, they still have to see your set to get to their preferred headliner. Hardcore Superstar knew this, making fantastic use of every second they had on stage they with their bigger hits like 'We Don't Celebrate on Sundays' managing to get through to a section of the audience that may just be tolerating them to get to Fozzy.
Fozzy hit the stage shortly after and if it wasn't already clear that Chris Jericho was a wrestler turned musician it became clear as day moments into their set, beginning with the title track from their latest album Judas. Jericho rushes the stage donning a sequined blazer that was probably visible through the walls and while the rest of the band was on point and played well. It was clear from moment one that Chris Jericho was the star of the show, at no point did it seem like he wasn't having the time of his life playing up to the crowd and it only helped rile up and already enthused audience.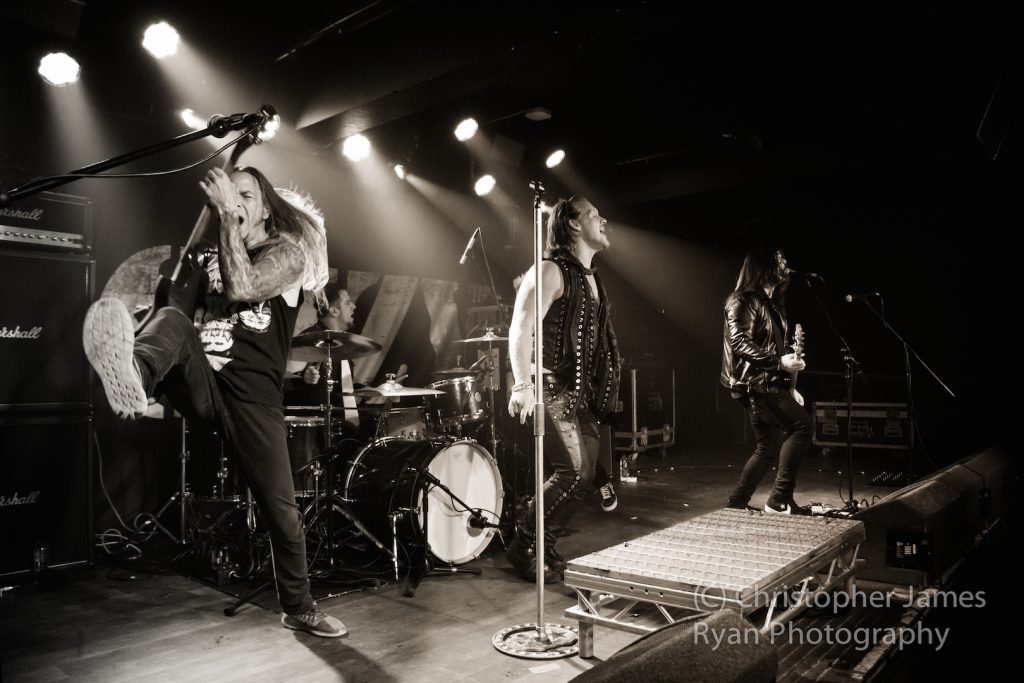 The band continued with 'Drinking With Jesus', which upon first listen sounds like a hybrid of Black Label Society and David Lee Roth era Van Halen which can be said about a number of songs on the set list. Which is not to say that the set was without surprises with tracks like 'Bad Tattoo' featuring a theremin solo from guitarist Billy Drake. 'Lights Go Out' also beginning with an industrial intro before the heavy riff comes in, which shows diverse they can actually be.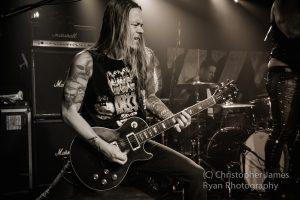 Probably the last thing one would expect from a heavy metal band fronted by a WWE superstar is a cover of 'SOS' by ABBA which was one of the best moments of their set and after a few minutes into their rendition it makes sense why. From a musical standpoint the song works but the over the top nature of the original only needed a few tweaks to make it a heavy metal song and combined with an incredibly animated and charismatic front men make for a ridiculous but fun display.
Like Hardcore Superstar, Fozzy's music has a throwback appeal to it that works so much better in a live show than it does on record. Tracks like 'Sandpaper' worked a lot better due to absence of the guest vocalist M Shadows, who appeared on the studio version, and while they may not be the most technically proficient band or lyrically gifted but they more than make up for it with their vivacious live shows.