Do you remember what you were doing in 2005? What was on your MySpace page? The first YouTube video you EVER saw? When you thought you said bye to Star Wars and introduced to a new Batman? 2005 was also the year Aiden released 'Nightmare Anatomy' -their most celebrated album of their career. Something we will hear live for the last time tonight on William Francis' and co's 'Last Sunrise' tour.
Look at some of today's hottest bands –  Fearless Vampire Killers, New Year's Day, Motionless In White. What do they all have in common? Other than their vocalists appearing on the new Aiden album, they have all been influenced by Aiden in one way or another. You have to remember Aiden were being played rock stations way before My Chemical Romance or even Black Veil Brides were a blip on the radar. They brought back wearing black and smeared make up as rebellion, as well as resurrecting horror-punk in the most romantic way. Tonight, we are treated to three of today's greatest home-grown talent carrying on the Aiden legacy: The Dead XIII, Never Found and Ashestoangels.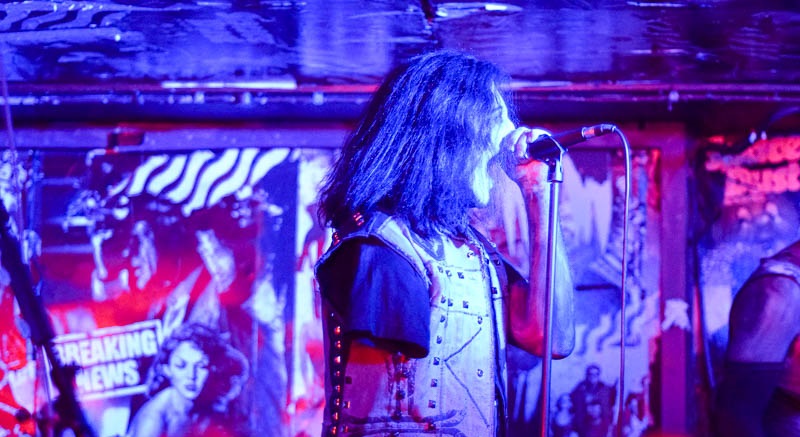 Manchester's The Dead XIII are our first act.As proven in previous performances – these guys are brimming with talent. For anyone who hasn't had the pleasure of the living-dead rockers: The Dead XIII are a perfect cross between Wednesday 13 and The Defiled, with  pinch of Misfits for good measure. The audience already seem to be familiar with the goth-metallers, 'XIII' and 'Frostbite' are great examples of what these lads can do. It's also very refreshing to see the theatrical showmanship (that we lost some time in the middle of the 00s) still alive and kicking. The Aiden legacy is in full force when it comes to the 'new grave' scene.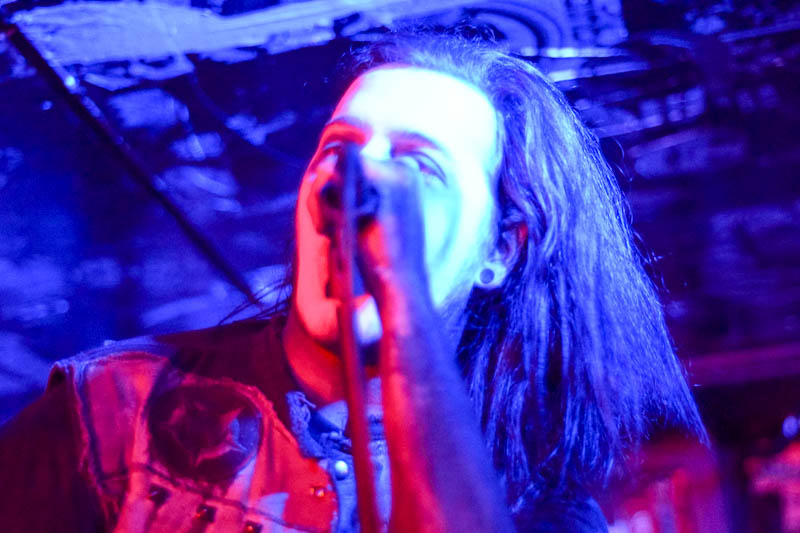 The next band up are about as up-and-coming as you can get. Never Found were announced as support for the 'Last Sunrise' tour at  the same time as Ashestoangels, and indeed Aiden were. This tour is a brilliant introduction to the four-piece, who are a lot sharper in sound compared to other new-gravers. The collective talent of Never Found is apparent live especially in their more recent tracks like 'Just Like Hollywood'.
Unlike other bands on the bill there is somewhat of a punk-pop/skater flair to Never Found, as well as a clear metal influence.  Daniel Barnes' raw vocal is one to be reckoned with: to call him punk-rock seems like an insult as he has a talent but effortlessly sounds raw and gritty. Certainly a band we will hear more of in the future, and ones to carry on the torch lit with the flame left by Aiden.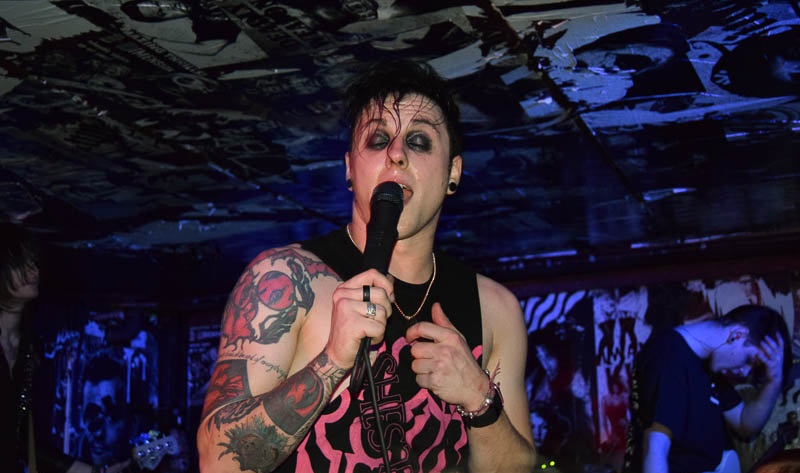 The third and final support comes from Bristol's Godfathers of New Grave – Ashestoangels. It looks as if just as many fans turned out for them as they did for head-liners Aiden.  As expected, the stage cannot contain the charisma of front-man Crilly and his band of brothers. It's hard to believe these guys have only been on the scene since 2010 (at least) but still sound fresh.
What sets Ashes aside from other independent bands in the UK is they have their own, unique identity.Another thing that is quite noticeable is the energy, oozing from these men in black. From Crilly to guitarist Falkor, bassist Nico and drummer Jim (sporting a Freddie Mercury 'tasche) every member is like a well-oiled cog in the goth-punk machine. Tracks like 'Six Six Six' and 'Bury Us In Black' exemplify why this band have such a loyal following. The 'Horror Cult', as their fan-base is known' never miss a show – and it's clear to see why. New track 'Find Hell' show we have much more to look forward to from the Bristol boys. Finishing with a tribute to the late, great David Bowie by putting their own twist on 'Ziggy Stardust' , Crilly and co display a real understanding of what a live band should sound like. Ashes feel like more than a support act, yet the main event is just on the horizon. The last sunrise is finally setting…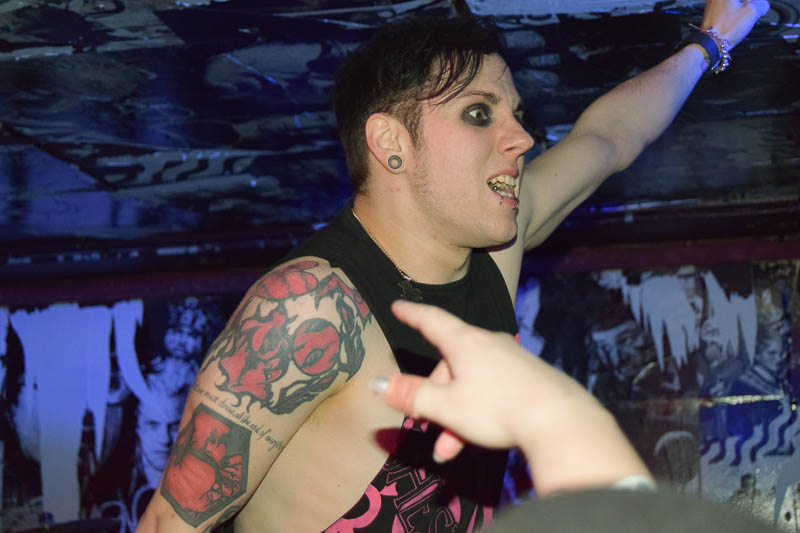 It's pretty sad saying goodbye, whether it be to an old friend, a  relative or one of the beloved bands you grew up with. Tonight the people of Newcastle will have to say goodbye to Aiden. At least this has been a great night to bid William Francis and his band a fond farewell.  Stepping out the familiar drawn-on chelsea grin and smeared eyeliner, like his warpaint. Leather jacket and fingerless gloves like his armour: William Francis is ready to fight his final battle for horror-punk. Call it post-hardcore, emo, punk-pop, goth-rock…who cares where you were way back when. This is Aiden's last tour and Francis knows we are all hear to have a good time.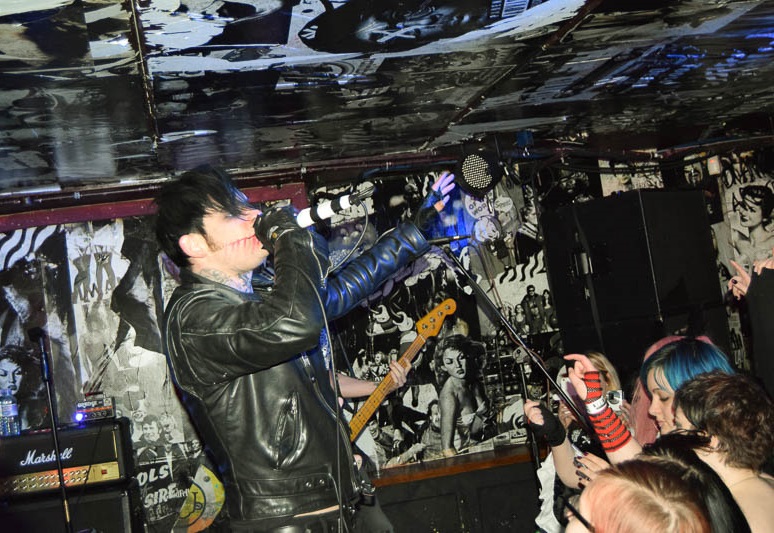 Starting strong with the opening track from their comeback album, 'Crawling Up From Hell', it doesn't feel like Aiden ever went away. much like the self-titled album, this show is celebrating everything awesome about Aiden. No corner of the Seattle band's history is over-looked from EP tracks to later material such as 'Let The Right One In' (taken from 2010's Knives), every chapter in their story is covered. Ashestoangels' Crilly even reprises his duties in the collaboration 'New Grave' – which as you may guess from the title celebrates the new generation of bands carrying on the Aiden legacy.  For all we know Chris Motionless and Ash Costello could be waiting in the wings to make this stadium-sized send-off. Alas, they couldn't make it. Crilly has blown us away enough to fill anyone's shoes.
William already has the crowd eating out of his hands, but now is about to treat them to an all-you-can-eat buffet: "Does anyone remember the album 'Nightmare Anatomy'?" Francis enquires. He is answered with a room filled with cheers. "What if I told you we were going to play that album in full?" True to his word this is happening. Yes, 'Nightmare Anatomy' is being played from start-to-end in front of your eyes and ears. Wow. In the past Aiden would have gladly played 'The Last Sunrise' or 'Die Romantic' last. Not today Satan – With the slight speed bump of reality kicking in and some slight technical difficulties we here this album played live. Crilly even joins the band again for 'Die Romantic'.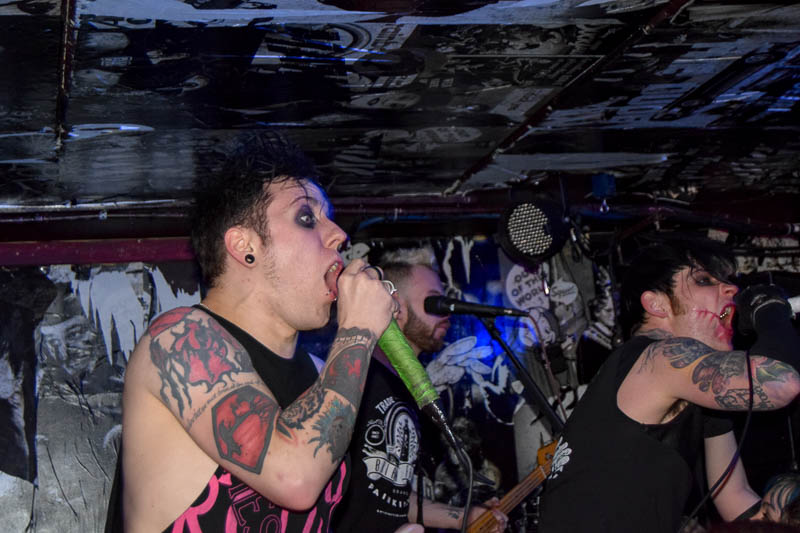 Although the other band members might not be the ones we are familiar with as we grew up with Aiden's music – they do a fantastic job of making it seem like they were. This isn't like a case of Francis becoming a horror-punk Axl Rose:guitarist Ian Williams has been playing in Aiden since 2012, whereas bassist Kenneth Fletcher and Ben Tourkantonis on drums show great passion and understanding if the music and the band's fan-base. It's a real shame this is the 'farewell' tour, because I can see the 'new' Aiden having a whole new audience, fitting in well with the aforementioned New Grave scene.
William Francis asks the already stunned crowd "What is the last ever Aiden song you want to hear?" Many shout out tracks we have already heard tonight, but Francis settles on early track 'I Set My Friends On Fire'which seemingly catches the majority of the audience by surprise. Yet what better way to end such an epic journey than going back to the beginning. Aiden is dead, long live their legacy.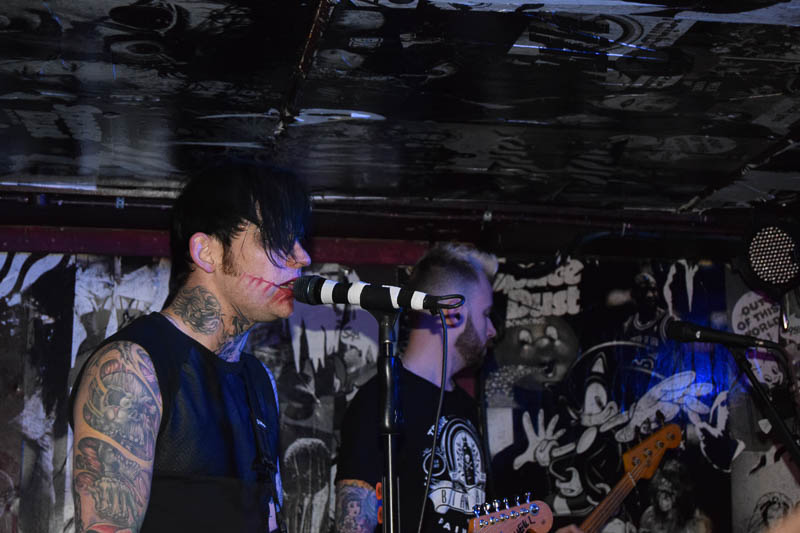 When all is said and done this was an out-standing gig. For me and a lot of others in the audience this is the first, and only, time they have had pleasure of seeing Aiden live. Having listened to the band since my teenage years, this really feels like closure and part of our lives we can now move on from. We have so many great newer bands to look forward to, tonight's support acts included. Here's to hoping there could be a reunion or comeback tour in the coming years. In the mean time we have wiL Francis /William Control's solo work and production to keep us rocking until the last sunrise.
Special thanks to Sophie Melissa  for the assistance,  and to Lisa from Rage PR for the press access.