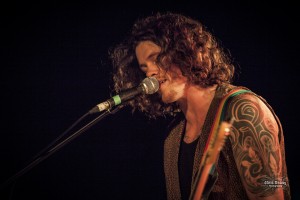 LTNT (Lieutenant), a London based heavy, slightly grungy rock band with a 90s influence, came on as second support and kicked the show into gear with the kind of energy you might not expect on a gloomy Tuesday.
Straight in with their signature sound, those who had just arrived had no chance to warm up and were hit with a face full of thunderous drums, heavy riff & raw vocals that made you forget you have work tomorrow. The large, but initially awkward crowd who had turned up for some desert style stoner rock didn't appear to know what to do with themselves after the first song, remaining quiet and possibly slightly confused for a few minutes. But people kept coming in from the bar, intrigued by what they heard next door, and by the third track LTNT had a good rocking crowd up front and throughout complete with a decent level of applause and a few wolf-whistles to boot.
I was promised an impressive live show from LTNT, and they didn't fail to deliver. With a debut EP launched in April this year entitled DAO through Dust Devil Sounds, LTNT are one to keep an eye on.
[divider]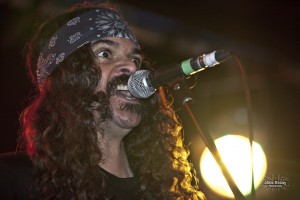 Brant Bjork and The Low Desert Punk Band opened hard and loud to a more than decent sized crowd given it was mid-week with the tail end of a hurricane and humungous traffic issues in Southampton tonight. You could feel the anticipation emanating through the darkness as punters waited to see Brant appear, and when he did the reception was vociferous.
From the first chord the 'so-laid-back-he-was-horizontal' Brant that we interviewed earlier was full of animation, facial expressions, and crowd-teasing riffs. The eclectic combination of Bubba Dupree (guitar), Dave Dinsmore (bass) and Tony Tornay (drums) was exactly what Brant intended, melding together the considerable skills of these seasoned musicians, filling the room with heavy desert rock that had fans so immersed a number of them seemed to be moving to it without even realising.
What Brant and co have created with The Low Desert Punk Band is something that has been bubbling away in Brant's mind for years. Ranging from warm, chilled tones of their drifty melodies, to ear crashing power chords, Brant Bjork & The Low Desert Punk band kept up the momentum of authentic rock from start to end with the intermittent whispers of their old school influences showing themselves with flair and audacity.
Getting back to his roots and the rockers that influenced his early years, creating his unique sound with a hand-picked hoard of ex desert-dwellers, you can immediately hear how the integral qualities of each member make up exactly the sound that Brant was looking for…and it's something you need to hear.
Photos by Chris Meany