October 29th started off as a real bad day, having the typical luck with a trip to London, I had missed my ideal train meaning I arrived an hour later in the city than intended. On the way to the venue I found my account had been emptied meaning no tour shirt for me, and to top it off I had broken my phone case somehow. Then all the stairs at the train and tube stations had began to play havoc on my arthritic knee. Hopefully my poor luck wouldn't continue though, and if anything could lift your spirits, its a line-up like this.
Finally arriving at the venue, I had the luxury to interview Pierre Carroz (Guitarist/brain-child) from Herod, which took place in the balcony of the O2 forum in Kentish town pre-gig. Just from sitting there with the place effectively to myself other than the bands and crew, my excitement for the gig soon began to grow with the likes of Carcass and Obituary mulling around the place.
Around half an hour after the interview and me enjoying the brilliant architecture of the venue, taking the whole thing in as one of the best experiences of being a metal fan, the time comes and the odd running of footsteps begin. Doors are open and the time has come for possibly the best line up of a metal gig in London for a very, very long time.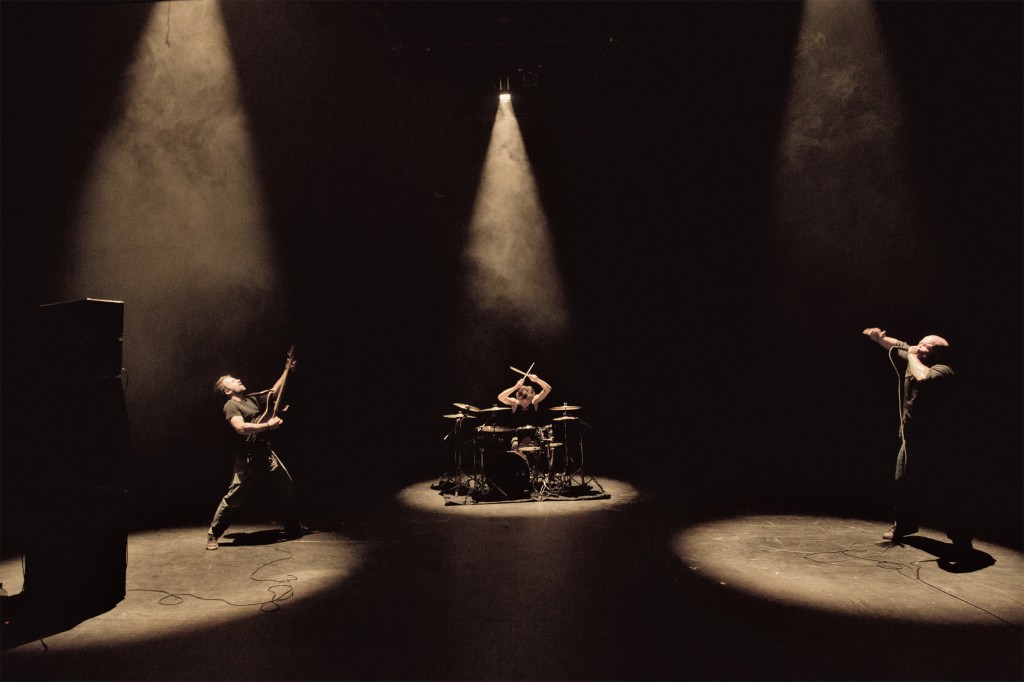 Herod are first up, a prog-sludge outfit with only a 20 minute set, an earlier than expected start and as the typical train delays on the lines into London, they do not have the crowd they deserve. The fans that aren't yet here are about to miss a treat of a show, that will explain why a band they have most likely never heard of, has the luxury of being the special guests and opening up each show at this tour.
Herod take the stage, and they make sure they prove their worth, from the moment they start, they plant their flag firm. Throwing themselves around the stage and playing it as though it's their last chance ever, all with great precision too. It took a couple of songs to notice that despite the colossal heaviness of the band, they have no bassist playing, but two 8 stringed guitarists, not that it made a difference. Herod make every effort to make sure the crowd know who they are and do not forget any time soon. Most of the set in complete darkness with the odd few lights here and there with strobes in between. The behemoth of a front-man Dave has the crowd energized and already starting a pit, but 20 minutes goes by like nothing, and the last track being close to a 10 minute mammoth of a song. He joins the pit himself throwing everyone around creating a frenzy! By the end, the place is feeling pummelled. Herod have more than earnt their place on the tour, and with any luck, they will be back soon with better sized crowds which they completely deserve.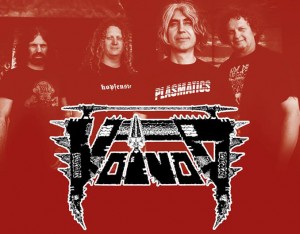 Twenty minutes after the impressive opener, Canadian outfit Voivod. Blending genres of hardcore punk, progressive rock and thrash throughout their 30 plus year career, the big guns are coming. Within the first 30 seconds the first technical hitch of the night shows up with the guitar cutting out, as seasoned as these are though, they continue without even a glance at what the issue is, and by a minute or two later the crazy machine gun riffing of 'Chewy' is back and louder than ever. Voivod are clearly loving what they're doing, and the ever growing crowd can't seem to get enough. The veteran fans of the metal world are lapping it up, and showing the younger generations in the crowd how its done.
If Herod felt like they had something to prove being the young newbies on the tour, then Voivod have fought back with speed to prove there's life in them still, and age isn't slowing them down. Vocalist "Snake" is jumping and running around the stage like a man possessed, covering everything from new to old in the back catalogue, they are making it very hard for anyone to not have a good time! Covering material throughout their career, they certainly have held up their end of the deal on this legendary line up. Closing with the self-titled 'Voivod', they give birth to the first major pit of the night, and the start of what is going to get an extremely busy night for security with crowd surfers.
The headcount now is starting to peak, shouts and cheers are heard everywhere, the excitement below is almost uncontrollable. All because we know up next are Grindcore legends Napalm Death, and you can feel it from the crowd in the pit below the balcony they are ready like a coiled spring. Napalm Death waste no time getting to the stage and before they even get started the place has exploded, Napalm Death are very much the reason most have shown up, you can see why. Slugging through tracks at a pace Usain Bolt wish he had, they take no prisoners and bring the noise. They have brought their A game with them, proving why they hold the crown as kings of grind.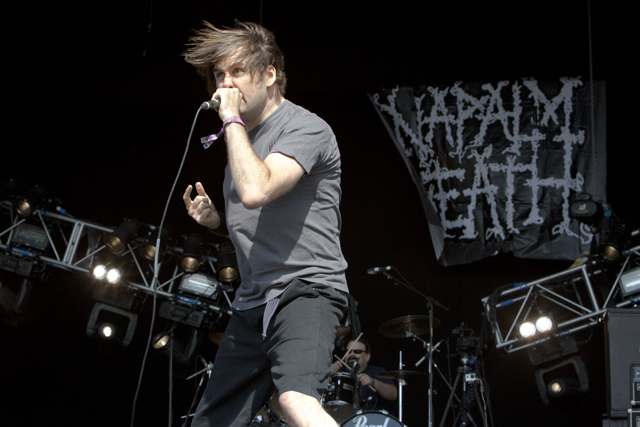 Politics is never far away with grind bands, and Napalm Death are no different. Barney opens up on his opinions with it all before the odd few songs, and he gets his point across straight and quick, there is no mincing of words or milking of time, almost a shame more bands don't take note of speaking between songs from Barney as he got his timing perfect in knowing when to stop.
Fan favourites are always expected, and by the time the likes of 'Scum' and 'Smash a Single Digit' had been heard it was hard to see how the other bands could top it, it sounded like Napalm Death had made time for 'You Suffer' too, although sneeze and you would have missed it! This performance felt like something real special for everyone involved, and Napalm Death were completely flawless. Despite the lack of regular guitarist Mitch Harris, this band has had so many members in its past, and has been so intertwined with members in other legendary bands, they are never far away from someone stepping up. As quick as they started, their time is up and they leave with two tracks back to back in true Napalm Death form, the crowd can't seem to get enough and by the end of this epic show you can feel the rafters shaking beneath!
With another 20 minutes to burn between the band changes, people are trying the hardest to catch a breath and relax some very battered limbs, while others are stripping off from their sweat covered shirts. Everyone is expecting something special, all the way from Florida (and my personal favourites) were Obituary, who recently lost friend and long time served bassist Frank Watkins at the young age after a long battle with cancer.
Opening up with the instrumental album opener 'Redneck Stomp' from 'Frozen in Time', people lose their minds, even up in the balcony a group of huge topless sweaty guys are going crazy. Just as soon as you think the venue has peaked in excitement, John Tardy hits the stage with that unique banshee like voice and long curly hair that just dominate the stage. Unlike the rest of the bands on the show, Obituary are all about the business, as little talking as possible between songs and almost no break between tracks either, they play endlessly for the 40 minute set. Mixing it up with all their back catalogue, but not before flying into material from their latest album 'Inked in Blood'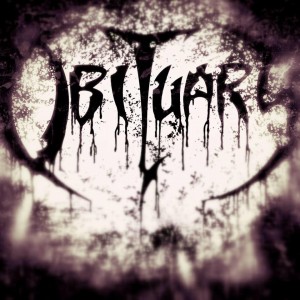 Obituary are a band that don't stick to one pace when it comes to writing songs with as many slower paced tracks as fast hitters, but you wouldn't think it. They've a set full of the pit frenzy tracks, flowing from 'Centuries of Lies' to 'Visions in My Head' before spanning their career going back to the first album with 'Intoxicated' and 'Bloodsoaked'. If Napalm Death were the band they made the building shake, Obituary were clearly the band everyone was here to see and they didn't let anyone down. Guitarist Trevor Peres has a few words for the crowd as he does regularly, while drummer Don never lets the kit get in the way of him and the fans with the sound of him 'whoo-ing' over everything!
If anything, through their set they may have sounded a little sloppy and not as tight as they have been known. This performance might be a lot shorter than their headline show from February on the album release tour, and maybe not have been played as tight as they did back then, but they brought all the intensity you expect with an Obituary show, which was enough to give a superb performance. A forty minute set for me is never enough with a band like Obituary, I will always want more and by the sounds of it so do the crowd, but before you know it, John is getting all he can out of the crowd announcing 'Slowly We Rot' to be the closing song of the set. This masterpiece being the title track of their first album released back in 1989, could not end it any better.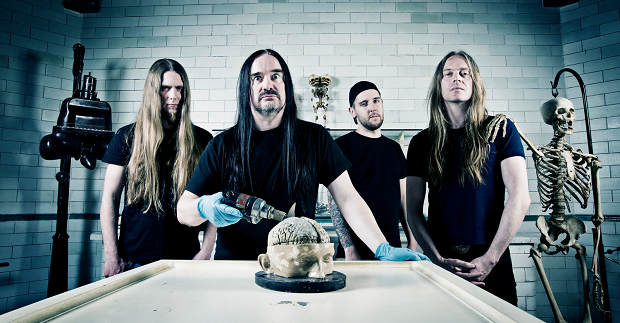 Soon was time for the headline act, Carcass. The Liverpool lads haven't had the easiest of careers, but after the release of 'Surgical Steel' in 2013 they really have returned to form. This tour being their first UK tour in what for some is a first in their lifetime it seems, with a blend of songs through the ages in a real tight performance, the sound is near perfect, the moment is at an all time high, and Carcass are not here to disappoint.
Flying through song after soon, with the added benefit of around 20 minutes extra in their set thanks to the professionalism of the previous bands starting and finishing early, we are getting all the treats in its greatest form. Bill Steer is bouncing around the stage rocking his Les Paul in his own special way, while relatively new guy Ben Ash (formerly of Pig Iron and a YouTube guitar geek) owns the stage with his huge headbanging hair. Almost as though every show has been a practise before hand, they seamlessly link up in attacking guitar riffs and synchronized stage positions. Sadly though, with those that have seen Carcass even a handful of times before, there is usually something to sour the experience. Not too far into the set it begins, the dreaded Jeff Walker moans and groans.
'Surgical Steel' is an almighty album, and that is even before you look at what they have in the past with 'Heartwork' and 'Necrotism – Descanting the Insalubrious' and so on, so I am always baffled as to the need for Walker to have small digs at things and other bands, albeit in a joking way at times, but this soon had me thinking that had he not spent as much time moaning, the other bands could have had a much deserved few minutes extra for another song or two. It really does seem to take something away from what would be an almost perfect show. I don't seem to be the only one to feel this way as a few people already gather themselves up to leave.
That aside, the playing was flawless, and even the odd mix of song intros into another song was brilliant, and refreshing for those that are somehow tired of the same old. Completely enjoyable for someone very used to it, so I can't imagine how great an experience it must have been for the new kids in the show.
Sadly as is typical with London, I was unable to stick around for the encore with having to get the last train home, with my luck before the gig I did not want to risk missing the train, and it seems that most others that were not lucky enough to be local to London had the same issues, but it was definitely one of the best line ups for a metal tour in the UK we will have in a long time, this is the sort of treat you only expect to hear about in the USA, so it was completely worth the poor luck and typical Walker jokes.
The tour is not yet over as it is set to continue through Europe until later November, so if you are considering a quick get away before Christmas, make sure to check up on the dates, you will not be disappointed in making the extra effort to catch the Deathcrusher Tour!