Skindred are well-known for their live performances. Playing live is the key to a band's success, and they have been doing this for almost 2 decades. You may have already seen them live at a festival or in support of bands such as Steel Panther or Rob Zombie. Now the Newport lads are on the biggest tour yet, entitled 'Pump Up The Volume'. Can they impress yet again or will they be out-shined by their support acts (hed) PE and Crossfaith?
Remember (hed) PE? The band that made Limp Bizkit look like a Vanilla Ice tribute act? Well they are back… or so we thought. Front man Jahred comes on stage wearing a Guy Fawkes mask playing The Specials' 'Ghost Town' on the melodica. Father Ted references aside, this track is a classic – but why not one of your own? Newer tracks like 'No Turning Back' and 'One More Body' show the Californians are more punk-rock than hip-hop nowadays. We get back to the 'classics' such as 'Bartender' and 'Renegade' with a more raw edged energy to them. Jahred and co certainly still have it, he even mentions the last time he played here – in Newcastle – was in a small club many years ago. A headline tour (or should I say (hed)line tour) from the band would probably give them more time to shine on this scale. Nevertheless this was an awesome set which won't be forgotten.
I think anyone who knows anything about current live bands have heard how amazing a Crossfaith set can be. Some of us are lucky enough to have attended one. It just so happens they are the next support act on the bill and before I say anything else, I must tell you: believe the hype. This has to be the best choice of support act since I saw Korn support Slipknot – or even Skindred with Steel Panther.
Crossfaith are everything you need in a Japanese techno-metal band. They have all the energy of a modern-day rock band such as Papa Roach, mixed with the experimental audacity of a heavy-hitting electronic act like Pendulum. Vocalist Koie Kenta has been to the Corey Taylor school of front-men while turntablist Tamano Terufumi has grew watching bands like Linkin Park and knows rock 'n' roll isn't just powered by drums and guitar. Even so, the musicianship of Kazuki, Tatsuya and Hiroki is a force to be reckoned with. Crossfaith are a powerhouse of sound. I wouldn't be surprised if these guys were being supported by Skindred in the coming years. Like we have seen recently with bands like Bring Me The Horizon, Crossfaith are an evolving band who only have good things to come.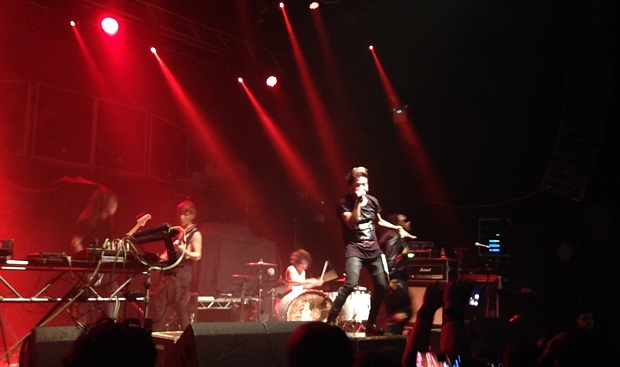 Although the Osaka boys only play seven tracks, they are seven belters. Wrapping up with an early appearance by Benji Webbe on 'Wildfire' (as per their latest album 'Xeno') which shows the respect their peers have for them. Yet that's not it for the genre-spanners: a cover of The Prodigy's 'Omen' finishes their set perfectly. It's hard to believe that wasn't the headline act.
It's hard to think of a time when Skindred weren't known as such an awesome band. Was there a time? With every release they get stronger, the more times you see them play – the better they get. I can't think of any kind of rock-fan who wouldn't enjoy a Skindred gig. Playing to a full-house tonight, we can see this is true. For a band that needs no introduction, they walk out to two songs the second being a dubstep mix of Star Wars' Imperial March. Yet Skindred are definitely rebels when it comes to live music.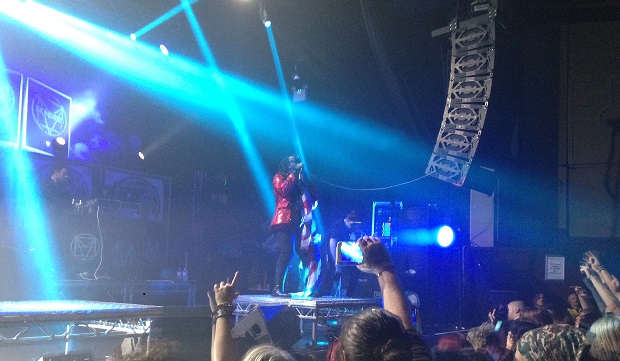 'Dred vocalist Benji comes on to the stage donning a sequinned biker jacket, looking almost like a punk rock Kat from Red Dwarf. Starting with recent banger 'Under Attack', Benji and the boyos show a lot of panache with their new material, but can't ignore their earlier tracks, like 'Roots Rock Riot' and 'Rat Race', any time soon.
Fusing the raw energy of punk rock, the loudness of metal, the party vibe of hip-hop and twisted rhythm of dub-step: Skindred know how to throw a party. Benji Webbe knows how to work a crowd too. Between floor-fillers like 'Ninja' and 'Doom Riff' he reaches out to the audiences telling us to jump, shout and even 'wave like the queen'. Crossfaith sticksman Amano Tatsuya even joins the party!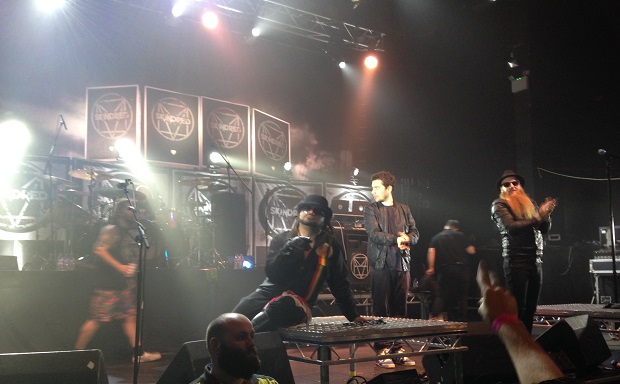 The Skindred machine is now at full speed and live favourites such as 'Trouble' get a huge response with a countless number of fans crowd surfing and losing themselves in the music. The Newport lads have been in the shadows for TOO long and should have been given a platform this size years ago. As they have shown tonight, and previously at festivals like Download, the Welsh rockers are capable of filling bigger venues. Breakthrough tracks 'Pressure' and 'Nobody' rounding up the main part of the show, but the mixed chants of "BENJI!" and "SKINDRED" echo through the auditorium.
Re-emerging, the five-piece return to a roaring crowd and make their message clear 'Playing With The Devil' is a sombre, slow-burning track. The last tune of the night comes in the form of a collaborative rendition of 'Warning' with Crossfaith's Koie Kenta taking on the chorus and (hed) PE's Jahred Gomes on gang vocal duties. It's not just the guys on stage getting involved. We are instructed to take part in the world-famous 'Newport Helicopter' (look it up). Always a highlight at these gigs. Tonight just shows how much effort goes in to these tours and Skindred's live shows will only get bigger and better in the coming years. You will love their set whether you are a Skindred fan or not. If this tour teaches us anything – most already are fans. As their exit song says: Nobody does it better…
Special thanks to Brian Nicholson