Never being a band to disappoint live, The Melvins were set with a headline performance that sadly never happened with the collapse of Temples Festival. Lucky for us fans however, a small 'Basses Loaded' tour around our small nation was making up for that, and we were lucky enough to get along to one of the finer venues of the tour and catch them at the impressive Koko, London.
A show set around nothing but the Melvins and their fine music, this was to be a completely stripped down gig, no support, no gimmicks, no fancy light changes, this was completely bare bones. The way gigs should be, all about the music.
Kicking things off at a later time of 8:30, people had plenty of time to get to the venue and enjoy beers in the many great bars of the area. As the place slowly filled, the variety of ages became clear. Groups of young teenagers, teenagers with parents, multiple generations of families, groups of the generation the Melvins first came about. Clearly some people were treating, while other men were being treated to the finest of Fathers day gifts.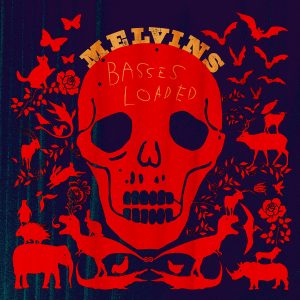 Opening up their set with 'Eye Flys', the slow, steady stoner fuelled stomp set the pace for the night, giving recent band addition Steve McDonald on bass all the time to prove his worth on the stage as part of the band, quickly he brought his style and swagger and fit in perfectly with the unique King Buzzo and the non-stop drum machine Dale Crover. Having started strong, they pushed on with an almost non-stop, almost 20 song long set that traversed all the ages of Melvins. As fluid as could be, they played straight through with their cover of Kisses 'Deuce', before getting through 'Queen', 'The Kicking Machine' and Maifunkshuns 'With Yo' Heart, Not Yo' Hands'.
All shared vocals and despite playing a new album tour supporting the latest release 'Basses Loaded', only one or two tracks were playing from it, and being an album with many different bassists taking part in recording, you wouldn't think Steve McDonald wasn't a long standing member with how well he fit into the band.
Despite such an eclectic setlist, and great display of showmanship from each of the unique characters in the band. There were slight off moments sound wise, depending on where you find yourself in the venue, Buzz's guitar didn't seem to sing through and became drowned out, likewise with vocals for Steve. Otherwise it was an almost flawless show, perfectly topped off with an acapella of Edward Meekers 'Take Me Out to the Ball Game'. The Melvins performed in true Melvins fashion, with something for absolutely everyone. While it may not have been the best Melvins performance through their long career, they certainly didn't disappoint and quite easily put on one of the potential best gigs of the year.