Twenty-one years since the release of their debut album, 'Cheshire Cat', a lot has happened in the Blink-182 camp within recent years. With 2011's Neighbourhoods showcasing a more 'mature' sound for the trio known for their dick jokes and music video nudity, many listeners were pretty torn on the release. The problem is, when you hit an age where you're definitely old enough to be some of your fans' dads, it's hard to carry on writing the lyrics of a teenage frat boy's wet dream – which is where the Mark Hoppus, Tom DeLonge and Travis Barker seemed to fall into troubled water.
Following the departure of founding member DeLonge, whose unique vocal was a standout sound for the band, solace was found in the form of Alkaline Trio's Matt Skiba. Initially it seemed he was purely joining the band to help with live shows, but has now become a seemingly permanent fixture of what fans are dubbing 'Skiba 182'. With a lot to prove to those who doubted the band could continue without DeLonge's influence, 'California' has been perhaps one of the most anticipated record releases in the alternative scene in 2016.
Despite the recognisable quality of DeLonge's refined 'whine', a defining voice of 1990s skater kid soundtracks, it's actually not particularly missed in many of the tracks on 'California'. Skiba's influence is clear on the album – blending classic Blink vibes with the melancholic twist that's become the classic Alkaline Trio sound. Tracks 'Teenage Satellites' and 'San Diego' come close to seeming like they wouldn't be out of place on a more recent Trio album.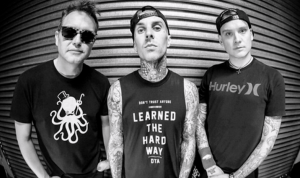 From the moment his vocals kick in during 'Cynical', it's also clear to see that Blink has done a great service to him and seems to have elevated his opportunity to demonstrate his ability quite a few steps above recent Trio releases. In particular, 'Left Alone' allows his vocals to soar, working well to compliment Hoppus' more grounded performance. Made for stadiums rather than the dirty punk rock bars of yore, it's clear the Blink of 2016 are setting themselves up for some big things when it comes to their live performance ambitions.
On the subject of Hoppus, who always seemed to provide the 'solid ground' for DeLonge's signature performance – but still has a highly recognisable voice of his own – 'California' has definitely allowed him to grab hold of the mantle when it comes to leading the drive of many tracks. And of course, the whole record is held up by plenty of 'woah-ohs' – standard fayre for any US pop punk release.
Despite Skiba's clear influence and an obviously great musical partnership between the trio, there's still certainly plenty of the 'old Blink' sound there. Lead single 'Bored To Death' kicks in with a few bars of typical Blink intro vibe, followed by a touch of Alkaline Trio-esque minor key guitars leading into a rousing, anthemic chorus. Blending the influences of both bands perfectly, it's basically a big Blink chorus with twisting, creeping Trio verses sandwiched between. But we've all already put this one on our soundtrack to the summer, right?
Lyrically, there's definitely been a move from youthful exuberance towards a more cynical outlook gleaned from age – particularly in the tracks taking their names from California's major cities. Again, Skiba's influence is noticeable with melancholic metaphor creeping in – 'Then you hit me like a Friday night / Like a handgun in a firefight' is one of the standout lines from aforementioned 'Teenage Satellites'. But it's not all miserable – 'She's Out Of Her Mind' is a punk rock dancefloor anthem and 'Rabbit Hole' has a seriously huge singalong chorus.
And for those pining for days of yore, the boys haven't QUITE grown up just yet – particularly evidenced by closing track 'Brohemian Rhapsody'. Unfortunately, thirty seconds of guitar and the lyrics 'There's something about you / that I can't quite put my finger in' seem like a jarring end to the album for three blokes in their forties who seem to have otherwise hit a pretty special point in the Blink-182 musical journey. But if you're feeling like reminiscing, you'll probably enjoy this not-so-subtle throwback moment.
For sure, there are a handful of dud tracks on the album. Title track 'California' feels lacklustre other than the final moments of guitar solo and energetic drumming courtesy of Travis Barker (well, we HAD to mention him somewhere – wonderfully solid as ever at holding the whole instrumental together and offering the perfect drum fills at just the right moments). However, as a whole, 'California' is a demonstration of how DeLonge's departure may just have been the perfect thing for 2016-era Blink-182.
It might be early days for this new incarnation, but it's not too much of a leap to say that a lineup re-shuffle within this generation's most iconic pop punk band may well have brought them from nostalgic singalong stalwarts into creators of a pretty perfect sound for the modern scene.