A Devil's Din confess to being influenced by late sixties psychedelic music and early seventies prog. A band ripe for those currently imbibing on such retro sounds to check out then? Well, while early King Crimson is evoked in the latter part of title track 'Skylight' and Barrett-era Pink Floyd felt on the scary acid trip of 'Never The Same Thing' what I hear is that but also often a pastiche of those times; more those pop bands who took a step outside their comfort zone and experimented musically to see how it felt than those who truly progressed. It's the difference between Mable Greer's Toyshop who evolved into Yes and a group like The Gods whose members would infiltrate bands as diverse Uriah Heep, The Rolling Stones, Jethro Tull, and even the aforementioned King Crimson.
Diversity is what the politically correct call it these days, chancing your arm back in the day. That A Devil's Din execute this style through choice makes it at least worth a listen. They were formed out in Montral, Canada back in 2008 by English multi-instrumentalist David Lines, and he's now joined by continental cohort Thomas Chollet on bass and Abu Dhabian drummer Dom Salameh for this album, and a European tour come September.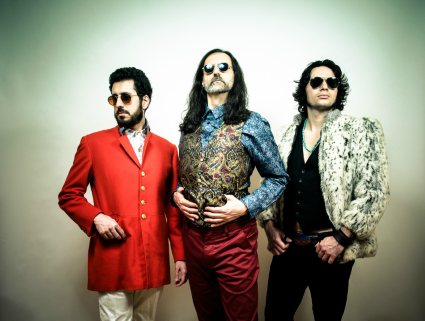 Skylight' delivers a 70s blues rock riff affected by The Beatles' latterday lysergic pulse and ever-present harmonies before it gives into those Crimson-isms by virtue of its organ grinding. That blues edge is retained for 'Phaze Ulysses' where guitar effects urge us towards The Groundhogs' experimentalism. Whereas early blue-eyed soul with blurred prog aspirations beats out on 'Bow To Thee Adbsurde' and continues to a dark slow distorted beat during 'I Don't Know'– An album highlight with woven melodies and arrangements that feature both Floyd-ian harmonies over an acoustic guitar and a melodic electric solo.
There's more six string melody on 'Nature of the Beast' before its riffs distort into power driven chords, slowing becomes more psychedelic and gathering a Mexican peyote flavour to them, while 'Prequel' opts for a more mellow broken chord approach before dramatically becoming fuzzily faster with various moods and time changes thrown in, and 'Eye's Pie' could well be the theme music to some 70s kids TV show. The band are possibly best heard on the track 'For A While' where a piano leads and a playful bass follows, followed by organ, vocal harmonies and medieval moments until it finally coalesces into a rock tune.
A Devil's Din may be more akin to Simon Dupree & The Big Sound than the Gentle Giant they want to be, but that's not necessarily a bad thing.