The superb metamorphical and über-symbolistical 1970s-style Swedish rock band Lykantropi have reissued their fascinating sophomore album, titled Spirituosa via Despotz
Their song-story kicks off with a cacodemonic exaltation on 'Wild Flowers' with its correlated guitars, expressive vocals, and delightful arrangements. This seems to be superimposed onto rainy, almost crisp, darkness and is a track that wouldn't have been out of place on Uriah Heep's wonderful, Demons and Wizards (1972) albeit this number also has pale female voices and gloriously grand harmonizations reminiscent of Blue Öyster Cult.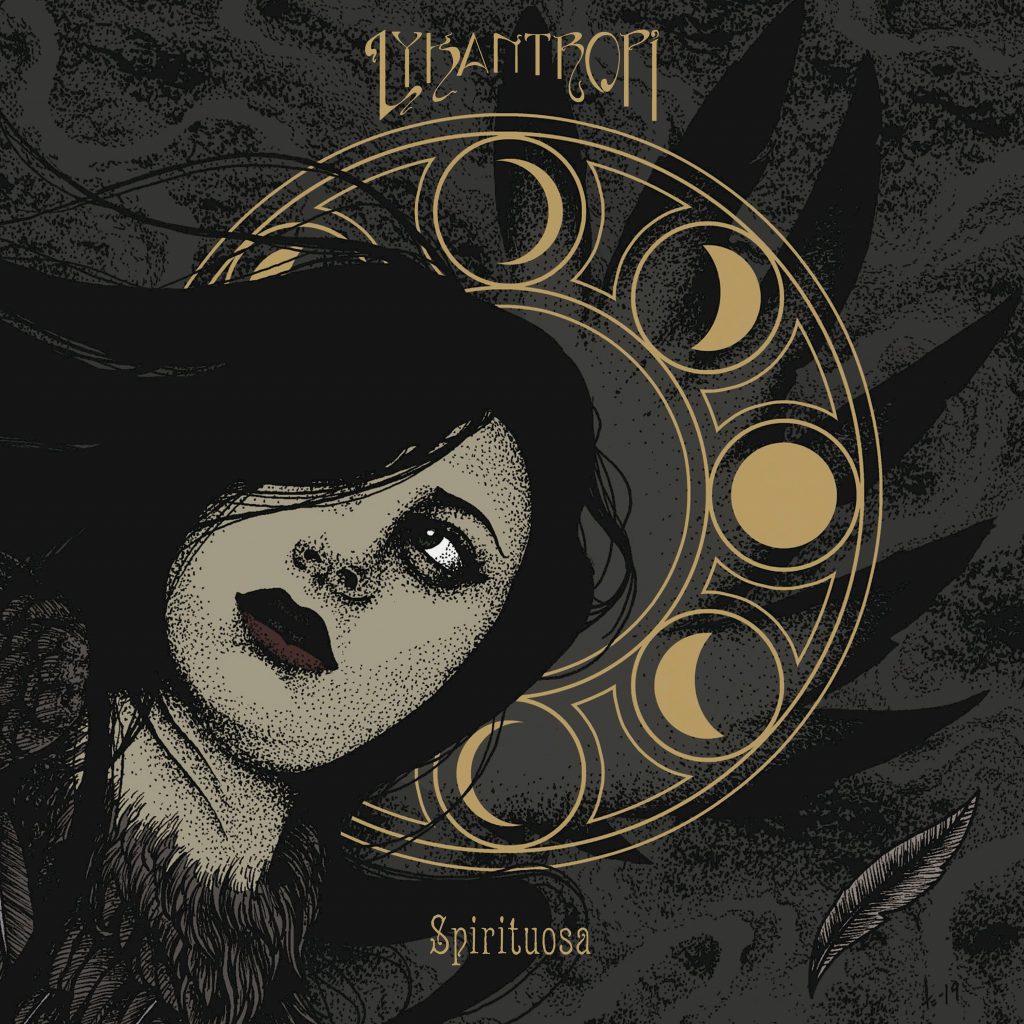 Moody Bluesish 'Vestigia' is so familiar! It's as if Stevie Nicks and Grace Slick had worked on it for days, supervised by Paul Kantner perhaps, during the year of the Red Octopus (1975). This is a sorcerous burgoo of bubbling guitars, crisp drums, and spicy male / female vox. Everything smokes under pressure, as if whatever lurks inside this darkness wants to emerge from the cocoon like a punishing dropworm on a murderous mission.
'Darkness' has upbeat guitar chords, a fatalistic voice, and shifting rhythms. However, it also has a glow of light that sits deep within inky depths, perhaps like a smudge in a black bear's eye, or the quick moonglow in the glance of a wolf. This is superbly constructed, with elaborate, medievalist guitars that are reminiscent of Wishbone Ash, circa 1972.
'Queen of the Night' has a nuanced and ingenious guitar-riff and ruminative vocals. A dulcet trill accompanies the main song-line to add what sounds like a gilt edging to this beautifully assembled piece of musical marquetry.
If you're in the mood for progressive, folk-based, rock music that has plenty of harmony, beautiful fern-like structures, psychedelic tilt and true craftsmanship; and compositions that tend to move towards shade (instead of light) and are bundled with a strange awe that always stays within touching distance of pure sound, this will be for you…
The deluxe edition includes: a 180g heavy vinyl LP with a exclusive poster and a digisleeve CD + booklet and a super limited run of merchandise. Out from February 27, 2020 via Despotz Records.