Mortal Form is a death-thrash band from Arnhem/Duiven in the Netherlands.  In 1994 Vince, Teun, and Bastian started Odd Funeral (Later became Mortal Form) after some line-up changes Mortal Form recorded their first self-financed MCD X-Plore in 1999. One year later Mortal Form were again working on a new release, and 'The End of Times' released in December 2000.  An overload of inspiration made the band enter the studio again in July 2001 to record their long awaited debut "Evil Reborn" in the Alpha Studio (Netherlands) with the help of synchronized Studio and Marmer Productions.  In 2008 after some years spent through devastating live shows and line-up changes, the recordings of Mortal Form's second album was completed and also arrived the deal with Italian label My Kingdom Music.  CD's title, "Taste the Blood" a great piece of Thrash Death Metal received excellent reviews by the metal press all over the world.
'The Reckoning' is a filler-track that begins this album with thunder abound and a sampled voice informing us of the impending doom that awaits.
'Storm before Calm' is momentous and fiery as it bristles with heavy intent. Gruff intense vocal dominates the track and literally sucks the air around it, amid a ferocious pummeling beat and immense guitar that knows no limits! Absolutely invigorating and greedy with rhythmic wash. This band are out to impress and have done so on this track with a resounding yessssssssssssssssss!!!!! I can feel a repeat of this may be necessary.
'Forsaken Graves' starts with a thick and arduous driving beats until an acute array of finger work mesmerizes on the guitar and takes the track to another level. Impacting rhythms push the onslaught further into its depths of gnawing intent, this is stupendous!
A darker, heavier rhythm quickly wraps itself around a gnarly vocal arrangement courtesy of Rogier Van Den Weiden who makes a guest appearance on the first track of three and screams of potent malice. 'Dungeon' plays host to all this, plus a thrashing abundance of steely complexity, as it chews through the strong melodic swathe incorporating a strenuous bass hook, sonic guitars and building harmonies – this will crush you!
The band now offer a more brooding moment on 'Apocalyptic Aftermath' butnot without its bubbling and vibrant melodic sway, it still houses skull crushing tendencies and head banging urges – which lasts pretty much all the way throughout the track.  The guitar reaches the euphoric stage and dominates the middle section superbly with antagonistic beats – another face melter!
'As Nature turns Evil (The sleeper awakes)' dramatic and impacting the track arrives, ignites and explodes in one instant! It hosts an insatiable melody that has raptorial effects and a punishing vocal that scathes the air along with a savage bass hook that plants itself on the innocent jaw of the listener. Fuck this is amazing!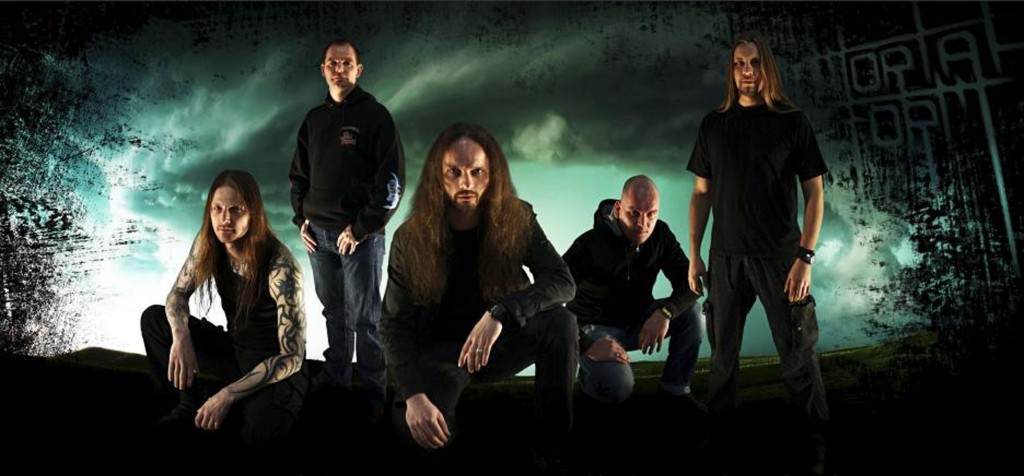 'Miasma' bounces on a cloak of melodic intensity as it unfolds and literally engulfs the hungry ear.  It has a determined quality and punishing rhythmic qualities that ignite a strong passion, slowing briefly in order to gain more momentum, as it sweeps furiously to its goal, invading and extremely intense, the ferocity continues with tighter than tight exceptional guitar and inflamed vocal rasp!
With 'At Fever Pitch' I reached that moment on listening to the second track! This has a chug effect rhythm that is not only energetic but addictive and catchy and an epic track of extreme accomplished teasing and unrestrained passion that will ignite a pit within seconds!
Speeding into action with forcing and driving strength, as the solid hammer-like beats cascade through a harsh throaty growl with temptingly seductive guitar that involves the fastest of fingers – this is 'Radiation Breath' proving a highly immense listen.
'Sinners Repent' is another delicious masterpiece begins its onslaught on the aural cavity with a chugging effect, rhythmic explosion, as the poisonous breath of growling rasps can be heard to a brutal bass line.  The unity of the band is prevalent as each member works 100% to concoct a deadly and savage formula of gnarly intent and does so to within an inch of their lives, as this juggernaut has no intention of stopping its assault of melodic, hypnotic and magnificent force on to the listener.
Abrasive with grazing guttural growls and superb monumental guitars this album will wake the dead! It explores rhythms and melodies like a highly trained surgeon with a scalpel, but not as clean with the knife, this band will brutally savage the aural with a finely tuned note! Each track is carved in such a way that it not only sounds appealing – it IS appealing!  It is confrontational too, and boldly rips the flesh from the bones with sheer and utter abandon, whipping up a frenzy as it goes! The highly mesmerizing rhythms are just immense and ripe for up and down and circular head moving moments!
To the downright extreme, but well balanced moments of melodic wash it stands its ground and comes out fighting! It not only niggles but antagonises with cruel intent as the beats gnaw constantly on the aural and elevate you to newer heights of awareness. Compelling, powerful, brutal and unpredictable this is one album that deserves further investigation – Do it! Mortal Forms new album 'The Reckoning is out now via My Kingdom Music.
10+/10