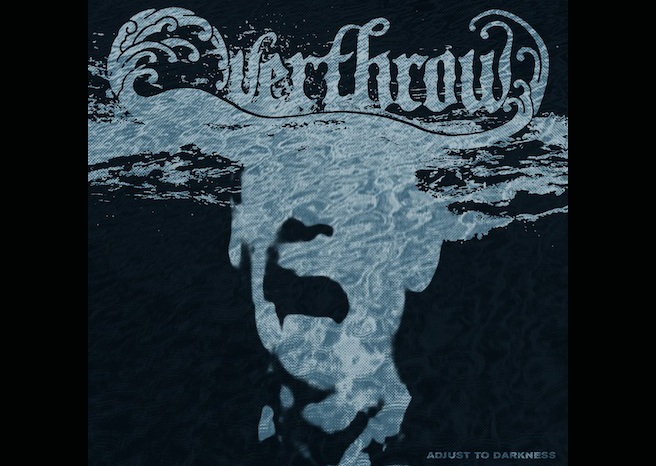 All new city-thrashonistas, these days, seem to come from Stavanger, The Oil Capital of the south-west Norway. Home of glamorous doomsters such as Theatre of Tragedy, Tristania and Sirenia – the place appears to be a fertile breeding ground for the many rising stars of the ear-blasting, thrash-metal persuasion. Now, from the Kingdom of Norway comes Overthrow.
Having already played live with bands like Cancer Bats, Purified in Blood, Valient Thorr and toured with Kvelertak and Clutch, Overthrow have proved themselves to be an experienced and powerful live act. They now realize their full potential as polished studio artists, having released their spangled new album 'Adjust To Darkness'.
Opening track 'Adjust to Darkness' magnifies a buzzy riff that will drive you wild with its relentless vibrations- it's like having an angry hornet trapped inside your muff. A devilish battering-ram of bass notes starts to pulverise your senses, and the hyperactive thranging of the guitars combine to crush your conkers. It is only then that a weaselling guitar solo comes up and bites you in the nadger. You will scream. But it will be with joy.
'Come Thunder' has guitars that are squeezed up tight against a mob of violent drums from Espen Kvaløy. A stalking voice paces up-and-down waiting to attack. Then juicy guitars flame in – to rise and fall against the conflagration. 'Let Them Fall' contains hoary vocals from Ole Gaard and crisp guitar-work from Erlend Færevåg (with Gaard.) This is a full-on blustering swaggerthon.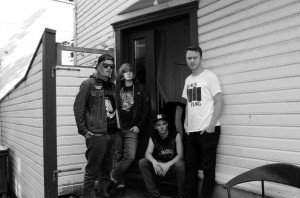 Then comes the highlight of the album ' Det Hellige Har Forlatt' (more or less: The Saints Have Abandoned) This is an outpouring of vibration, intensity and anger. Sincere and merciless. It contains a cauldron of fiery guitar-work that lights up the sky. It's a track that is as intense as it is sublime. It's like having a white-hot poker shoved up your sporran. And twisted. Just for the hell of it.
'Phantom Hearts' has a blackened soul and a series of dark riffs that will sour your heart, and that will make your shadow flee in fear. Then, when the mangled thrashturbation arrives, it threatens to grate your ears and shred your synapses into a pulp. The ribald drums of 'Woolgatherer' will suck you into their scurrilous mix of power and magical mystery. This track is an angry roust for all you thrashoholic skelzoids out there.
'Relapse' is a bit more classical in its metal vintage. A grinding riff and venerable bass splay themselves rudely against the loins of the rhythm. The vocals are monstrous – but they are focused and vital. The guitar speeds in and whines off, like a werewolf with his tail caught in the headlights. It is admirable stuff.
'Octoskulls' is worth holding on to. The treasure-house of hot guitars will amaze and excite you in equal measure. The garter-strap B-cup bouncing bass lines from Tor Arne Håland (Bass Guitar) will enhance any satisfaction that you get. And the rhythms will you shake to oblivion. 'Destroyeryouth' brings back those satisfying sounds from your metal youth. This is decanted joy for all those ageing metal-heads out there. Grinding, grating and grievously heavy.
The album concludes with 'The Worst isYet to Come' a flustering, flailing anthem with the highest and mightiest flumes of guitar power that you are likely to witness this year.
This is an album of power consumed by strength. Dry, dangerous, skilful – it is unnaturally dark but replete with fun. Sit back and enjoy it.
7/10