From hard rock n roll vibes to chanting songs about werewolves and vampires, tonight's sold out show has got to be one for the 'not to miss list' for shows of 2019! Honestly, I was not expecting bands from different spectrum's of rock and metal but by jove it was a match made in heaven, or hell should I say hitting the theme. Despite the show opening up at 6pm which is early for a weekend show there was huge queue and before the first band came on the venue was rammed!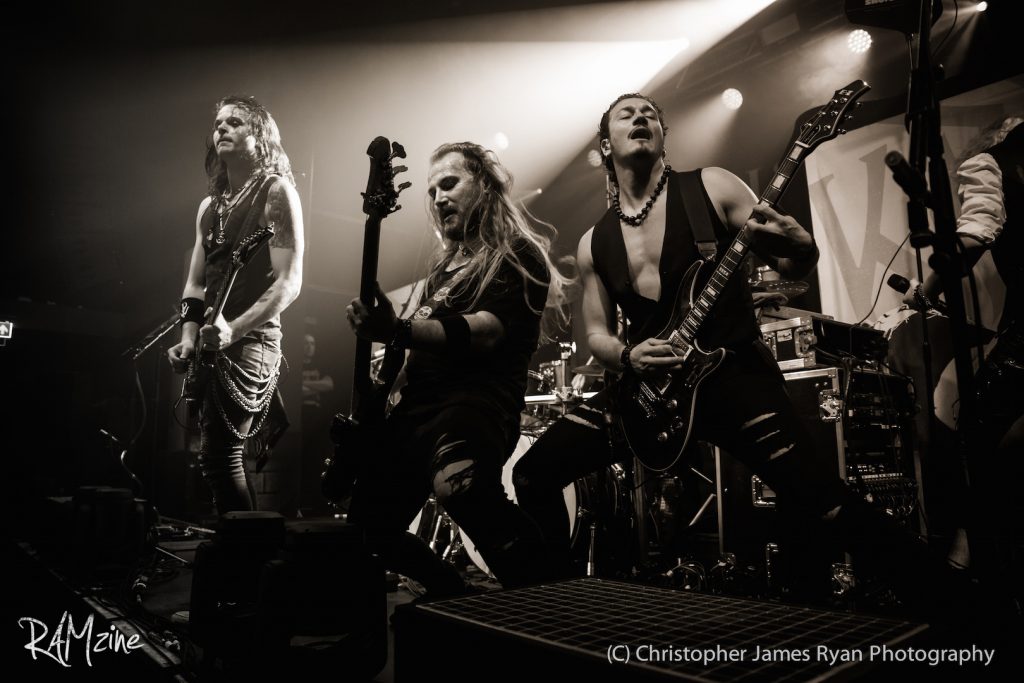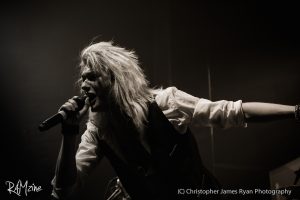 Opening up tonight's show is German hard rockers, Kissin' Dynamite, who performed in Manchester for the first time, and they were over the moon with the positive response from the crowd. People may not of known them but after tonight's show I'm pretty sure everyone will. The whole band was filled with energy, confidence was off the chart, they came here for one reason and that's pretty much to blast out heavy rock and get everyone pumped up for the rest of the night.
Next on the bill is Swedish synth metal band Amaranthe. If that's not enough to float your boat they have three singers! And yes… it's that mad it works! Hyping us up with their intro to 'Helix' and then jumping into 'Maximize' with Elize, Henrik, and Nils all on vocals, sick guitar play from Olof, Johan on the bass and Morten on the drums.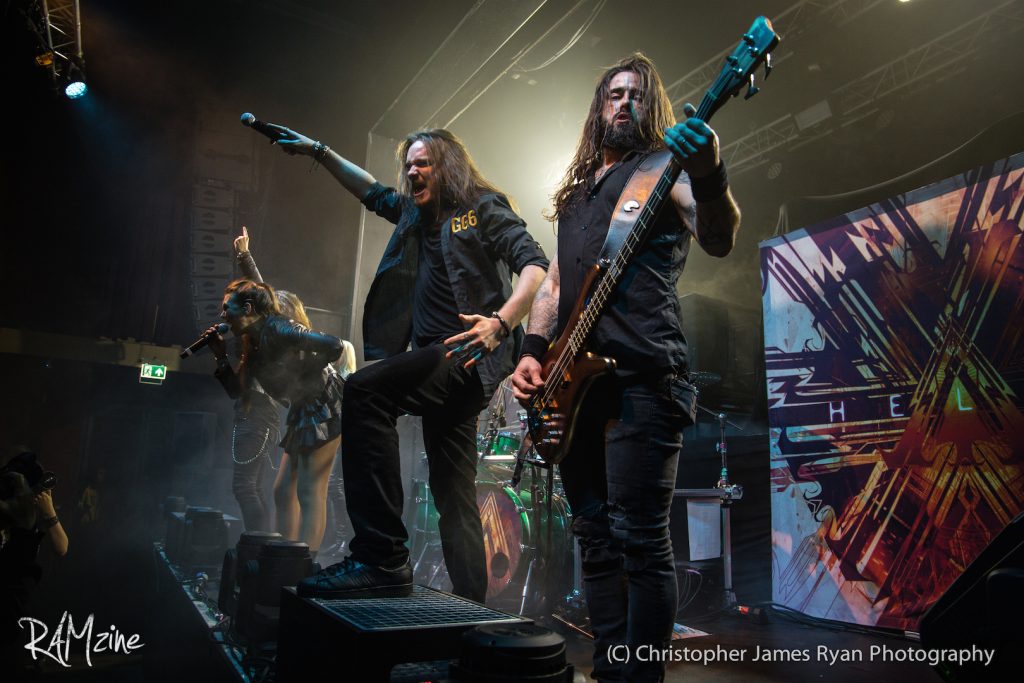 Full of energy there is no stopping Amaranthe, headbanging, dual guitar/bass bromance and the trio singing is on point, they make no faults, you can't deny they can't put up a good show! Despite Amaranthe launching a new album the band didn't play much of the new stuff but played all the known tracks. Such as, 'The Nexus', 'Drop Dead Cynical', 'Amaranthine' and 'Digital World'. They do play a few new tracks like '365' and 'Helix'.
At the end of the show the band leave but Johan (bassist) comes back out onto the stage. Johan tries to get the crowd hyped again by telling them to follow his moves, kinda funny to watch. He talks about Bloodstock, they played in 2018 and had their set cut due to technical issues, of course they were mad, but as Johan gives the middle finger you can't blame them for the frustration. Tonight's set proves they are on top and they can move on from it.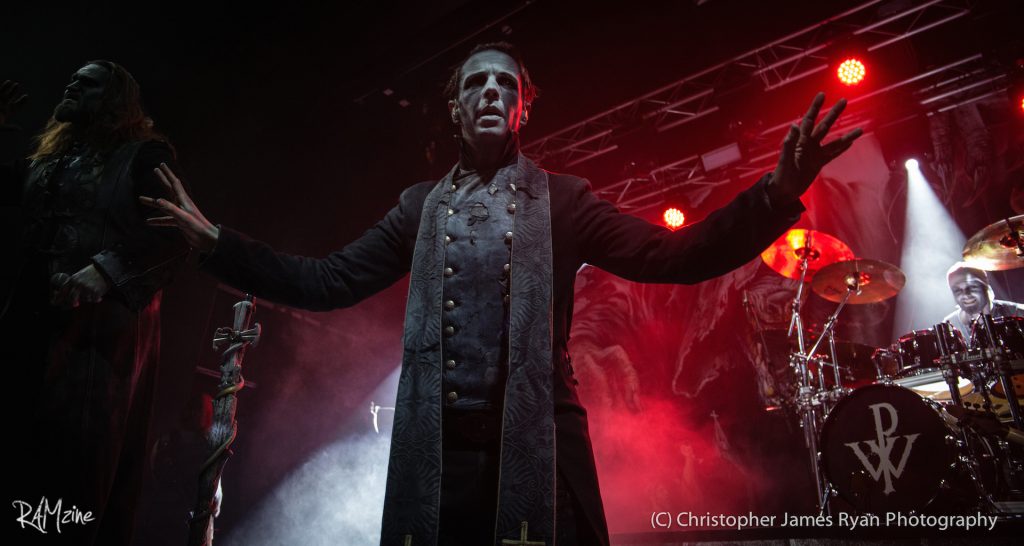 Madness! Utter madness, something so bizarre it's amazing. I find the best way to describe Powerwolf is by mentioning many genres; symphonic, spooktastic, paranormal, heavy metal. A band who have had multiple genre babies and formed into a super genre! What ever it is, it has worked out in their favor big time. You have a few themes going on at the same time and on top of this Powerwolf does have some bangers and power ballads! The crazy thing is the band has exploded with fame over the past few years and tonight's show is 100% sold out!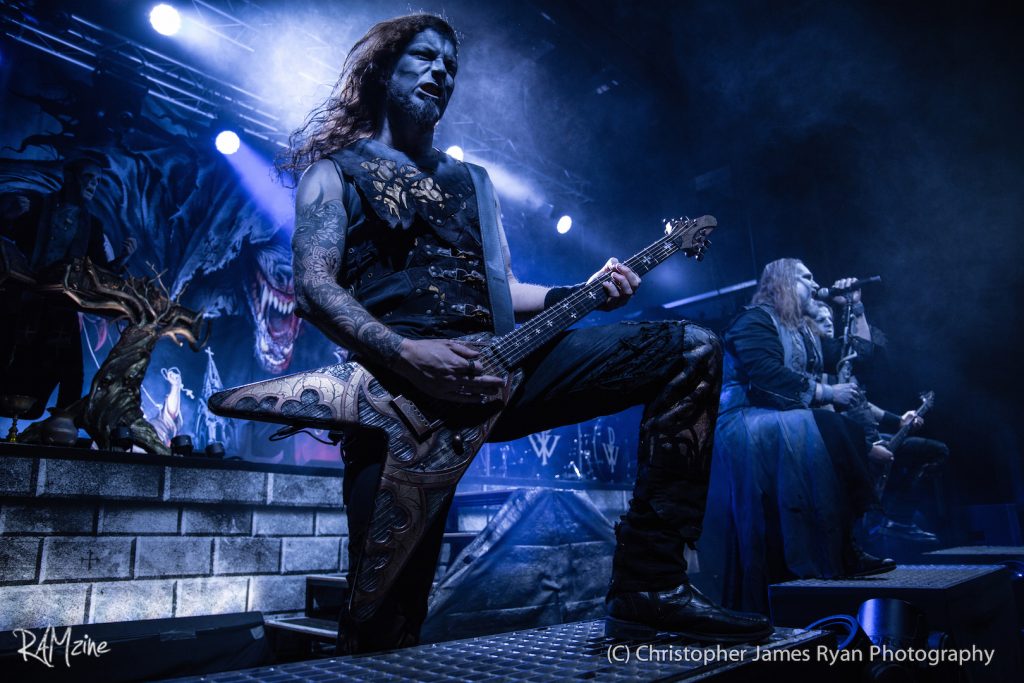 The theme is pretty much of vampires and werewolves, dressed up in medieval outfits with great undead makeup. With a powerful voice from Attila Dorm the band sticks out in the heavy metal genre. Engaging the crowd during the show letting them join in on the chorus, it's safe to say Manchester nailed it. The band as a whole were loud, happy, heavy, energetic and confident, making a mark on each and every person in the room.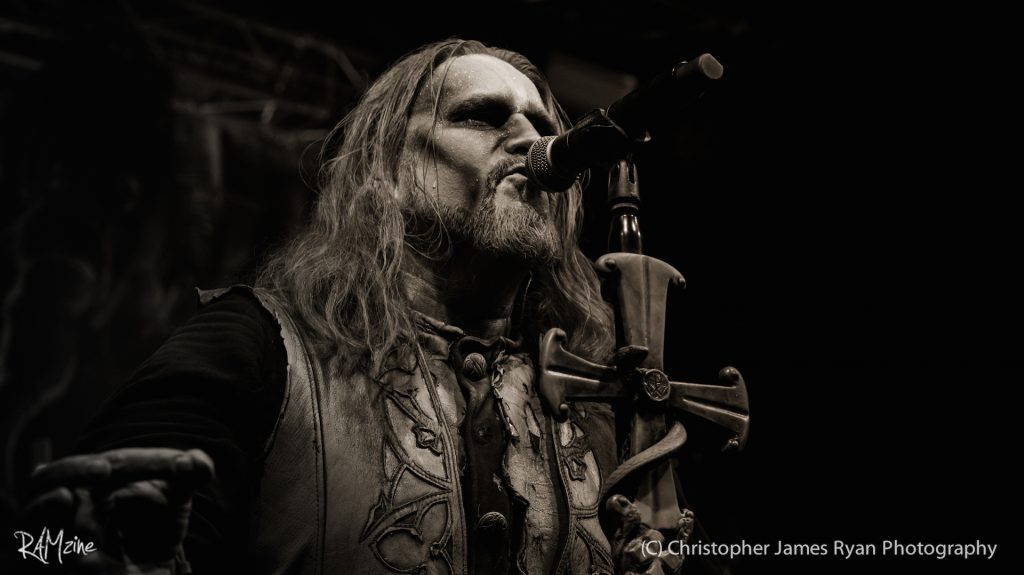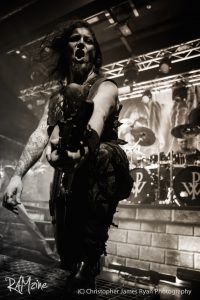 We were spoilt by a huge set! Blasting out all the bangers to keep the vampires at bay! "How do we kill a vampire? and no it's not garlic" they asked as everyone laughed. It was a funny night and it felt like a big team effort. Yes we were crammed together, yes we were sweating like mad but does it matter? No it dose not because it's a happy metal scene this, full of fun and support of each other. Who knew that a band who chants about the undead would be such a figure/ inspiration. It just shows how silly the stereotype is of people who view the metal scene to be evil etc.
As Powerwolf belt out every song, there were so many pits. I think one of my favorite moments is the organ player Falk Maria Schlegel. He comes on mid songs to egg the crowd on, hype em and to help with the chorus training for the songs! Spoiling us with old and new tracks like, 'Demons Are A Girls Best Friend', 'Sanctified With Dynamite', 'We Drink Your Blood', 'Where The Wild Wolves Have Gone' (power ballad banger) 'Resurrection By Erection', 'Incense And Iron', the list goes on…
All we know is Powerolf has set a new bar in the metal genre, breaking all the rules and making their own unique wacky combination. I cannot wait to see what 2019 has install for them and to see if they tease any work from a new album perhaps? If you have any chance to see Powerwolf this year, even if you are having doubts, go! You will not regret it!