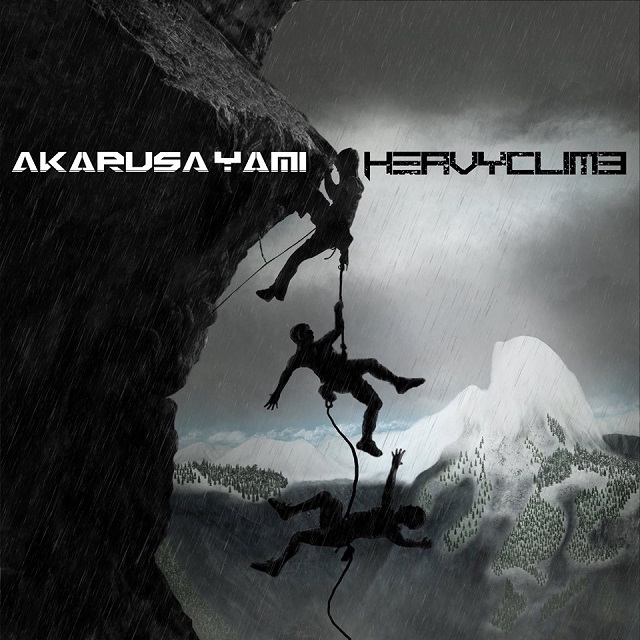 Since the arrival of Akursa Yami into the world from Nottingham in the year 2010, they have managed to whip up a storm with two EP releases and rave reviews from the likes of Terrorizer (UK), Zero Tolerance (UK), Metal Hammer (Norway) and Legacy (Germany) to name a few, and now they have unleashed their first full length release, 'Heavy Climb'.
'Heavy Climb' is a smorgasbord of musical style, intelligence and outright lunacy. Such a sound they have that it is extremely difficult to pigeon-hole them into a genre, a progressive-technical, industrial metal feel with an almost jazz like element to it. Whatever you want to call it, they definitely do it well.
The album plays from start to end less like an album, and more like a musical journey. Opener 'The Old Man By The Fjord' starts with a soft, calm intro. Almost like what coming across a hidden paradise garden would feel, before being pummelled by the snappy riffs and assaulting drums, with interludes of melodic genius. This track starts off unlike anything you would expect if you hadn't listen to them before, but it sets the tone well and prepares you for what to expect from the rest of 'Heavy Climb'. It's no wonder they have grown so quickly and graced the stage with as many bands as they have.
Following the same path as the first track, 'At Last, Sunlight (Endlich, Sonnenlicht)' will lead you into a false sense of security with the soft relaxing start before the torrent of aggression is unleashed. What isn't expected though, is the cleanly sung vocals on the chorus. Adding another element and a huge curve ball to what you thought you were in for, making sure that you pay attention.
The title track of the album, 'Heavy Climb' sits more towards the industrial side of the scale, with harsh vocals blasting you throughout, this is very much on the 'Fear Factory' side of the wall. Strong from start to finish, and everything you'd expect. This is then followed by the albums first instrumental, the opposite of what you heard in the previous track. Feeling like something from the classic film 'Blade Runner' with beautiful acoustic warmth being played over top, really a mellow piece you can lose yourself in.
Over the next few tracks, you feel the elements of prog-tech, industrial and everything in between all coming together seamlessly, it's almost hard to think that this is still just their first album release! They really have honed their skills early and not even questioned how to make it work, they just do. Each song is showing more and more they fusions of genres, only now they are becoming more prominent. 'And the Night Will Take Us All' standing out with its well crafted acoustic sounds breaking up the song just to remind you that this journey isn't all speed and aggression.
Coming back to the 'Blade Runner' style with the second should instrumental, 'Loving Parents' although this is feeling more fitting for 'Total Recall' thanks to the electric industrial sound, I really feel like I need to read more Philip K. Dick books when I listen to it, which is never a bad thing!
'Les Mere Terribles' brings home the strongest song to a metal fans table for me, powerful riff work with the fast drum work you know they are capable off, with the perfect blend of cleanly sung and vocal chord ripping yells. This also seems to have more of the metal feel in the small licks and leads, although for me it is also the first where something about the guitars tone just doesn't seem to fit. In saying that, with how complicated the album is in the genre melding pot, I can only imagine it has that specific tone for a reason, nothing on this album seems as though it hasn't been done purposefully.
Album closer 'The Natasha Trade' feels the most out of place with the rest of the album, but fits the bill in finishing the story, it plays through as though the end scenes and credits are rolling on a mesmerizing science fiction film. Only with its own hidden story in itself.
'Heavy Climb' is by far one of the most interesting releases of the year, one that may sit very well with those that are of a more mature intelligence. I am keen to find out what will come next from 'Akarusa Yami', and I wonder how the view is looking for them now after this epic climb of an album.